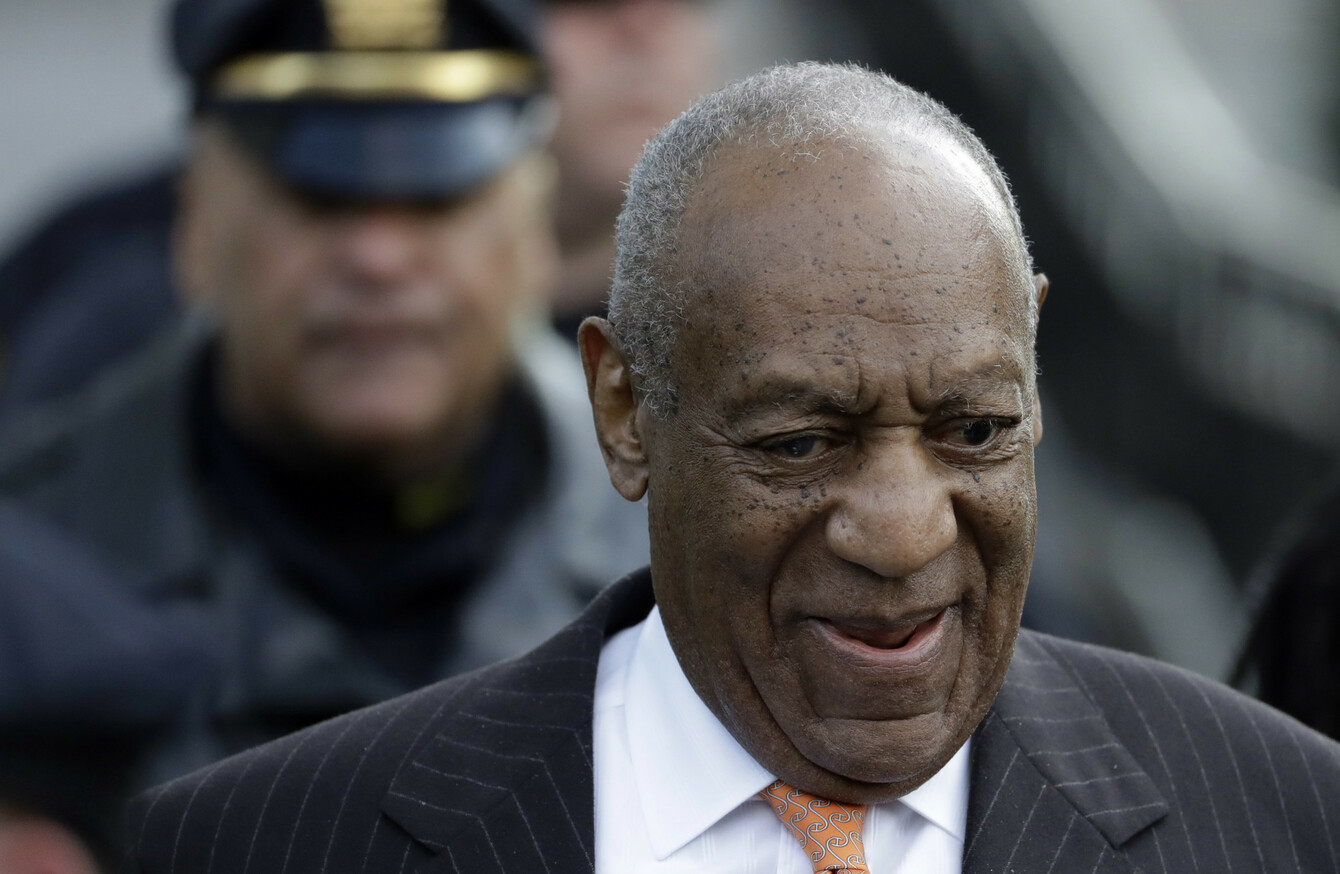 Image: Matt Slocum/PA Images
Image: Matt Slocum/PA Images
US PROSECUTORS SOUGHT to portray Bill Cosby as a serial predator yesterday, bringing a music teacher to testify how the disgraced star assaulted her while posing as a mentor at a private estate in Nevada 34 years ago.
The now frail and isolated 80-year-old could spend the rest of his life behind bars if convicted at his retrial for drugging and molesting Andrea Constand, 44, at his Philadelphia home in 2004.
The case has besmirched the legacy of the actor adored by millions as America's Dad for his role as lovable father and obstetrician Cliff Huxtable on the hit 1984-92 television series The Cosby Show.
Since then, 60 women have accused the Emmy-winner of being a serial predator, alleging that he drugged and assaulted them over 40 years.
Cosby's first trial in Norristown, a Philadelphia suburb, ended in a hung jury in June last year, with a sequestered panel hopelessly deadlocked after six days of testimony and 52 hours of deliberations.
Yesterday, Heidi Thomas, a mother of four from Colorado, took the stand on the second day of the retrial, the first of five additional accusers who have been allowed to testify a second time around.
Last time, Judge Steven O'Neill allowed just one additional accuser to speak for the prosecution and experts say his change of heart presents a much tougher challenge for the defence.
Thomas's testimony of being seemingly drugged – a sole sip of alcohol that left her fuzzy, "feeling so, so sick" and unable to respond – was striking for its similarities with Constand's allegations.
'Forcing himself'
At the time of her alleged assault in 1984, Thomas said she was an aspiring actress whose agent flew her out to Reno on an all-expenses paid trip after Cosby offered to mentor her.
But instead of a hotel, Thomas said she was driven to a private ranch out of town.
Cosby, she said, was initially "very kind and very personable," but seemed unimpressed with her acting, pressing her to sip a glass of wine and handing her a script about an intoxicated woman.
"I can tell you it was a sip," Thomas said. For the next four days, Thomas said she remembered only "little snapshots".
"I remember waking up on a bed," she added. "I had my clothes on. He did not. I was lying down and he was forcing himself in my mouth and I remember thinking I felt sick.
"He said 'your friend is going to come again' and I remember thinking 'how did I get here? This isn't what I'm here for'.
She remembered nothing of the journey home and said there was no way she was going to tell her agency or her parents, asking herself instead whether she had been hallucinating and blaming herself.
Elegantly dressed with short gray hair, Thomas spoke clearly and confidently. Cosby turned his face away as she spoke, staring in the direction of the gallery at a 90-degree angle to the witness box.
'Con-artist'
His celebrity defence lawyer Tom Mesereau also removed himself from the lawyers' table, sitting to the side, entrusting cross-examination to female colleague Kathleen Bliss.
The three counts of aggravated indecent assault involving Constand are the only criminal charges to stick against Cosby, with most of the alleged abuse having occurred too long ago to prosecute.
His retrial is the most high-profile criminal case since the start of the #MeToo era, the US cultural watershed that has ruined the careers of a string of powerful men in Hollywood, politics and the media.
In his opening statement, Mesereau branded Constand a lying, money-obsessed "con artist" who falsely accused the star to bag a nearly $3.4 million civil settlement in 2006 to evade debts.
"What does she want from Bill Cosby?" asked Mesereau, best known for deploying a similar defence that got Michael Jackson acquitted of child molestation.
"You already know the answer: money, money and lots more money," he said. "She's now a multi-millionaire because she pulled it off."
At the time of the alleged assault, Constand was the director of women's basketball at Temple University, where the wealthy actor sat on the board of trustees.
Cosby said he gave the Canadian an over-the-counter antihistamine to relieve stress. He said their relations were consensual.
"He was foolish, he was ridiculous and lonely, and attracted to a young woman, but he didn't commit a crime. He's not a criminal and you will gladly declare him not guilty," Mesereau said.
Comments are closed for legal reasons