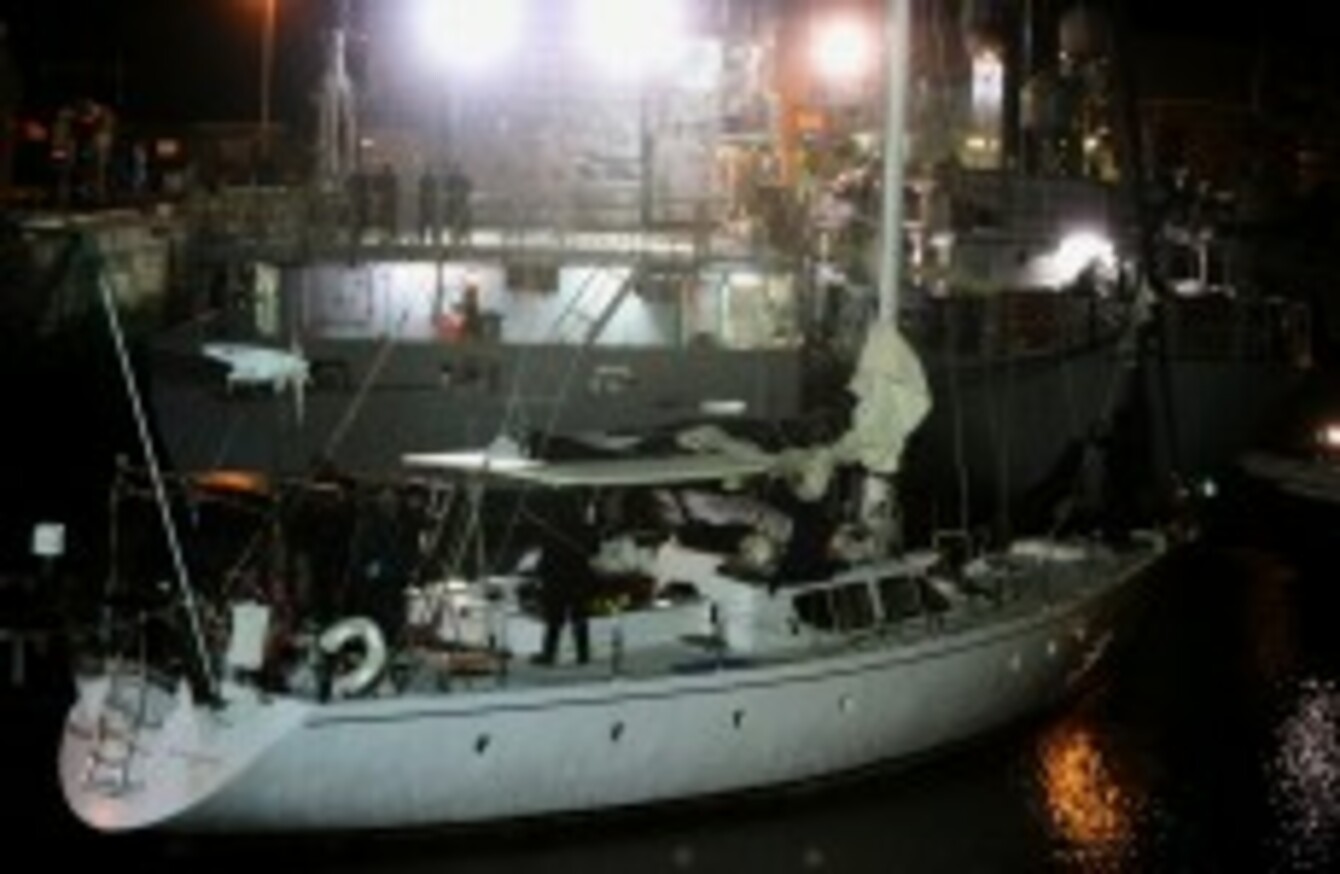 Image: PA Wire/Press Association Images
Image: PA Wire/Press Association Images
Updated 25 September, 8.12am
NAVAL OFFICERS HAVE seized €80 million worth of cocaine off the Cork coast.
The seizure was made yesterday on a yacht near the Cork shoreline. It is not yet known if the yacht was due to meet another vessel to bring it ashore.
Three men, believed to be British nationals, were arrested in the operation, which saw the Naval Service, Gardaí and Customs officers collaborate. The yacht was brought into Cork harbour.
An armed Naval team from the LE Róisín boarded the boat, with the LE Niamh in the area for support.
It is believed that the drugs have a street value of between €70 million and €80 million, but tests are still to be carried out.
The Inter Agency operation was conducted using two naval vessels and interagency personnel, in challenging conditions between 200 and 300 miles West South West of Mizen Head.
After Naval Service personnel secured the vessel, members of An Garda Síochána and Revenue's Customs Service were transferred to the yacht and conducted a search of the vessel, which is currently under escort by Naval vessels.
The operation was based on intelligence provided by the National Crime Agency in the UK and the French customs service DNRED via the Maritime Analysis and Operations Centre – Narcotics (MAOC (N)) based in Lisbon.
MAOC-N is an initiative by 7 EU Member Countries: France, Ireland, Italy, Spain, Netherlands, Portugal and the UK, with financial support from the Prevention against Crime Programme of the European Union, European Commission – Directorate – General Home Affairs. The Centre provides a forum for multi-lateral cooperation to suppress illicit drug trafficking by sea and air.
Success
Minister for Defence Simon Coveney said:
The success of this operation once again brings into focus the importance of the role of the Joint Task Force on Drug Interdiction in combating drug trafficking. In particular, I wish to acknowledge the huge contribution to the success of this operation made by the members of the Naval Service, An Garda Síochána and the Revenue Customs Service.
He congratulated the Naval Service and, in particular, the Officers Commanding LÉ Niamh and LÉ Róisín and their respective crews.
I also wish to acknowledge the role of the Air Corps in providing top-cover support during the operation.
First published 5.54pm, 24 September