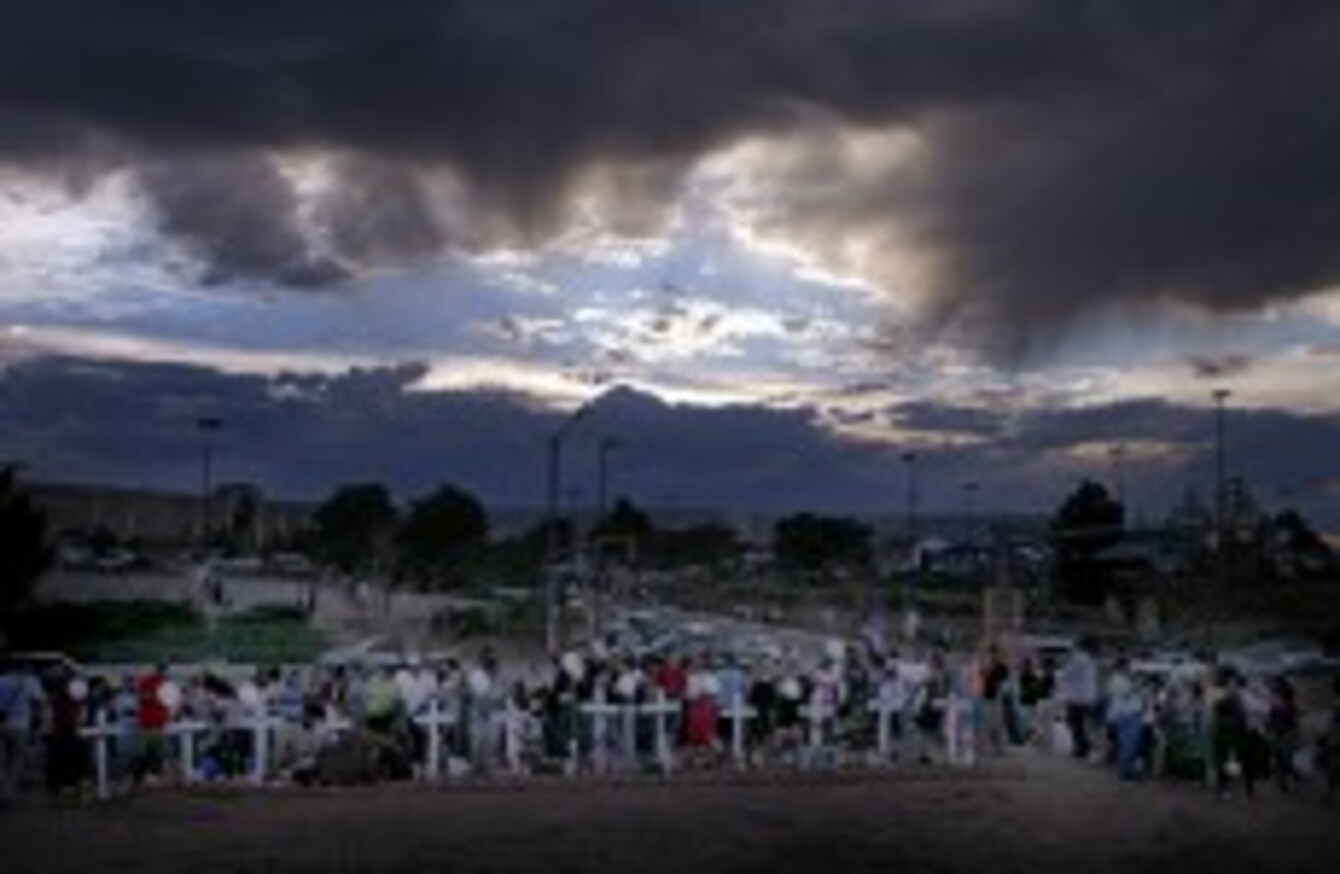 Storm clouds gather above a memorial for the victims in the shooting across the street from the Century 16 movie theatre.
Image: Ed Andrieski/AP/Press Association Images
Storm clouds gather above a memorial for the victims in the shooting across the street from the Century 16 movie theatre.
Image: Ed Andrieski/AP/Press Association Images
POLICE IN AURORA have said that suspect shooter James Holmes is not cooperating with their investigations, with chief Dan Oates telling reporters, "he's not talking to us".
The 24-year-old student, who is suspected of killing 12 people and injuring 58 others during a shooting spree at a cinema in Denver on Friday, is due before a US court for an initial hearing this morning. He has been assigned a public defender and is being held in solitary confinement.
Holmes allegedly entered the theatre just after midnight, throwing two canisters of noxious gas and shooting at random from various weapons he had on his person. He was wearing a gas mask and clad in body armour at the time. Immediately after the incident, he was arrested without putting up any resistance. While praising his team, Oates revealed that Holmes could easily have been mistaken for an arriving SWAT officer because of the armour.
Although police are remaining relatively tight-lipped about the investigation, they did say that they had found Holmes's computer inside his apartment and that this could provide crucial details. A Batman mask and poster were also reportedly among the contents removed from the suspect's home after it was rid of all booby-traps, including rigged explosives and dangerous chemicals.
It has also emerged that the former medical student had tried to join a private gun club just a few weeks prior to the shooting but was refused entry because his paperwork was deemed suspicious.
The owner of Lead Valley Range, Glenn Rotkovich, telephoned Holmes shortly after receiving his application on June 25, and was greeted by a "bizarre and freakish" voicemail message.
University co-operation
The University of Colorado, where Holmes attended until about a month ago, has been working with authorities as part of the investigation. It is understood that officials were looking into the possibility that the suspect used his position in a graduate neuroscience programme to collect hazardous materials. It is now known that Holmes received numerous deliveries as he prepared for the massacre over the past few months.
Police said he began buying guns in the Denver-area about two months ago and that he received at least 50 packages at his home and school.
Holmes's reasons for dropping out of the challenging five-to-seven year programme, just one year in, remain a mystery. The school's officials have also not spoken about his recent behaviour or if they noted anything odd or unusual about him. They refused to release any academic data, citing privacy concerns.
Staff have also been instructed not to talk to the media.
A day of healing
As the investigation continues with intense media focus on Holmes, Colorado Governor John Hickenlooper has called on the public to remember the victims.
US President Barack Obama travelled to Aurora yesterday to pay tribute to the deceased, as well as their loved ones and survivors of the massacre. He said he shed tears with relatives of those who died.
"I confessed to them that words are always inadequate in these types of situations," he said, as thousands gathered for a vigil outside the municipal centre.
He ended his remarks by recounting a story of two young women who escaped the shooting. He told how, when the gunman threw the gas canisters, one landed a few feet away from 19-year-old Allie Young and her friend Stephanie Davies (21). Young stood up to warn people, and was immediately shot in the neck, "and started squirting blood".
"Apparently as she dropped down on the floor, Stephanie had the presence of mind to drop down on the ground with her, pull her out of the aisle, place her fingers over where Allie had been wounded and applied pressure the entire time while the gunman was still shooting."
Although Young had told her friend to run, Davies instead called 911 on her cellphone, with the other hand staunching the blood, all while the gunman continued to fire.
After SWAT teams arrived, Davies helped carry her friend across two parking lots to a waiting ambulance. "And because of Stephanie's timely actions, I just had a conversation with Allie downstairs and she is going to be fine," Obama concluded.
During his visit, the president spent time with family members at the University of Colorado Hospital. Ten injured remain there, seven are still in critical conditions. Among them is the mother of the youngest victim, six-year-old Veronica Moser-Sullivan. Ashley Moser received very serious injuries and has been drifting in and out of consciousness. According to this morning's reports, the 25-year-old is pregnant and despite being shot in the stomach, her unborn child has survived.
After meeting with the families, Obama said that he was there "not as president but as a father and a husband".
The victims have been named as six-year-old Veronica Moser-Sullivan, Matthew McQuinn (27), sports reporter Jessica Ghawi (24), Navy sailor John Larimar (27), recent high school graduate Alexander Boik (18), Air Force operator Jesse Childress (29), Jonathan Blunk (26) of the US Navy, Rebecca Wingo (32), Alex Sullivan who was celebrating his 27th birthday, father-of-two Gordon Cowden (51), Micayla Medek (23) and newly-qualified counsellor Alexander Teves (24).
The massacre in Aurora was one of the deadliest in the US, and the worst mass shooting since the November 2009 attack at Fort Hood, Texas, when an Army psychiatrist killed 13 soldiers and civilians and wounded more than two dozen others.
In Colorado, it was the deadliest shooting since April 20, 1999, when two students opened fire at Columbine High School in the Denver suburb of Littleton, killing 12 classmates and a teacher and wounding 26 others before killing themselves.
-Additional reporting by AP and AFP