Liveblog
GOOD MORNING AND welcome to Tuesday's liveblog.
We'll be with you until just after 9am this morning, bringing you the latest traffic, travel and weather updates from across the country.
Hello there, everyone.
Catherine Healy here on TheJournal.ie's commuting liveblog, helping you get to where you need to go.
Spotted something we should know about? Email catherine@thejournal.ie or tweet me @Chealy_.
Not while driving, obviously.
First things first: the weather. Met Éireann says the morning will be very foggy in many areas. Rain will be concentrated in the west and north, with bright and sunny spells elsewhere. Highest temperatures will be between 11 to 14 degrees.
This was the glorious view from our offices in Dublin just before 7am: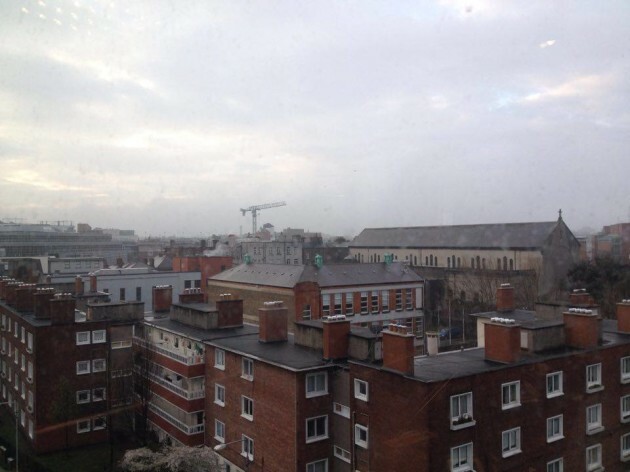 Meanwhile, in Galway, there's a horse (well, a few of them) outside:
If you're driving somewhere this morning, give yourself some extra time to get through that fog.
It's pretty foggy on the M50 at Lucan as well – just look at Dublin City Council's traffic camera there:
There's been a multi-vehicle crash on the M8 in Cork:
There are reports now of two separate crashes in Dublin. Expect some days on the N4 and Ballinteer Road.
Taking the Waterford-Heuston train?
The latest on those horses in Galway:
That Ballinteer Road collision has now been cleared, while the N4 crash has been moved into the hard shoulder, AA Roadwatch reports.
And there's bad news from Cork, if you were planning to take the Glenbrook ferry:
Traffic is now down to one lane on the M8 southbound before J17, according to AA Roadwatch.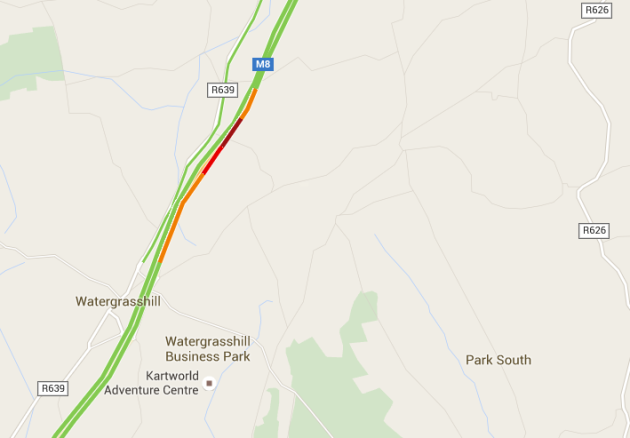 The Grand Canal in Dublin is quite busy eastbound from Dolphin's Barn to Leeson Street.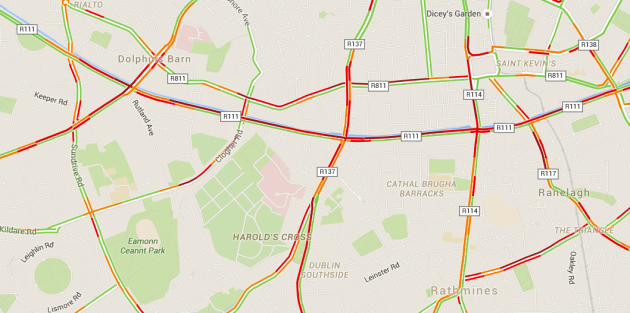 There's been a breakdown on the North Circular Road in Phibsborough:
Traffic is down to one lane on the N4 in Westmeath after a collision there:
Still waiting on the 8.01am Kilkcock-Connolly train?
Two more crashes are being reported now, one in Limerick and the other in Kildare:
That North Circular Road breakdown has now been cleared:
Stuck on the bus, train or Luas? Catch up on this morning's top stories in our 8 at 8.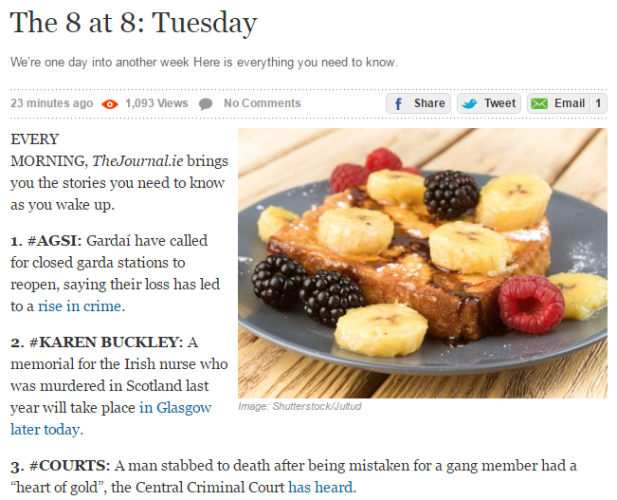 Source: TheJournal.ie
More bad news from the N7:
The Headford Road in Galway is slow inbound from Ballinfoyle to the Kirwan roundabout. Traffic is still relatively calm in the city, though.
Take care if you're passing Spur Hill in Cork:
That fog is starting to clear in Dublin:
There are reports now of a crash in Galway:
That's all from us, folks. I'm out of here – out of the liveblog, that is.
We'll be back from 7am tomorrow with more traffic updates.
Contribute to this story: