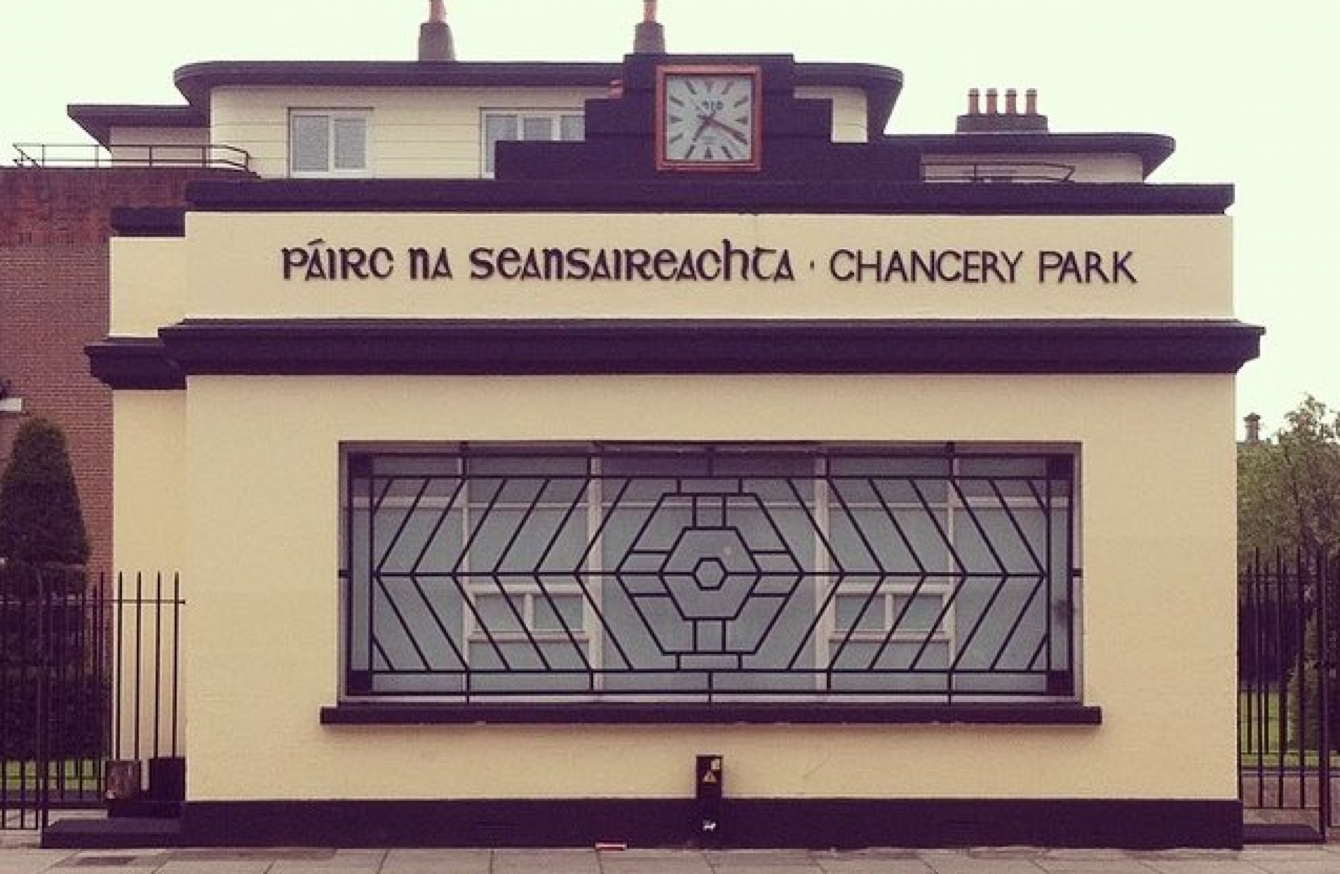 Image: Aoife Barry
Image: Aoife Barry
PROPOSALS TO DE-LIST and demolish some of Dublin city's most remarkable public housing complexes could result in protests, a councillor has warned.
Dublin City Council's (DCC) housing and strategic policy committee is to meet today to discuss its controversial plans for the regeneration and development proposals for its apartment complexes.
Some of the complexes are over 40 years old, with many being built in the 1930s and 1940s under the design of Dublin city architect Herbert Simms. A number of them are protected structures.
These include Chancery Park, Pearse House and Oliver Bond House, which were built at a time when Dublin Corporation (now DCC) was trying to move people living in terrible conditions in slums to proper accommodation. This meant the building of apartment complexes within the city, which Simms was responsible for designing – along with the design of the bathing shelters at Bull Island.
The need for the regeneration comes from the fact that while these complexes were modern by the 1930s and 1940s standards, they need updating to reflect the needs of people in 2018. The council currently spends €30m a year on the maintenance of such complexes. In addition, a number of the complexes experience anti-social behaviour, and the regeneration proposal would hope to help reduce this.
Born in the UK, Simms moved to Ireland for work in the 1920s and was appointed as city architect for the Dublin Corporation in 1932. He designed around 17,000 dwellings at a time when slums were a huge issue for the capital. He took his own life in 1948, leaving a note behind him which pointed to his huge workload.
The fear is that as part of this mooted regeneration plan to overhaul apartment complexes in Dublin city, some complexes – including those designed by Simms – that are on the Record of Protected Structures could find themselves removed from the Record of Protected Structures (delisted) and demolished.
An article in the Irish Times yesterday saw DCC's head of housing, Brendan Kenny, saying that it would be difficult to get Government funding for refurbishment of complexes over 40 years of age, so:
We probably should think about delisting them because it's very difficult to do a proper job on them.
The Green Party has rejected the proposals, calling on Dublin City Council officials to withdraw them.
Asked if he thought there would be protests if the demolition of Herbert Simms' complexes in particular was given the go-ahead, Green Party councillor Ciaran Cuffe told TheJournal.ie:
"I think so. I think if the council were to proceed with delisting and demolishing I think people would protest."
'Insulting and inappropriate'
Cllr Cuffe told TheJournal.ie: "I was really taken aback to see [Brendan Kenny] speak about delisting. Obviously our older housing needs refurbishment, but to propose the delisting and demolition of protected structures is a step backwards. I think it's insulting to the communities that live in this housing and I think it's inappropriate."
He went on:
If the State can't take care of older buildings, how can it expect private owners to do so? All this requires is a bit of joined-up thinking between different Government departments.
He said he worried that there "may be an issue of gentrification at work" and that such a move could result in displacement of working class communities out of the city.
"I would like to see careful refurbishment of these blocks," said Cuffe. "In my day job I lecture in urban planning at the Dublin Institute of Technology and my colleagues in the school of architecture in DIT have shown that it is possible to upgrade this housing for much less than the cost of a new build."
"There is a terrible tendency in local authorities that if it is above ground you should knock it, and below ground fill it with concrete," added Cuffe. "A little bit of imagination, a bit of joined-up thinking and I'd think we'd get the funding we'd need and give these homes a future."
Eoin O'Mahony is a geographer who is involved in organising Simms 120, an upcoming conference dedicated to the work of Herbert Simms. The conference will receive some funding from Dublin City Council.
He said that he thinks it "would be foolish to tear [the complexes] down wholesale" and that it seems odd that refurbishment of the complexes wouldn't be prized above demolition.
He pointed out that the timing of the Simms 120 conference is interesting as in some ways the housing issues today are similar to the issues that Simms helped tackle just under 100 years ago.
"Right now public housing is a very contentious political issue but I hold the belief, along with others, that we need to be building public housing on public land," he said.
The aim of the conference is to draw the politics out of the issue, said O'Mahony, and instead encourage people to "think about what we've done in the past and celebrate the legacy of Simms and his teams".
He added that the issue around the complexes "is about communities of people – this is about people raising their families and working and living out of these areas".
It's not as if this is just a bunch of prefab houses, these are three and four generations of people raised in these flat complexes and houses.
In the 20s and 30s there was a concern about clearing slums, and social housing was part of this. "There was a great imagination on their part to put this programme together", said O'Mahony of the Corporation's approach. "Simms was concerned with not just building shoeboxes for people, but forming communities".
"His legacy can't be underestimated in the context where the city is not just about commerce and enterprise; it's not just about shopping, it's about people working and living in communities.
"Almost 10,000 people are in emergency accommodation and in effect these are the [equivalent of the] slums of the 21st century. We can't underestimate the fact people are living in substandard accommodation all around this country."
What the DCC paper says
In its paper on regeneration and development proposals for its apartment complexes, DCC says it is seeking to develop a strategy to regenerate its complexes that are over 40 years old, and to build more and better public housing.
The paper is a discussion document that's in its second iteration, after being first presented to the SPC in March.
The council currently has over 6,000 apartments that were built more than four decades ago. It says that because of this, any regeneration programme would have the potential to be the largest such programme in the state.
Across the 6,391 units within 109 flat complexes that were built from the 1930s onwards, approximately €30m is spent annually on the "reactive maintenance" of them.
The council says in the paper that the regeneration programme will deliver across the five pillars of the government's Rebuilding Ireland plan – including addressing homelessness and accelerating social housing. A capital works plan for the next 15 years is envisaged to implement the regeneration  plan.
It says that a number of options should be considered for each estate complex on a case-by-case basis:
Deep retrofit?
New build extensions to blocks
Additional floor to the blocks
New build blocks within the site?
Phased demolition and re-build
But it says that feasibility studies indicate the cost of deep retrofitting complexes "can be as high as demolition and rebuild".
The council also cannot empty entire estates of residents because of building works, due to the current pressure on housing. It says there will be "significant challenges in securing funding approval of the scale and magnitude for this Regeneration Programme".
Some of our apartment complexes may be protected structures and a case by case assessment of each site will be required.
Regarding funding, the paper says that option one, which proposes to continue seeking funding from the Department of Housing, Planning and Local Government, was found to be optimal according to its multi-criteria assessment.
The paper says that State funding for replacement housing "is likely to be challenging as the primary focus appears to be on new builds" – so it may need to consider "creative ways of sourcing the finance". The programme's finance may come from a combination of public and private sources.
The council says it has learned that: "Local empowerment and capacity building is perhaps the key issue in ensuring sustainability."
It says in the paper that its regeneration projects will "act as a catalyst for the renewal of underutilised areas by strengthening the fabric of urban centres". They will also reduce anti-social behaviour and future-proof homes, it says.
Each of the sites needs to be reviewed in conjunction with elected members and residents, says the paper.
Now, a multidisciplinary team is going to:
Issue a tender to review the development potential of all housing apartment complexes across the five administrative areas
Meet with councillors across the five area committees to discuss a rolling implementation plan
Agree a capital work programme for the city and its delivery mechanism
Seek interaction/learning/collaboration with cities of best practise
Report back to the Housing SPC on an ongoing basis.
The meeting of Dublin City Council's housing and strategic planning committee will take place tonight.