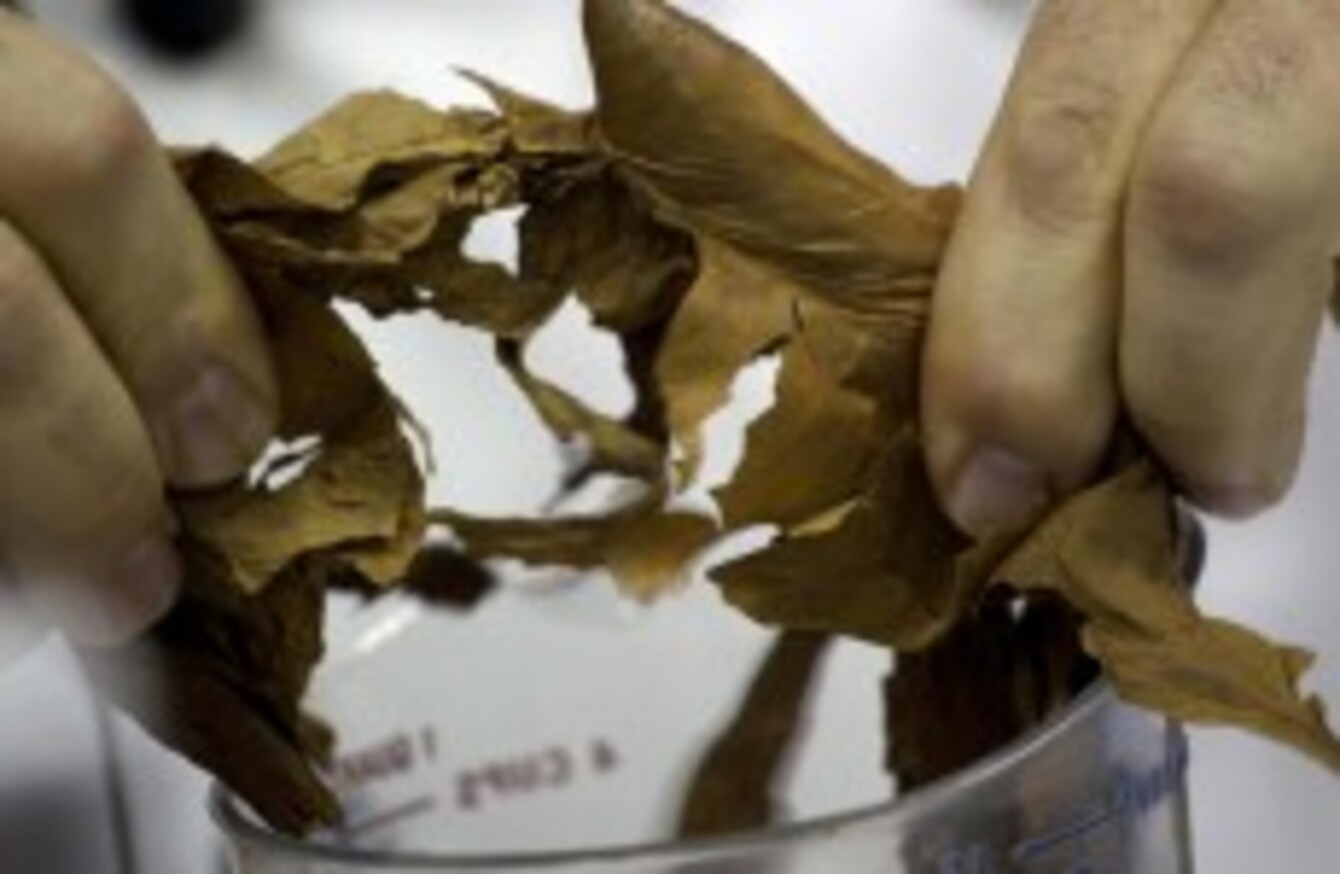 A chef breaking cigar leaves as he prepares a dessert during the 15th Cigar Festival in Havana, Cuba.
Image: AP Photo/Ramon Espinosa
A chef breaking cigar leaves as he prepares a dessert during the 15th Cigar Festival in Havana, Cuba.
Image: AP Photo/Ramon Espinosa
TOBACCO: IT'S WHAT'S for dinner.
A team of Croatian chefs whipped up a pungent meal at the recent Cuba Cigar Festival, infusing the flavor of the tobacco leaf into baked stone bass filets, bread and butter, a rich demi-glace sauce, even ice cream.
The result was a tangy heat that one taster likened to ancho chili powder, and a powerful finish with all the nicotine kick of a chubby Montecristo cigar.
"Wow, buzz city!" said Gary Heathcott, a public relations worker from Little Rock, Arkansas, USA who also writes for Smoke magazine. "The first buzz I ever received from biting into fish."
Grgur Baksic, owner and executive chef of the Gastronomadi dinner club in Zagreb, led the demonstration before a standing-room-only crowd of aficionados at a Havana convention centre as part of Cuba's 15th annual Cigar Festival last weekend.
It's a six-day bash that brings together hundreds of cigar sophisticates from around the world, and culminated on the Saturday night with a gala and auction of humidors worth hundreds of thousands of dollars.
A dozen cameras following their every move, Baksic and two other chefs carefully wrapped the bass filets in tobacco and banana leaves, with a sprinkling of garlic and honey to draw out the smoky flavor.
As the mild white fish baked for about a half hour, they demonstrated how stirring tobacco sauces into butter can create a sharp spread for bread and crackers, and used a torch to dry out liquid-infused tobacco salt that can be employed in just about any dish.
"It's like how you can put chili on a sweet or a sour, you can put honey on a fish and on a fruit and on a meat," Baksic said. "Something that is good is always good. You cannot make a mistake."
Baksic said the demonstration was the result of two years of trial and error. He said they unsuccessfully tried American, European and African tobacco varieties before settling on Cuban tobacco, which he called the finest in the world. The chefs warned tasters not to eat the leaves themselves, which would be hard on the stomach.
Why tobacco?
"Why rosemary? Why chili? It's about variety," Baksic said. "We are a little bit crazy. Our company are gastro-explorers, so we are always looking for what… is not normal for other people."
Some at the demonstration found the ice cream, a creation by Italian chef Bruno Luciani, overwhelming. What started out as a smooth, milky sweetness soon set throats on fire.
"I think they (nonsmokers) might find it a bit strong, and also they might actually get high," said James Suckling, an American food, wine and cigar critic living in Hong Kong. "So probably in small doses they might find it amusing."
Suckling, like other cigar aficionados sitting on a 16-member tasting panel, gave the meal good reviews, however.
"At first I didn't really get much flavor and I thought it wasn't up to much," he said. "But then I started tasting the fish … and it has a very spicy, almost intense black-pepper taste. And then you get the nicotine and it's like you've been chewing tobacco."
Heathcott put it more succinctly: "It grabs you by the throat."
- Peter Orsi