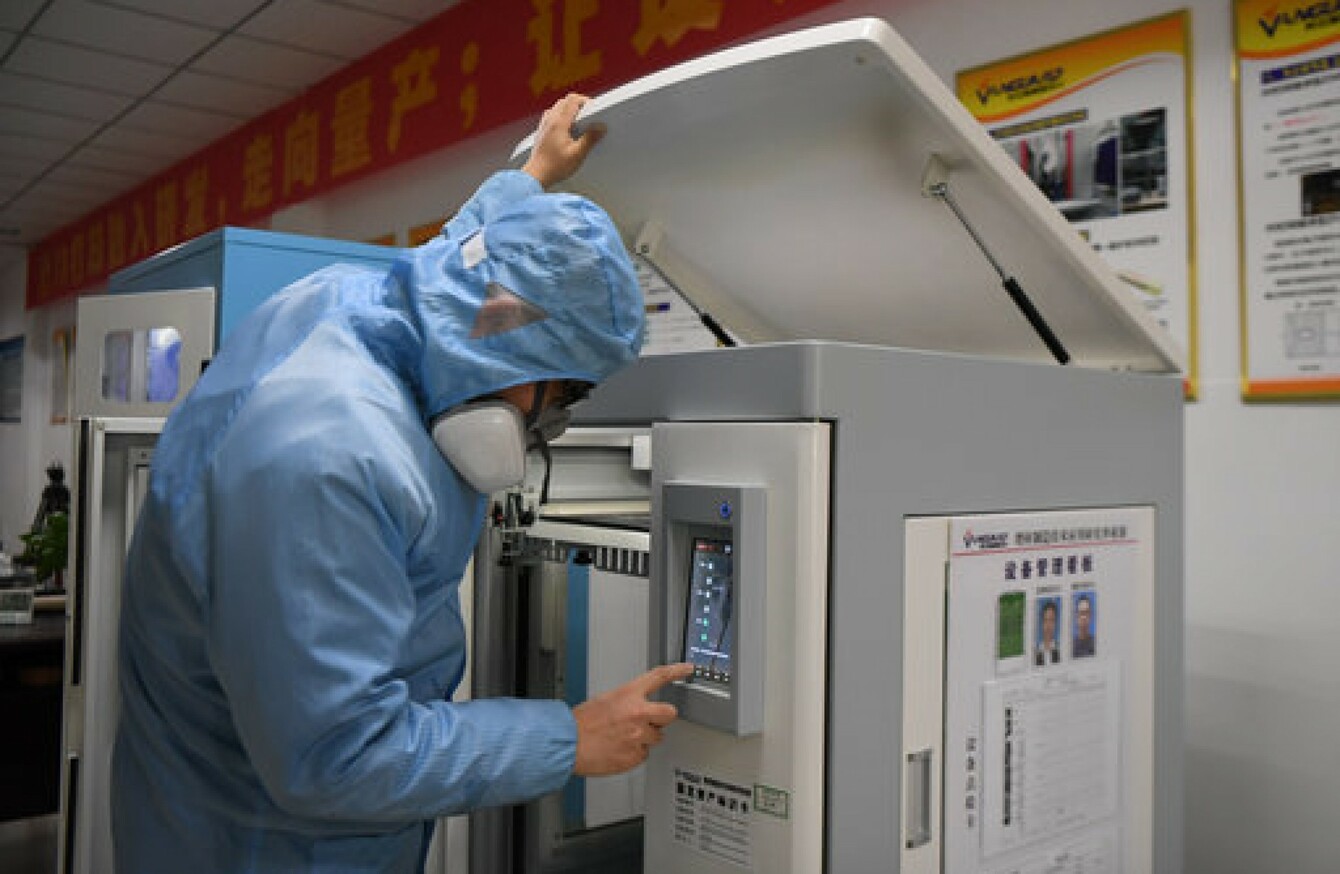 A worker uses a 3D printer to make goggles in China.
Image: PA Images
A worker uses a 3D printer to make goggles in China.
Image: PA Images
Updated Feb 11th 2020, 11:10 PM
THE DEPARTMENT OF Health has said that 65 people have been tested for Covid-19 (coronavirus) in Ireland but there have been no confirmed cases.
The HSE's National Public Health Emergency Team released an update this evening saying that 4,800 Personal Protective Equipment (PPE) packs have been distributed to GP out-of-hours services across the country as part of precautions against the virus.
A further 1,200 PPE packs are due to go out to GP practices as well today and the National Ambulance Service has plans in place to deal with a confirmed case.
The World Health Organisation said this afternoon it was officially naming the deadly coronavirus that has killed 1,000 people in China 'Covid-19′.
Covid-19 is a new strain of coronavirus that is the seventh known type of coronavirus that humans can contract.
The HSE has said that it "remains prepared for a confirmed case of Covid-19″ in Ireland.
"The Irish health system is currently operating a containment strategy in line with global practice, and all our efforts are focused on identifying suspected cases as they arise and initiating measures to prevent onward transmission of the virus," chief medical officer Dr Tony Holohan said today. 
The National Public Health Emergency Team continues to coordinate response efforts between the Health Service and other Government Departments and Agencies, to ensure a comprehensive response in the event of a confirmed case.
Anyone returning from China in the last 14 days, and experiencing symptoms associated with Covid-19 (coronavirus), is instructed to self- isolate and contact the health service via phone or email." 
All of the 65 suspected cases in Ireland would have come from mainland China and were displaying symptoms, Holohan said.
Holohan told RTÉ's Today with Sean O'Rourke that because of the pressures on hospitals, there could be panic if a case was confirmed in Ireland, to which Holohan responded: "We will be in a position to respond, we think Ireland is well prepared if not better than most countries throughout Europe."
Meanwhile, recruitment firm Indeed said that one of its staff members who said they were potentially exposed to Covid-19 has tested negative for the illness.
One of the firm's employees in Singapore told superiors that they might have been exposed to the virus after their family members visited a facility caring for someone with the illness.
Some Indeed employees who visited the Singapore office have recently visited the Dublin and Sydney offices.
A statement from Indeed today said that its Dublin office will remain closed as a precaution. 
A spokesperson for the company said: "The health and safety of our employees is Indeed's chief concern.
"One of Indeed's employees in Singapore informed us they were potentially exposed to coronavirus after family members visited a facility caring for a coronavirus patient. Today we learned that these family members have tested negative for the virus.
"The welfare of our employee and their family has been our highest priority during this period. Out of an abundance of caution for their health and safety, we asked employees in Singapore to work from home while we awaited the test results.
"As an extra precaution, we also asked employees in Dublin and Sydney to work from home and undertook deep cleaning of the three offices."
- With reporting by Rónán Duffy