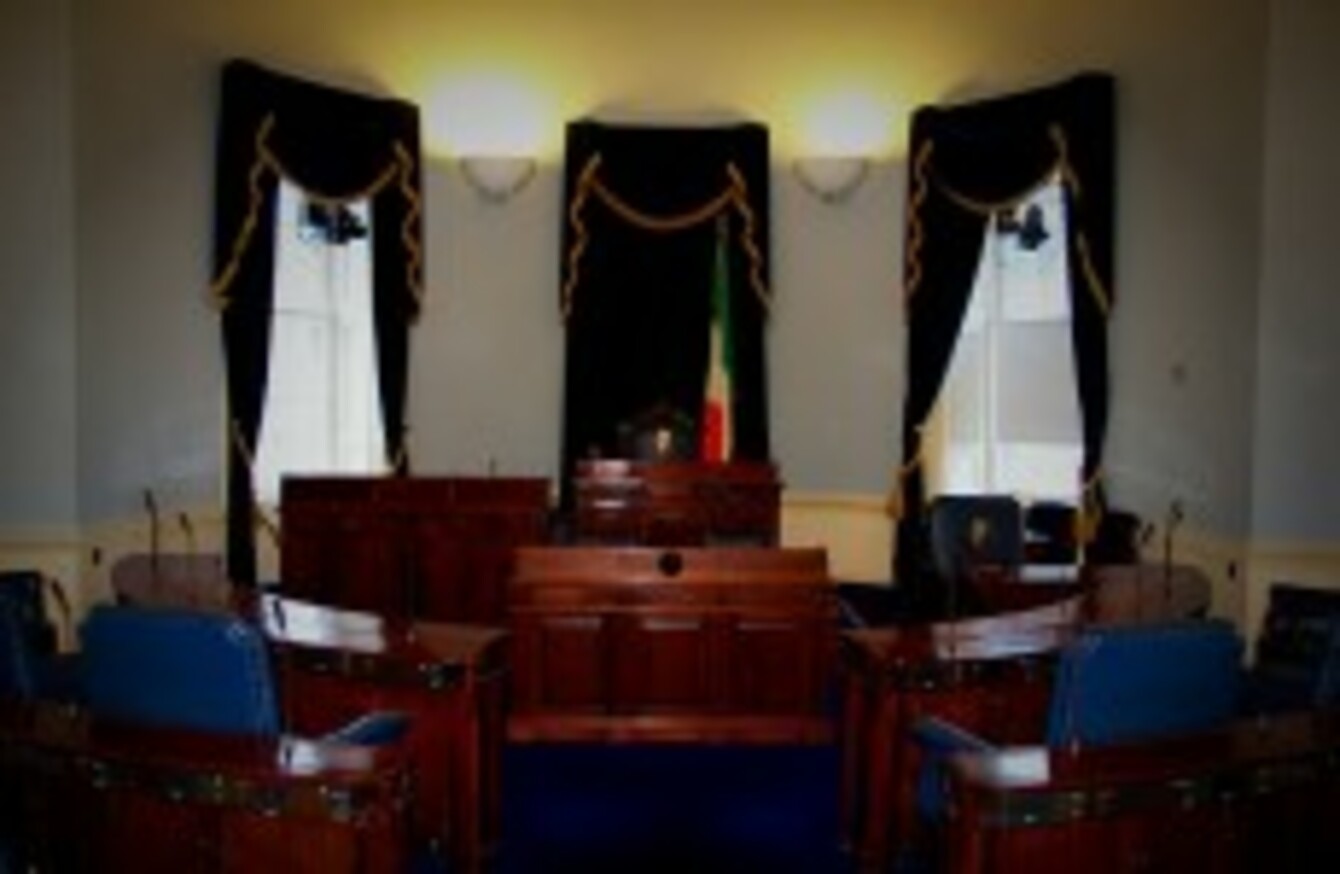 The Seanad chamber might be idle more often if a referendum is held on abolishing the Seanad later this year.
Image: Wikimedia Commons
The Seanad chamber might be idle more often if a referendum is held on abolishing the Seanad later this year.
Image: Wikimedia Commons
Updated, 14:05
ONE OF FINE GAEL'S best-known promises upon entering government was a referendum on abolishing the Seanad – with the signs now pointing to a referendum this autumn on whether to scrap the upper house of the Oireachtas.
The 60-member chamber doesn't enjoy much public support, with many people seeing it as either a retirement home for wannabe TDs who couldn't keep their seats, or somewhere for younger politicians to cut their teeth before eventually winning a spot in the Dáil.
Enda Kenny first floated the idea of scrapping the Seanad at the peak of the financial crisis, however – with many supporting the abolition of the chamber simply because it would save some money.
So, with that in mind, we thought we'd have a look behind the workings of the Seanad and see exactly how much the taxpayer would save if it didn't exist.
We should note from the outset that the costs below only intend to figure out how much the Seanad costs on annual basis; trying to work out the one-off costs of abolishing it – such as a referendum – is an inexact science so we're leaving it out for now.
Starting with the bottom line
Let's start with the members' salaries. There's 60 members, each of whom earns a gross salary of €65,621. (The Cathaoirleach and Leas-Cathaoirleach are entitled to more, but we understand that both have waived their extra entitlements.)
This adds up to a pretty straightforward €3,937,260.
On top of that, every member is entitled to two different types of allowance – the Public Representation Allowance (which is paid on a flat rate, depending on whether expenses are vouched or not) and the Travel and Accommodation Allowance (which is based on the commuting distance to Dublin).
This could change depending on the geographical make-up of the Seanad, but in 2011 – the most recent year for which full-year figures are available – the total bill run up by all 60 senators came to €1,305,820.68.
Behind every great parliamentarian…
Add to this the cost of the secretarial help that every Senator gets. Unlike in the Dáil – where members get both a parliamentary assistant and a secretary – Senators only get a parliamentary assistant.
Not only that, but they in fact only get half a assistant. (The idea is that the Seanad was only ever conceived as a 'part time' chamber; often, members from the same party will both hire the same person to give them a full-time job looking after both members.)
A parliamentary assistant's salary is €41,092; each of the 60 senators gets to hire half of one, meaning a total bill for secretarial help of €1,232,760.
Then you get into the slightly more indirect stuff. For every member of the Seanad, there is a "leaders' allowance".
Every political party is paid €46,766 in an allowance to take care of additional staffing supports (press officers and the like) for its first five senators, and €23,383 for every additional senator. (Independents are, bafflingly, only entitled to the lower rate of €23,383.)
Based on the current composition of the Seanad, this means Fine Gael gets €561,192; Fianna Fáil €444,277; Labour €397,511; Sinn Féin €140,298 and independents €280,596. All in all, the total allowance every year comes to €1,823,874.
'Boxes of money'
Finally – and one you might not have expected – is the cost of envelopes. (Yes, envelopes.) One of the perks of life in the Seanad is that every member gets a box of 375 envelopes every month, with 'Dáil Éireann' or 'Seanad Éireann' on the corner, on which postage costs are prepaid.
[Author's note: This was previously stated as 1,000 per month, though this figure was erroneous; while TDs got a thousand per month, senators got 750. This was halved under Budget 2013 so senators will now only receive 375 per month.]
You don't have to use all your envelopes in one month, but they're yours to use as you like. In many cases, a member will use only a small number of envelopes to deal with correspondence from the public, with the rest handed over to their political party to use for their own purposes.
This is why you often hear about outgoing TDs or Senators being seen on the day the Dáil or Seanad is dissolved, leaving the building with boxes of envelopes under their arms. Brendan Howlin has compared the envelopes to 'boxes of money' because they can be used for any postage at all.
As we mentioned, every member gets 375 envelopes per month; in addition, party whips get 10 times the number of members in their party every month. With 60 members getting 375 per month, and with 48 senators being members of parties, this means 275,760 envelopes a year.
It's estimated that because of the sheer volume of correspondence, An Post charges only 54c per envelope instead of the usual 55c. This means the annual quota of envelopes is worth €148,910.40.
#Open journalism No news is bad news Support The Journal

Your contributions will help us continue to deliver the stories that are important to you

Support us now
What else?
So what about other staff costs? Well, they probably won't factor in any savings at all.
Under the current public staffing regimes, staff cannot face compulsory redundancies be laid off, so any Oireachtas support staff whose roles are specifically dependant on the existence of the Seanad would be assigned elsewhere in the Oireachtas.
Even if this were not the case, the likelihood is that the abolition of the Seanad would probably result in more responsibility being given to the Dáil – meaning, ultimately, the staff would be needed elsewhere.
You could also go about trying to calculate the costs of little things like light and heat in the Seanad chamber itself – but this also assumes that the chamber, once vacated by the Seanad itself, would lie idle.
This is an unlikely prospect – the hearings on the proposed abortion legislation earlier this month showed how the chamber could be used for busier or more high-profile events. In Stormont, the chamber for the old Senate of Northern Ireland – abolished in 1973 – is used as a committee room.
So, at the end of the day the costs above are the only ones that are likely to feature. In summary, they are:
Members' salaries: €3,937,260
Members' allowances: €1,305,820.68
Salaries of members' assistants: €1,232,760
Leaders' allowance in respect of Seanad members: €1,823,874
Envelopes: €148,910.40 [corrected: see earlier]
Total costs: €8,448,624.28
Addendum: A few readers have asked in the comments section about the cost of pensions, and why these haven't been included.
These haven't been included because it's a little more difficult to discern, and depends on the length of time for which a senator has served in the Oireachtas – but either way, abolishing the Seanad won't affect the pensions and severance of everyone who's in there already.
For the sake of propriety, though, we'll give the following figures: A member of the Seanad gets an annual pension of €1,640.53 for every year they've been a senator. For all 60 members this therefore stands at €98,431.80 a year.
However, members of the Oireachtas do contribute 6 per cent of their salary towards their pension cost – so members of the Seanad actually contribute €3,937.26 a year. Over the course of 20 years (the maximum amount considered for pension purposes) they'd contribute €78,745.20.
There is still a net cost to the taxpayer – a senator who serves the full 20 years would currently get a lump sum of €98,431.50 and an annual pension of €32,810 – but again, these have been left out because every member of the Seanad will get their severance and pension at some point in their careers. Shutting down the Seanad simply means those costs are brought forward instead of pushing them into the future.