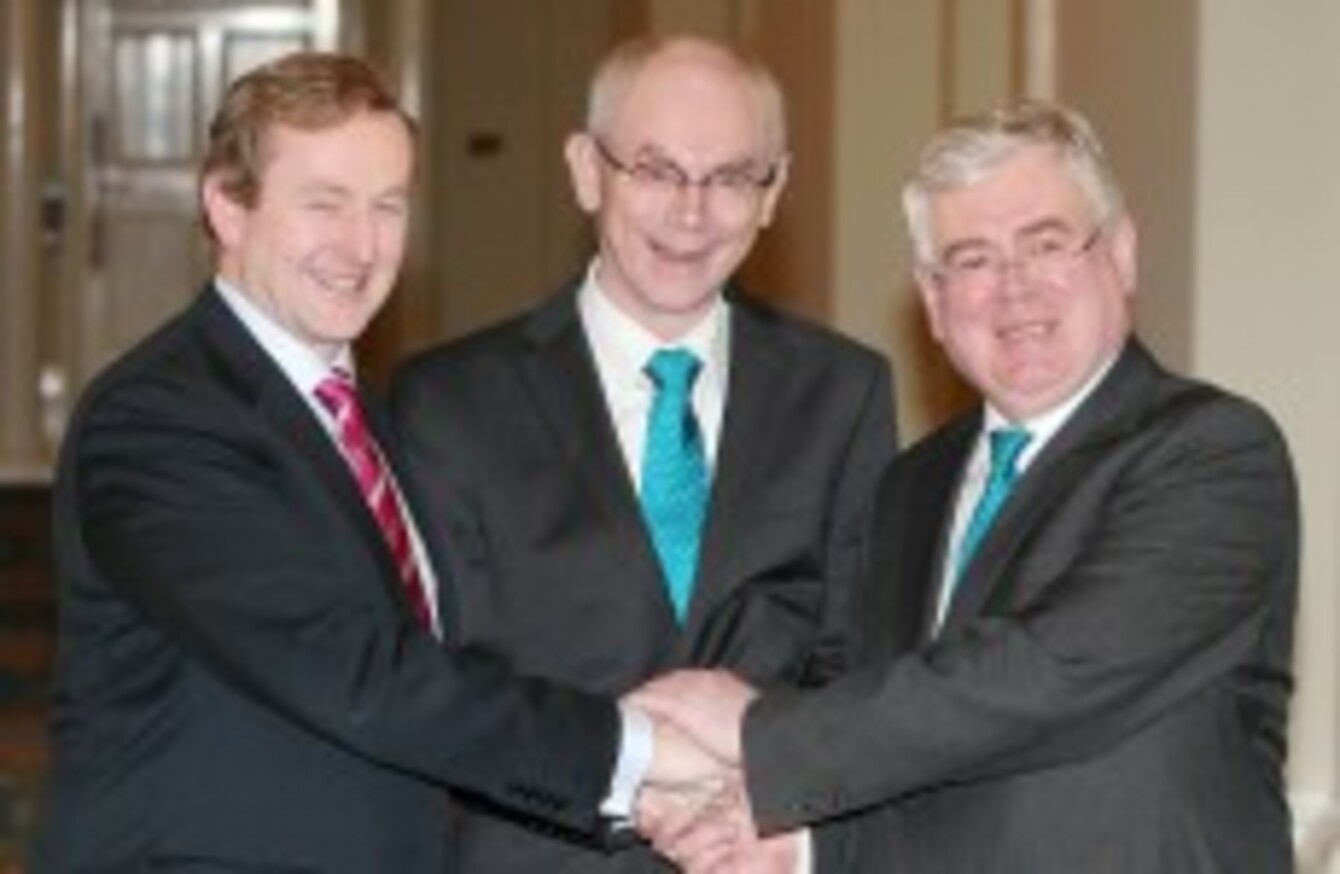 Enda Kenny and Eamon Gilmore with European Council president Herman van Rompuy (centre)
Image: Niall Carson/PA Archive/Press Association Images
Enda Kenny and Eamon Gilmore with European Council president Herman van Rompuy (centre)
Image: Niall Carson/PA Archive/Press Association Images
THE IRISH GOVERNMENT spent around €51 million on its six-month presidency of the European Union, around €9 million less than was budgeted for.
The government also spent over €10,000 on the production of a report outlining its legislative results over the six months of its presidency from January to the end of June.
The 100-page report cost €6,236.10 to produce with €3,891.96 spent on translating it into four different languages. This brings the total cost to €10,128.06
The Tánaiste Eamon Gilmore said that the document was produced "within a tight turnaround time" and was also printed using the in-house printing capacity of the Department of Finance.
In answers to parliamentary questions this week the Tánaiste said that the overall budget for the presidency was set at €60 million, 40 per cent less than was spent on Ireland's last presidency in 2004.
He said that while some costs had still to be determined, "it is now clear" that the revised spend will be €51 million, saving "at least €9 million". Security costs are not included in the budget.
Ads
"As the Presidency concludes and as final payments are made, a full financial report will be published later this year setting out the final cost of the Presidency," Gilmore said.
He also revealed that €28,000 was spent on placing advertisements in two newspapers this month to "inform the Irish public on the outcome" of the presidency.
Gilmore said that €14,000 each, exclusive of VAT, was spent with the Irish Independent and the Metro Herald to highlight Ireland's achievements during the presidency.
Metro Herald also received €14,000 for an information feature related to the presidency, the 40th anniversary of Ireland's EU membership and the European Year of Citizens that was published on 9 January.
Gilmore said that 37 billboard posters for Dublin city centre were also used with no rent being paid to Dublin City Council and minimal design cost as the Presidency branding already developed was reused.
He said there was no online or broadcast advertising undertaken and no further publications are planned.