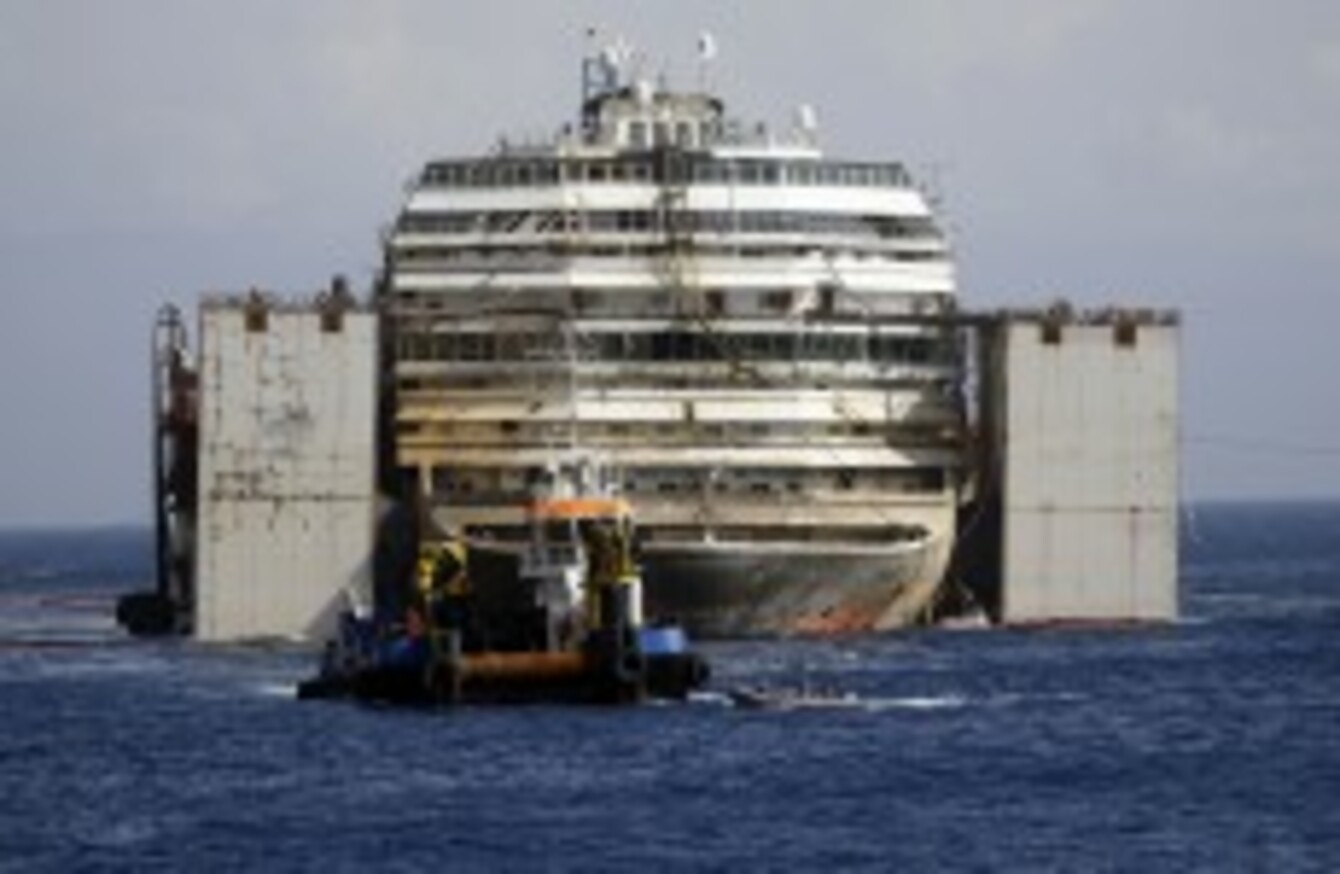 It will take four days to tow the ship to Genoa.
Image: AP/Press Association Images
It will take four days to tow the ship to Genoa.
Image: AP/Press Association Images
ITALIAN SALVAGE WORKERS have pushed back until tomorrow the departure of the Costa Concordia cruise ship wreck from the island of Giglio.
"The towing operation will begin Wednesday," civil protection agency chief Franco Gabrielli, who is heading up the salvage, told reporters.
This is instead of today as previously planned.
Engineers said that the ship was now almost fully refloated and final checks would be made on Tuesday before it is dragged away from the Mediterranean island to a scrap yard in the northern Italian port of Genoa.
Sergio Girotto, one of the engineers, said it was not possible to pin down the exact hour the towing operation would begin, but "we are at the punchline."
Over the weekend vast air tanks attached to the ship's sides raised the vessel deck by deck above the waves, and by Monday gaping windows, a rust-tainted bow and the faded Costa Concordia emblem on its flanks could be clearly seen.
"In this kind of operation it does not make sense to rush, we don't want to make mistakes," said Michael Thamm, chief executive of ship owner Costa Crociere.
"We have never been over-ambitious, we have taken one step after another. An extra 24 hours give us time to run more tests, raise our comfort levels further. I believe it is another day well spent," he said.
The battered ship will be towed at a speed of two knots and is expected to reach Genoa in around four days, during which the weather is forecast to be calm, reducing the risk of the vessel breaking up, salvers said.
The luxury liner crashed into the island on the night of 13 January, 2012 with 4,229 people from 70 countries on board in a disaster that claimed 32 lives.
It keeled over with a massive gash in its hull, prompting a panicky evacuation. Its captain Francesco Schettino is on trial for manslaughter and for abandoning the ship.