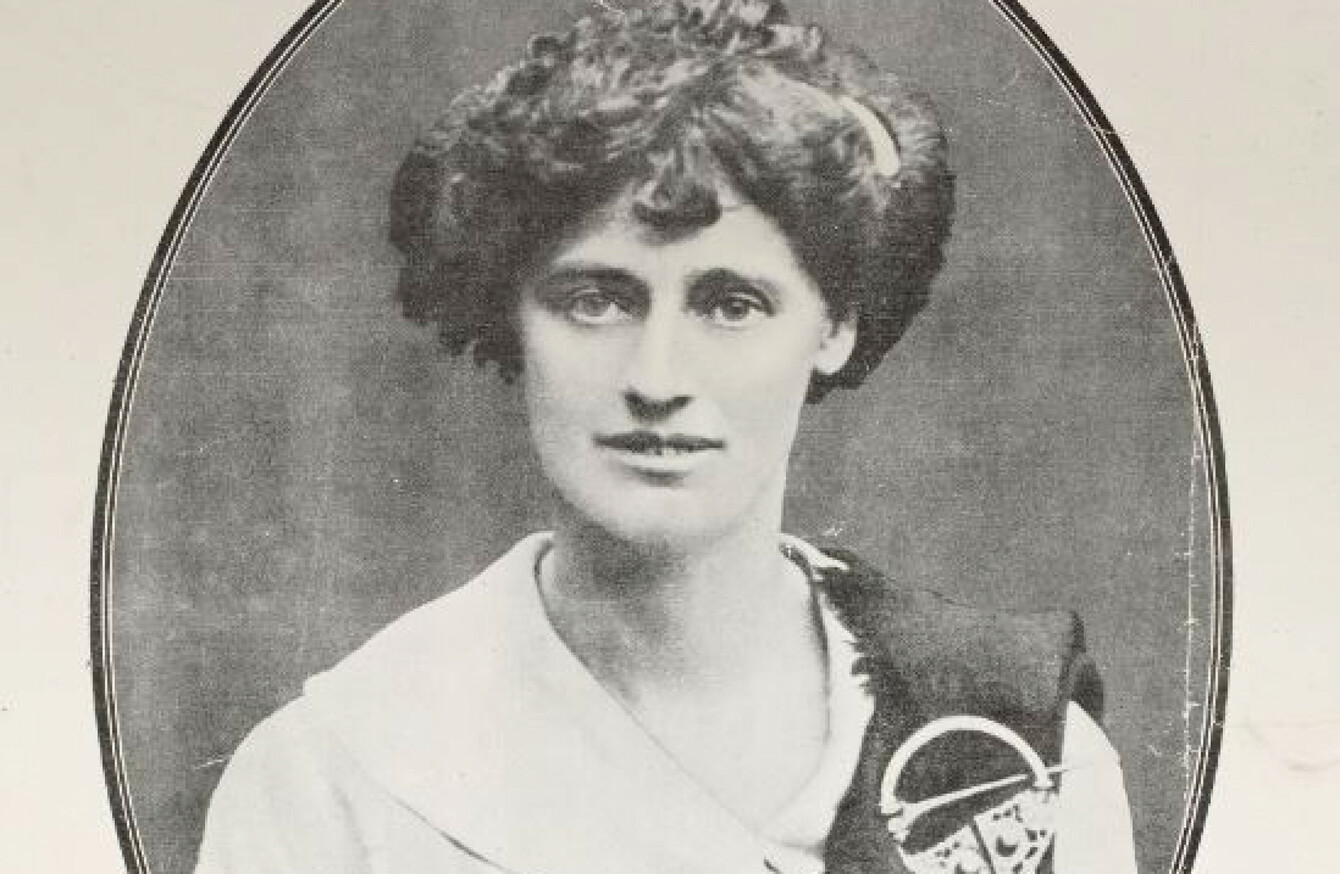 Countess Markievicz
Image: National Library of Ireland
Countess Markievicz
Image: National Library of Ireland
Source: TheJournal.ie/YouTube
IN THE NATIONAL Library of Ireland archives, there are letters written by Countess Markievicz, which give an insight into her time in prison.
On a visit to the NLI, we got a look at some of the letters, and a Christmas card which Markievicz and Kathleen Clarke – widow of Tom Clarke, who signed the proclamation – sent in 1918.
"This collection of letters from Countess Markievicz tell you quite a bit about her because they're all written from different prisons over a period of a number of years," explained outreach officer at the NLI Katherine McSharry.
Markievicz was a suffragette, feminist, and the first female MP – there's going to be a portrait of her hanging in the House of Commons soon.
"She was heavily involved in the 1916 Rising, she was very much involved in the fight for the vote for women, revolutionary politics," explained McSharry.  "And in 1918, which is a really dramatic year in Ireland – the war is still going on, there's a big push against conscription in Ireland – she was one of the people who is rounded up and imprisoned because there is this idea that she is involved in what's called the German plot. So, a plot by Germany to overthrow British rule in Ireland."
Among the letters belonging to Markievicz in the NLI archives are ones sent while she was in prison in 1918, during a period when her status would change hugely.
"In the letters that we see here, Countess Markievicz is in prison, she's in Holloway Prison and she's been imprisoned because she's thought to be too dangerous to have on the loose in Ireland, that she's involved in revolutionary politics," said McSharry. Due to the fears around the German plot – which was mentioned by Dublin Castle – a number of very high-profile, very prominent republicans are in prison.
At this time, Countess Markievicz is in prison with Kathleen Clarke, who's the widow of Tom Clarke (one of the signatories of the Proclamation).
"And one of the fascinating things is, she's writing these letters to her own sister and while she is in prison, we have one here in December 1918, she becomes the first woman to be elected to the British parliament – she never takes her seat – and she does that while she's in prison. She's elected in Dublin while she's in prison in the UK," said McSharry.
In this 1918 December letter we have her talking about how she got paper which is a big thing in prison, to write an election address, and she was doing it so fast she wasn't sure if it made sense. But it must have made a certain amount of sense because when we flip over and we see her signature, what she says here, she signs herself Constance Markievicz, IRA. And then in January, she signs herself Constance Markievicz, MP. So she's become a member of parliament in this time.
Within the detailed letters and diaries that people keep at this time. are not just details of their involvement in political affairs, but "you also find out the books that they're reading and who they're interested in and there's always little bits of gossip", said McSharry.
Another item she showed us was a Christmas card that is sent by Countess Markievicz and by Kathleen Clarke from prison in Holloway. "They're sending a Christmas card from Holloway jail to a friend of theirs, William O'Brien, who was really involved in the Trade Union movement.
"And you can see across the top here, it says greetings to you and to the Irish transport Workers Union, the ITWU."
The card is signed "Holloway Jail, December 1918″, which showed how "they're still keeping up the customs and rituals that help to make ordinary life possible".
They underline in the card a line that says 'Fond memory brings the light of other days around me'.
So they're communicating with and keeping that connection with their friends in Ireland.
Underneath that line, it reads: "May peace and freedom gladden your days."
Also in the archives is a flyer urging people to vote for Countess Markievicz in the December 1918 election. Interestingly, it focuses on her religious side.
"When we look at this flyer, it's very interesting in the context of Countess Markievicz, who is very radical in her politics, very revolutionary. What's being pointed to here is her spiritual and aher religious side," explained McSharry.
So what they're showing us is an extract from an Irish priest, that's how he's described, talking about how religious she was when she was in Kilmainham Jail, awaiting trial after the 1916 Rising. So it's doing a few interesting things.
It's reminding us she was a key revolutionary figure, but it's also showing us that she has this spiritual religious side and for a big portion of the electorate that's a really important factor.
So there's this targeted focus on a particular aspect of the candidate, in order to bring out as many people as possible.
This type of electioneering is to allay fears that people may have about somebody, said McSharry, or to make a very particular appeal.
"There was a very particular appeal to religion and sacrifice and those really important elements in the memory of 1916, so what they're doing is pressing that particular button which is to remember the religious sacrifice that the men had made, that she was ready to make, that she was prepared to make it."