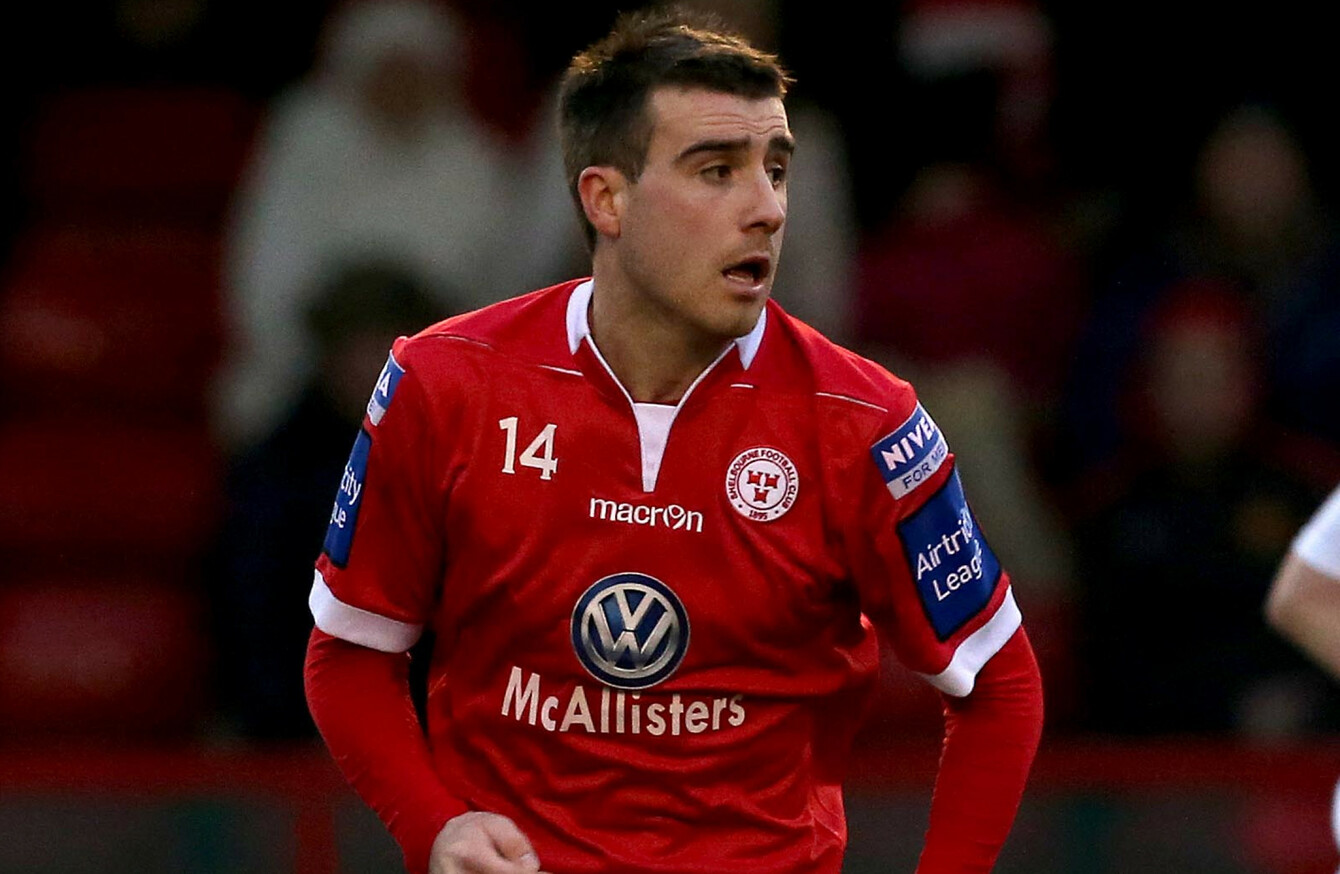 Robert Bayly
Image: Ryan Byrne via INPHO
Robert Bayly
Image: Ryan Byrne via INPHO
A LEAGUE OF Ireland player has been sent forward for trial in connection with a €240,000 cannabis seizure in Dublin.
Former Leeds United and Republic of Ireland youth team football player Robert Bayly, 29, was served with a book of evidence today.
Cannabis herb with an estimated street value of €240,000 was allegedly seized when gardaí stopped a car at Cherry Orchard Drive, Ballyfermot on 12 May at around 6.45pm.
The currently unsigned midfielder, from Ballyfermot in Dublin, was charged with possessing cannabis with intent to sell or supply in connection with the seizure. The offence is contrary to the Misuse of Drugs Act.
He was remanded in custody during a court hearing on 13 May, however, bail was set four days later in his own bond of €200 and he was released.
He faced his fourth hearing when he appeared before Judge Michael Walsh at Dublin District Court.
A connected charge for possessing drugs worth €13,000 or more was also brought today. Garda Neil McGrath told Judge Walsh that Bayly had no reply when the new charge was put to him.
He has not yet indicated how he will plead.
The Director of Public Prosecutions directed he must face trial on indictment in the circuit court.
Judge Walsh made an order sending him forward for trial on bail to appear at Dublin Circuit Criminal Court on 3 November. He was warned that he must notify the prosecution within 14 days if he intended to use an alibi in his defense.
He replied "yes" when asked if he understood.
His solicitor Niall O'Connor told Judge Walsh that an application will be made later to have his client's passport returned to him. Earlier the court heard that he required it for employment purposes.
Legal aid was granted.
Bayly signed for Leeds United in 2006 and spent two season at Elland Road before returning to a distinguished League of Ireland career.
He has played for Shamrock Rovers, Bohemians, Monaghan United, Longford Town, Drogheda United, Bluebell United, Waterford FC and Shelbourne, his most recent team, which announced in March that he left the club by mutual consent.
The Dubliner was capped for the Republic of Ireland team at youth and under-19 level while playing for Cherry Orchard.
He also spent a season with Belfast club Cliftonville in 2015.