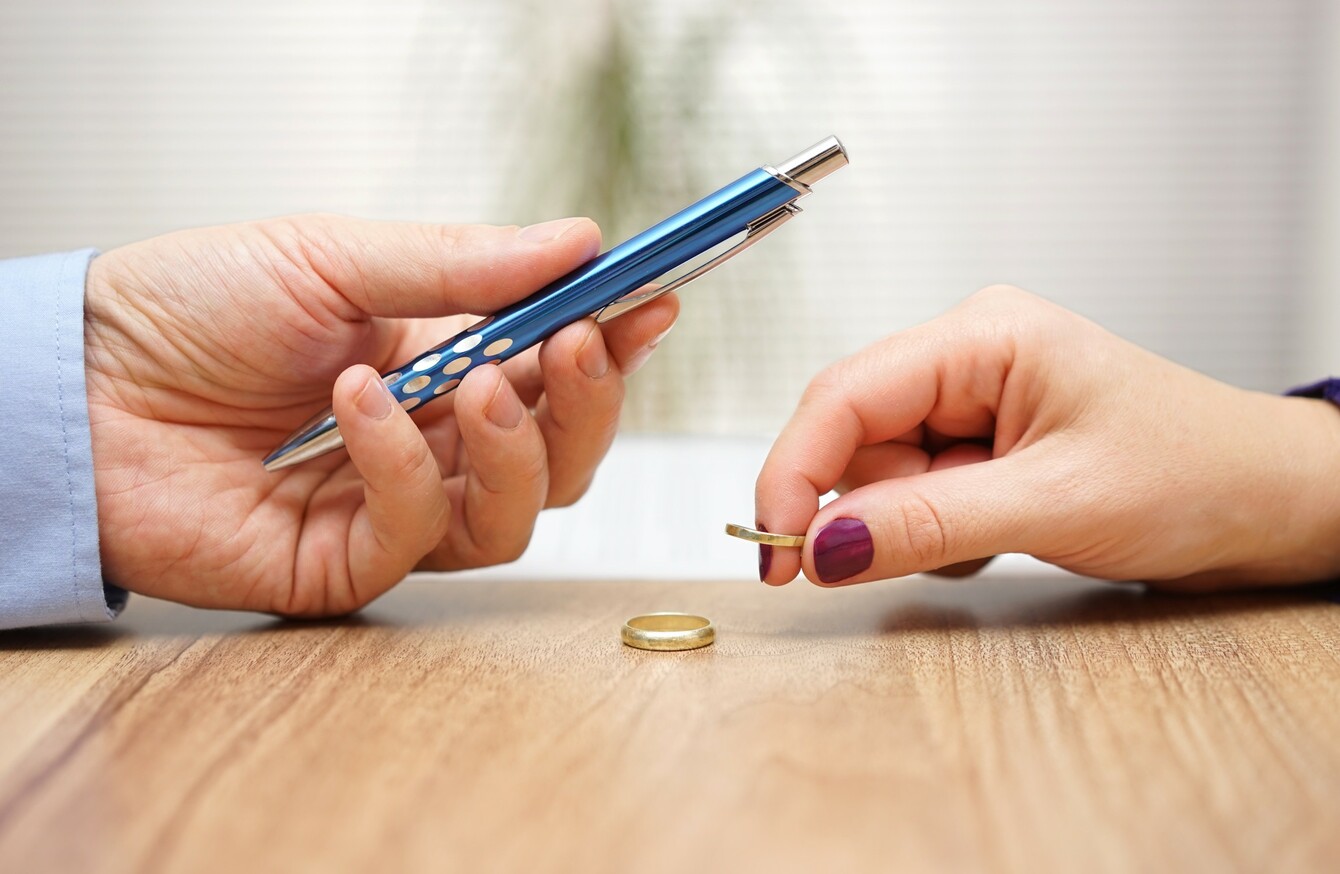 Image: Shutterstock/Bacho
Image: Shutterstock/Bacho
THERE WAS AN increase in the number of divorce applications in Ireland in 2015.
Some 4,314 applications were lodged last year, a 9% increase on 2014.
Women account for the majority of applications to both the Circuit Court (CC) and the High Court (HC), 54% and 58% respectively.
There was also an increase in applications for judicial separation, up 11% from 2014 to 1,419. Again, women were the applicants on most occasions – 71% in the CC and 91% in the HC.
This follows years of no increases or decreases.
There were 78 applications to dissolve civil partnerships in 2015, with 71% of CC cases and 66% of HC instigated by female couples.
The statistics are contained in the 2015 Annual Report of the Courts Service, which was published today.
Overall, some 685,000 matters came before the courts last year, with 436,471 cases relating to criminal matters. Of this, 324,298 cases were resolved in 2015.
Some 190,763 of the 248,245 civil matters before the courts were resolved last year.
Criminal
Six in ten of the District Court (DC) orders related to road traffic offences, much the same as 2014. A further 12,310 DC cases related to drugs offences – a 4% increase on the previous year. The DC also dealt with 30,451 public order offences cases, in line with 2014.
There were 7,218 drink driving orders in 2015 – a 15% decrease on 2014 and a 36% decrease on 2013. Dangerous driving orders remained largely the same for the past two years – at just under 4,000.
There were convictions in 19 murder offences and 156 rape offences in the Central Criminal Court.
At Circuit Court level there were 14,119 more serious criminal offences, with theft and robbery accounting for 6,299. There were 1,432 drugs offences, with 1,212 offences relating to assault.
Some 45% of all criminal matters in the Circuit Criminal Court related to fraud, theft or robbery. The court gave prison sentences for 2,620 offences in 2015.
Other civil cases heard in 2015 included:
Almost 19,000 personal injury suits (7% increase);
Over 14,300 domestic violence applications (6% increase);
Over 10,2000 child care applications (10% increase);
Some 471 people adjudicated bankrupt (5% increase) – 457 by debtors themselves and 14 on foot of application from creditors;
Almost 1,400 orders for possession – 113 in the HC (40% decrease) and 1,284 in the CC (21% increase);
Some 164 asylum-related judicial review applications (12% decrease on 2014 and 57% drop from 2013).
Just over 5,000 orders were made relating to offences before the Children Court, with almost half being struck out or taken into consideration with other offences.
The net cost of running the courts service was €60 million in 2015 – the same figure as 15 years ago, and 40% less than six years ago. Seven courthouses across the country are currently being refurbished or newly built.
Speaking at the launch of the report, Chief Justice Susan Denham spoke about the future of the service and how plans are being made to make more processes accessible online.
"There was a time when all of our capital investment was in buildings, creating a visible and tangible material world. In the past 15 years the world and the Courts Service has changed. We have fewer, but greatly improved, quality court venues.
This allows for a better use of time, money, resources, staff and judges to hear more cases in courthouses where there are facilities for the litigants and their legal advisers.
"However, we are now relying more on virtual spaces, the world of information and communications technology (ICT), clouds, networks, platforms and communities online. It is here we must focus more energy and resources," she said.