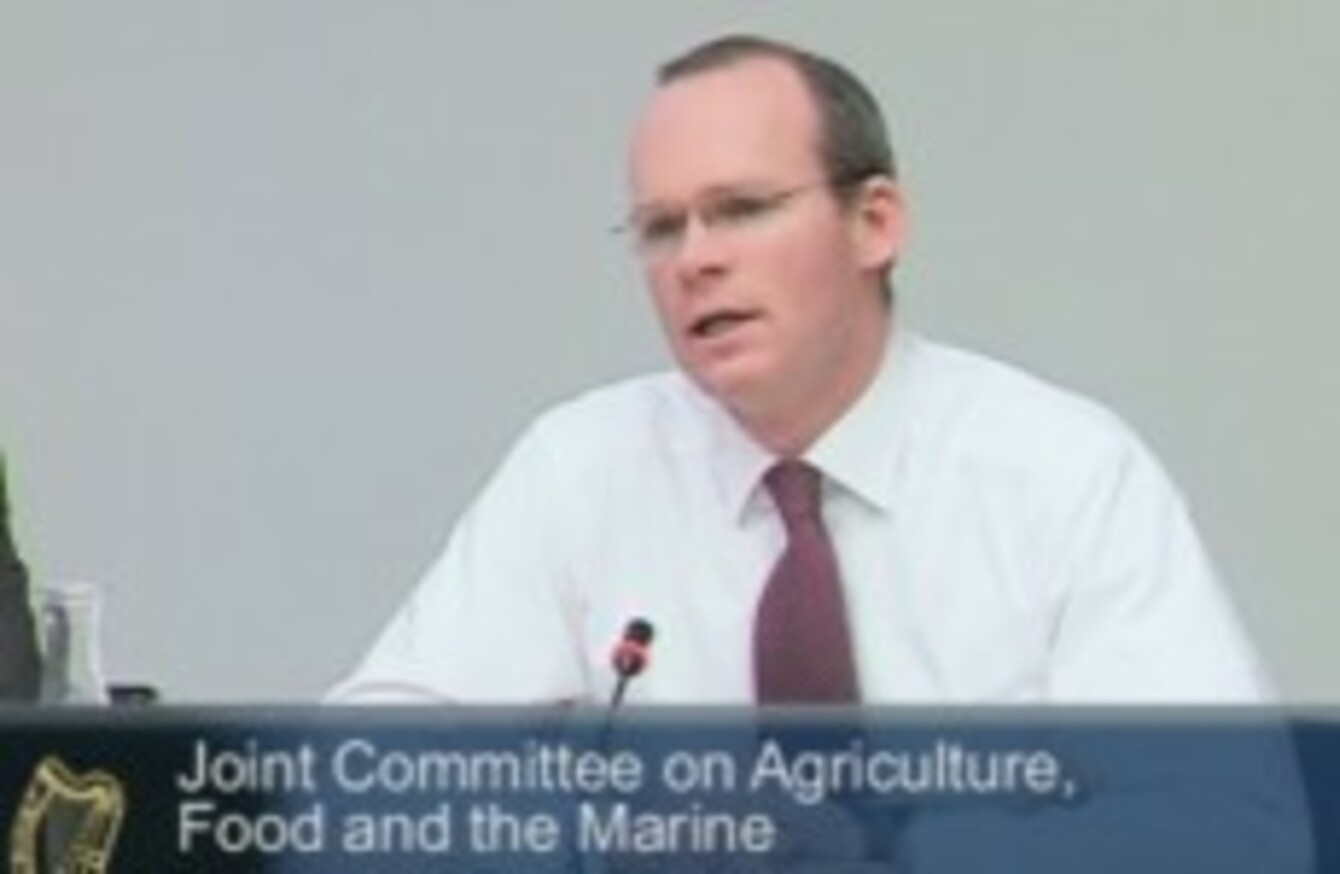 Minister for Agriculture Simon Coveney
Minister for Agriculture Simon Coveney
MINISTER SIMON COVENEY has said that 'bad management' at the Silvercrest Food Plant has let down the Irish food industry.
Speaking before the Joint Committee on Agriculture, Food and the Marine, the Minister for Agriculture said that the company's breach of contract with large customers such as Tesco and Burger King should never have happened, and that the relationship had "left a lot to be desired".
On the topic of whether the department were in talks to help re-establish these lost contracts, Coveney was guarded in his response, saying that he couldn't give a detailed answer at the moment.
He did say, however, that "something fundamental" would need to change at the plant for this to happen, adding:
I can assure you that we haven't forgotten about the 140 or so employees of Silvercrest who are innocent victims of this. We want to be suppyling to big customers.
"We're trying to allow Silvercrest move on from this," he said.
The minister said that An Garda Síochána has been asked to investigate the issue to help establish "who knew what and when".
With gardaí now briefed on the issue, he said that they would not be rushed in their investigation, "regardless of the commentary" and added that he would not rule out "legal cases, litigation and compensation cases being sought" upon the conclusion of the investigation.
The CEO of the Food Safety Authority of Ireland (FSAI), Professor Alan Reilly, once again made it clear that there was "no risk to consumer health", but that the findings had instead uncovered a "very poor practice" in burger production.
The question of delay came up time and again. In response to this, Reilly said that had the FSAI made their findings known before they had been confirmed, he would be "sitting here today answering questions about why we acted too early".
Polish denials and labelling

Responding to the fact that the Polish agriculture minister continues to deny that Poland products are the cause, Coveney restated his belief and that of his department.
"It is not unreasonable to draw the conclusion that there is a problem with the product coming from Poland," he said. "I haven't said that lightly."
Somebody is selling rogue product, and somebody knows about it.
#Open journalism No news is bad news Support The Journal

Your contributions will help us continue to deliver the stories that are important to you

Support us now
Senator Susan O'Keeffe – the ex-World in Action journalist whose investigations led to the Beef Tribunal – said that she was still "at a loss" as to the delays in the findings coming to light.
She said that she also believed that question marks still remained over the labelling, and that measures needed to be in place to ensure that if the label said 'beef trimmings', that was what it was.
"If you put a label on my back that says 'Taoiseach', it doesn't make me the Taoiseach," she said.
While DNA testing is not currently included in checks carried out by the department, Coveney said that this was something that would be looked at in the future.
"Our systems uncovered this fraud," Coveney said. "Our systems are robust and are working, and will uncover fraud if it is there."