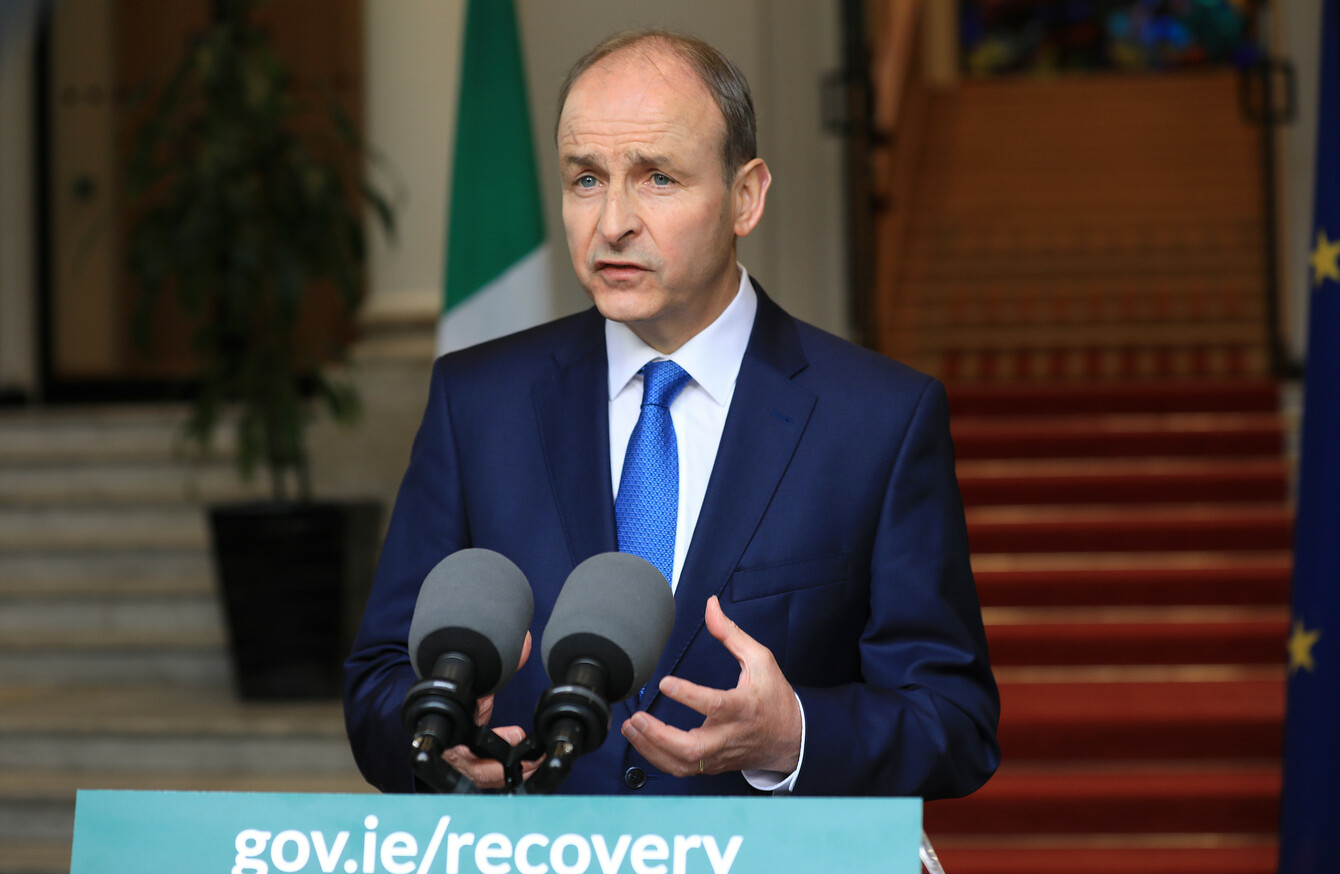 Taoiseach Micheál Martin (file photo)
Image: Julien Behal Photography/RollingNews.ie
Taoiseach Micheál Martin (file photo)
Image: Julien Behal Photography/RollingNews.ie
Updated Jun 1st 2021, 2:15 PM
THE PANDEMIC UNEMPLOYMENT Payment (PUP) will be phased out as part of a €3.5 billion Covid-19 stimulus plan unveiled by the Government today.
The Government has announced a range of measures to help businesses reopen as restrictions ease, but confirmed the PUP will be phased out in the coming months.
Speaking at a press conference today, Taoiseach Micheál Martin said: "The economic impact of the pandemic was swift and unprecedented. It is the most rapid and dramatic recession recorded outside of the world wars.
"In response, a wide range of measures were put in place to try to limit damage and protect livelihoods and businesses as much as possible. They have provided both a safety net and a bridge to this point.
"And now, we must move forward with purpose, not to simply return to the pre-pandemic situation but to move our society and our economy on, to move towards not only generating the jobs we need, but also to address urgent societal issues."
Martin said the plan includes more than €3.5 billion for the labour market and in enterprise supports, and just under €1 billion in additional funding for the "recovery resilience plan" which will help "kickstart" the economy and get more people back to work.
The PUP will be extended beyond 30 June for existing claimants "in recognition that opportunities to return to work will remain impacted, in some sectors, by public health restrictions in the short term", the Government's plan notes.
However, it was confirmed that "given current progress in delivering vaccines and re-opening the economy, it is planned to close the scheme to new applicants from 1 July".
The current weekly rates of support will be gradually reduced over three phases by €50 increments.
The payment will be reduced to €300 from 7 September "provided progress on re-opening continues". Two further phases of changes will take place over the following months – the payment will reduce to €250 on 16 November and be abolished on 8 February.
PUP claims for students will be extended until the start of the 2021/2022 college year (with the final payment on 7 September). Some €10 million in assistance will "provide supports for the forthcoming academic year for students impacted by Covid-19″, the plan states.
The Taoiseach told reporters that the tourism sector didn't put pressure on him to lower the PUP amount in order to get young people to go back to work in that sector. He said people want to go back to work.
Business supports
The Employment Wage Subsidy Scheme (EWSS) is to be extended from 30 June until 31 December.
The current payment rates will be maintained in July, August, and September. The Government is also broadening eligibility, Martin said at a press conference at Dublin Castle.
The scheme, which is currently supporting around 300,000 jobs, will be available to any business whose turnover is down 30% or more compared with 2019.
Commercial rates will be waived for a further three months and the 9% reduced VAT rate for hospitality is to be extended until September 2022.
The weekly CRSS payment will continue, which is paid to businesses that are severely hampered in how they can operate due to the Covid-19 pandemic.
But as the tourism and hospitality sectors open back up this month, the Government is expecting less and less businesses will qualify. So the Government is giving businesses that are coming off the CRSS a "bullet payment on reopening", as Tánaiste Leo Varadkar called it.
It will come in the form of a double payment for three weeks, up to a maximum of €30,000. "That's going to be very helpful in terms of cash flow, restocking, and re-engaging with employees," he said.
A new scheme will start in September this year for businesses that are still struggling to resume operations in the autumn, where their turnover is 75% lower than it was in 2019.
These businesses will receive a further grant in the autumn up to a maximum of €15,000.
A special scheme for the event sector will be worth up to €50,000 per company.
Varadkar also said that he is extending the redundancy moratorium, for the last time, until 30 September by extending Section 21A of the Redundancy Act.
Businesses who struggle to pay redundancies will be able to gain access to a no-interest loan, the Tánaiste said.
The Government is also considering a range of recommendations in relation to arts and culture, and will pilot a basic income guarantee scheme for artists.
The aim is to have 2.5 million people working in Ireland by 2024. Varadkar said the plan will prompt our economy "to take off like a rocket in the months ahead".
Property Tax
The Cabinet has also agreed that owners of homes built since 2013 will no longer be exempt from paying Local Property Tax.
Another change will see about one-third of people who already pay property tax having their bill increased by around €100 every year.
Finance Minister Paschal Donohoe told RTÉ's News at One that there will be a new valuation of homes from November for property tax purposes. He said most homeowners won't face an increase and the majority of those who do will face a hike of around €90 per year.
Speaking at the same press conference, Transport Minister Eamon Ryan announced plans to invest in rail transport in Cork in order to link Mallow to Midleton through a new platform at Kent Station.
The measures announced today will be paid for via national and European funding.
The European Council, made up of the Heads of State and Government of each EU Member State, recently adopted a historic €750 billion recovery package for Europe, NextGenerationEU.
#Open journalism No news is bad news Support The Journal

Your contributions will help us continue to deliver the stories that are important to you

Support us now
Ireland will receive approximately €915 million in grants from the EU's Recovery and Resilience Facility. These grants will be used to support investments between now and mid-2026.
A further set of grants will be allocated to each Member State in 2023, taking into account economic developments between now and then.
Further education and training
Further education and training will play an important role in getting more people back to work, the Government said today.
The plan states: "This priority area will focus on new work placements in response to the COVID-19 pandemic, in order to keep those who are unemployed close to the labour market.
"This area will also focus on equipping the Irish workforce with the necessary future skills that will be required to boost the innovation and productivity of the SME sector, and the provision of skills in support of climate action."
Three investments will be undertaken under this priority to a total value of €181 million:
EU funds will be used in support of an "ambitious new Work Placement Experience Programme, targeted at reaching 10,000 participants"
The Solas Recovery Skills Response Programme will see a range of additional educational and training programmes rolled out; the establishment of the Solas Green Skills Action programme will focus on providing training to address climate and low carbon economy issues
The Technological Universities Transformation Fund will be supported by EU funds to "aid the development and realisation of Technological Universities and promote regional economic development"
With reporting by Gráinne Ní Aodha