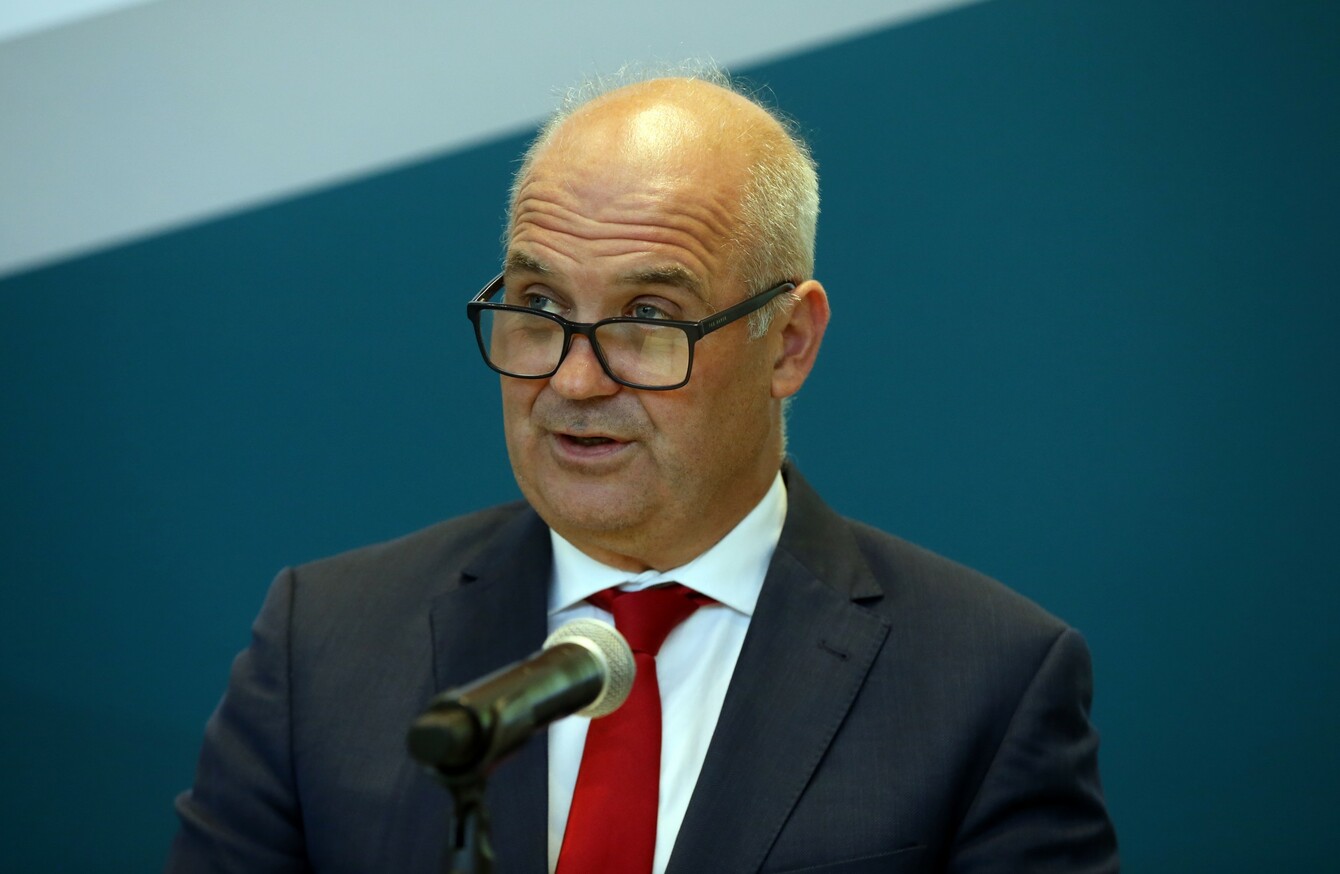 Dr Tony Holohan, Chief Medical Officer (file photo).
Image: Sam Boal/RollingNews.ie
Dr Tony Holohan, Chief Medical Officer (file photo).
Image: Sam Boal/RollingNews.ie
Updated Oct 5th 2020, 2:00 PM
Follow us Live here throughout the afternoon ahead of tonight's announcement regarding NPHET's Level 5 recommendation. 
CABINET WILL MEET later today to discuss NPHET's recommendation that the entire country enter Level 5 – the highest level of Covid-19 restrictions.
However, it's understood that the government has rejected moving to Level 5, as recommended by Nphet, and will instead bring in Level 3 nationwide.
Taoiseach Micheál Martin, Tánaiste Leo Varadkar and Green Party leader Eamon Ryan discussed the recommendation with Chief Medical Officer Tony Holohan earlier today.
Finance Minister Paschal Donohoe, Public Expenditure Minister Michael McGrath and Health Minister Stephen Donnelly attended the meeting with Holohan and other senior NPHET members. 
The full Cabinet will meet later – at a time yet to be determined – and it's expected a public announcement will be made at some stage this evening. At the moment, there are no clear indications as to when that public announcement will be made. 
Elsewhere this afternoon, the GAA announced it had suspended all games with immediate effect. A statement released to clubs says that the association has taken this decision following "a number of incidents" in relation to post-match celebrations and "a lack of social distancing" at recent games.
Shock announcement 
In the wake of the announcement a significant number of ministers were against the push to move to Level 5.
Last night's recommendation was made following a meeting of the National Public Health Emergency Team yesterday evening as cases of Covid-19 continue to rise sharply across Ireland.
Public health officials made the recommendation to Minister for Health Stephen Donnelly in a letter, the details of which were not revealed publicly. 
The news broke at around 8.30pm last night, and speaking this afternoon Labour leader Alan Kelly said it had lead to sleepless nights for people around the country. Kelly also called on NPHET to share the data on which the decision was made. 
In a tweet, Sinn Féin leader Mary Lou McDonald said moving to higher level of restrictions without adequate supports for workers, families, services and businesses "would be catastrophic".
"Government failure to invest in health services has left us dangerously vulnerable. I will speak with Taoiseach later today." 
A NPHET source told TheJournal.ie last night that the "projections are very bad" and there needs to be a "major shift". They said that there has been a "big deterioration" in the situation in the country in recent days.
However, there have been concerns among NPHET that the government will not agree to the Level 5 recommendation, with one source suggesting that the country may not be ready for such a strong change.
One member of government queried whether the public would adhere to a Level 5 lockdown at this point.
Government sources said that the majority of ministers were shocked at the advice and are against the escalation – though one source added that it would be significant for the government to actually say 'no' to a NPHET recommendation.
Minister for Higher Education Simon Harris, the former health minister, was amongst the politicians calling for clarity on the situation today.
Doubt many of us got a night's sleep. So many worries & questions on people's minds. Leaks & speculation don't help. Today needs to bring clarity. Until then let's focus on what we can control & what we can do - keep distance, reduce contacts, wear face coverings #Covid19

— Simon Harris TD (@SimonHarrisTD) October 5, 2020
Cabinet anger 
There was palpable anger in government circles today as to how the information was leaked following the NPHET meeting last night, with many ministers stating they learned of the proposed escalation via Twitter. 
"The system is in shock," said one government source.
The government's annoyance and confusion hinges on what NPHET said last Thursday – when the public health team stated that the situation did yet require a national move to Level 3.
Currently two counties – Dublin and Donegal – are at Level 3 while the rest of the country is at Level 2.
The NPHET statement released on Thursday evening said: 
NPHET have further advised that Government extend the Level 2 measures currently in place for a further period of three weeks, with Donegal and Dublin remaining at Level 3. NPHET will continue to monitor this situation very closely.
HSE CEO Paul Reid said in a tweet today there are "obvious concerns" about Covid-19 trends.
"We also know the impacts of severe & regular restrictions in society on the public health, wellbeing, mental health and the economy," he said, adding that the government has to consider the Level 5 recommendation "in this context too".
Business reaction 
Reacting to the recommendation, Ibec CEO Danny McCoy said: "Given the seriousness of the NPHET recommendation for our economy and society, the Government's Senior Officials Group must seek, review and publish the evidence that is underpinning these recommendations.
"It is intolerable that after six months we are still receiving both vague and changing criteria to advance such serious restrictions."
Government sources have today been referencing the data around Ireland's hospital capacity stating that this is not the same as the first wave.
They reference that hospital and ICU numbers are a fraction of where they were in April, with deaths only at 2.7% of the peak. Covid patients occupy 1% of hospital beds and about 7% of ICU beds.
Capacity in the wake of Winter Plan funding is 297 critical care beds, but government sources state there is room to "flex up to 400″ beds, and ventilate 1,000 patients if needed.
One source said that if numbers increased three-fold, the health service would be under pressure "but would cope just as we did when there were 100 Covid patients in ICU in April".
Speaking on RTÉ's News at One, Dr Tomás Ryan of the School of Biochemistry and Immunology at Trinity rejected that argument, saying that while the current wave of Covid-19 was growing at a slower rate than in the spring it could end up being just as serious. 
Health Minister Stephen Donnelly told the Dáil Special Covid Committee in August that in relation to private hospitals, tenders had been issued to deal with diagnostics, services, and surge capacity as part of winter preparations.
Tipperary TD Mattie McGrath said last night's recommendation "will come as a massive shock to many and will cause huge uncertainty and lack of confidence within the business community and wider society".
"It is exactly this type of scenario that we were supposed to avoid by having the Living with Covid plan to ensure that business and society could operate effectively with restrictions and plan ahead as we move gradually through the different levels," McGrath stated.
Fine Gael's Louth TD Fergus O'Dowd said there were "huge variances" in the virus numbers around the country and that the rationale for such a decision had not been explained. 
He said something huge must have happened in recent days for such a recommendation to be made. Louth and many other counties, he said, are well below the national average.
O'Dowd also said he was "not particularly happy" with how the information was leaked.
Some government sources acknowledged that politicians often leak, but they were seriously disappointed that such serious information from a public health meeting would make its way into the public, ahead of some members of government being informed.
Fianna Fáil's Jim O'Callaghan told Newstalk's Pat Kenny this morning: 
"I'm concerned at the manner by which we're doing business at present, it's not a good idea for the people of Ireland to hear, late on a Sunday evening, a leak from NPHET indicating that there's a recommendation that the country's going to go to Level 5."
His comments follow on from an interview with TheJournal.ie last week, in which the TD said there was a danger in a politicial system that follows NPHET advice blindly.
#Open journalism No news is bad news Support The Journal

Your contributions will help us continue to deliver the stories that are important to you

Support us now
Schools
The Teachers' Union of Ireland (TUI) is seeking "urgent engagement" with the Department of Education and Skills and the government ahead of any move to a higher level of Covid-19 restrictions.
Speaking this morning, TUI General Secretary Michael Gillespie said: "Our members are extremely worried by current events and their health and safety in the workplace. We have many members with serious underlying health issues and also many members who share a household with people with underlying health issues.
"We require urgent engagement in relation to what increased protections will apply to teachers in an escalation to Level 4 restrictions. We have already sought detailed clarification on why it would be safe for schools to remain open at Level 5 if the rest of society is effectively locked down."
Under Level 5 schools and crèches will remain open with protective measures in place.
What Level 5 restrictions would mean
Under Level 5 restrictions, people would be asked to stay at home except to exercise within 5km of their homes. It would be advised that people do not have any visitors to their homes.
Employees would be advised to work from home unless it is for work in health, social care or other essential services that cannot be done from home. Schools and creches would remain open with protective measures in place.
No social or family gatherings in other locations – either indoors or outdoors – would be allowed to take place. The two exceptions to this would be weddings, with guest numbers limited to six, and funerals at which up to 10 mourners could attend.
Other religious services would all be held online but places of worship would remain open for prayer.
Those aged over 70 and the medically vulnerable would be advised to exercise their judgement regarding the extent to which they engage with others and in activities outside their homes. Specific guidance for these groups would be issued in the event of a move to Level 5.
Bars, cafés and restaurants would only be allowed to offer a takeaway/delivery service. Hotels would be open only for those with essential non-social and non-tourist purposes.
Museums, galleries and other cultural attractions would be closed.
No matches or sporting events would be allowed, only individual training could continue and gyms would have to close.
Public transport would be restricted to 25% capacity and people would be advised to walk or cycle instead, where possible.