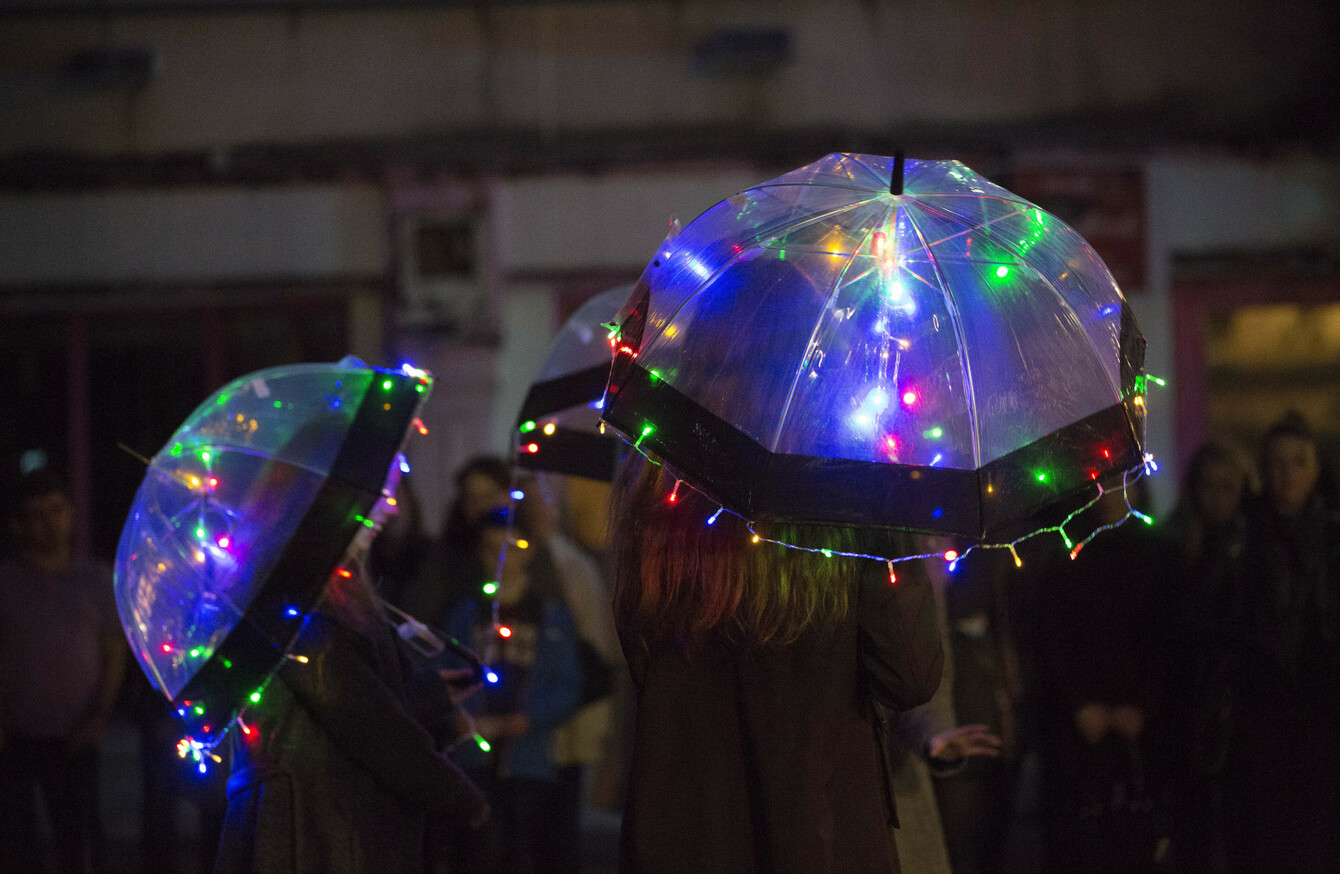 File Photo
Image: Culture Night
File Photo
Image: Culture Night
CULTURE NIGHT 2018 is almost here with hundreds of venues set to open their doors for free tomorrow night.   
If you have yet to decide your night, don't fret our culture guide is here to help you plan ahead. It's important to note while all activities are free, some require pre-booking, you'll find the full details on the Culture Night website.
This evening in the last in our round up of Culture Night festivities by region we take a look at the North. However we've already looked at Dublin and the East, the Midlands and West and South. 
Antrim
In Belfast there's a bilingual traditional musical tour of the city taking place tomorrow evening. It last two hours and starts from 4pm at Winecellar Entry, Belfast. 
Local musicians and children from Gaelscoil na bhFál will entertain families and children from 5pm to 6pm, and JJ Ó Dochartaigh will take to the stage from 6pm to 7:30pm with his own compositions in Irish and translations of well known hits. At 34a Ascaill Uíbh Eachach, Béal Feirste.
Armagh 
Mulberry Restaurant hosts an evening of music, song, poetry and dance in the Irish tradition. From 7pm at Mulberry Restaurant, 6 Cathedral Road, Armagh BT61 7QX.
For walkers there's a bi-lingual tour of Armagh which will focus on the sites in the city linked to Gaelic culture and heritage. From 7pm to 8.30pm starting from Palace Demesne Public Park Armagh.
Cavan
Tapestry of Light a photography exhibition by Tina Claffey opens this Culture Night. Claffey's observations and unique perspective of the flora and fauna of the unspoilt raised bogs and wet woodlands of the Irish midlands are celebrated in this new book. From 7pm to 9pm at Church Street Centre, Ballyconnell.
The Lady Anne Dawson Temple, Dartrey, Cootehill hosts an night of music, song and dance with local musicians and singers, and learn about local place names, all as Gaeilge. From 5pm to 6.30pm.
Cootehill Library presents an exhibition of prints, drawings and paintings from the Tyrone Guthrie Centre. From 6.30pm to 8pm. 
Derry 
The Choir of St Eugene's Cathedral invite you to join them for an evening exploring the theme of mystery. This choral concert will marry music with the visual art in the Cathedral to draw out the meaning of central elements of Christian belief. From 8pm to 9.30 pm.
Hive studios is opening its doors for a Culture Night of retro gaming. From old school platform classics like Manic Miner and Super Mario Bros, to SNES and Sega classics such as Sonic and Streets of Rage the evening returns to a time before online gaming. From 5pm to 8pm.
Donegal
Award winning knitwear designer, Michelle McCarroll (Michi), will give a look behind the scenes into the hectic world of the fashion designer with the launch of her new bespoke 'Mi Chelle' collection at her design studio in 6 Church Lane, Letterkenny. From 6pm to 9pm. 
Letterkenny town park promises to be a hive of activity tomorrow night. Donegal County Council Arts Service is hosting a number of activities here, including Dreamscape an outdoor illuminated  art installation, a sculpture trail and performances from local groups. From 6pm to 10pm.
ZoNa Dance Co will open its studios to visitors, its students will put on performances throughout the evening. From 6pm to 8pm at Mulroy Business Park, Canal Road (behind T. Diver's Hyundai Dealership), Letterkenny.
Down
Nóra Ní Raghallaigh, the well-known seanchaí from Rann na Feirste in the Donegal Gaeltacht, will sing songs, recite verses and tell stories suitable for the whole family. From 4pm to 6pm at Newry Library.
A local expert will give an informal talk on how to research and collect local place names and everyone present will be invited onto a 'meitheal' or working group to collect local place names. From 7pm to 8pm at Dún Éigse, 1 Dublin Road, Castlewellen.
Fermanagh
 For Culture Night Sliabh Beagh Arts will host an exhibition of Rural Community Arts displaying works created during the Whimsical Winds Programme including textiles, photography, mixed media and plasma works. From 6pm to 10pm at Corranny Bar / Old Post office, 14 Carnmore Rd, Corranny, Roslea. 
Dylan Quinn Dance Theatre is putting on a number of performances throughout the evening this Culture Night. From 7pm to 7.30pm at Lakeland Forum, Broadmeadow, Enniskillen. 
Monaghan
Busy Bee Ceramics Studios is opening its new rustic studio to the public for an evening of mix clay pottery demonstrations with the sound of local traditional music. From 6pm to 10pm at Busy Bee Ceramics Studios, Glaslough.
Clones Courthouse hosts a screening of the International Award Winning, Clones Film Festival produced, You're Not A Man At All, followed by a number of thought provoking short films. From 9pm to 10.30pm. 
The Tin Church will be transformed into leafy Whistleberry Forest on Culture Night with the arrival of The Quiet Tree. The Quiet Tree tells the story of the creatures of Whistleberry Forest who have discovered a little oak tree growing deep in the woods. From 5pm to 7pm at St. Peters Tin church, Laragh, Castleblayney. 
Tyrone
Omagh Ukulele Orchestra will provide an interactive musical experience of old and new favourites, with song lyrics and percussion instruments to encourage participation from audience. From 8pm to 8.30pm at Annie's Bar, 15A James Street, Omagh. 
Encore PAA dancers take the streets with a number of animated dance routines. From 6pm to 7pm at Castle Street /Alley Courtyard, Strabane.
The events listed above are just a small example of the hundreds of Culture Night events taking place across the North tomorrow night. For more details on what's going on in your area have a look here.  All that's left for you to do now is decide which events you'll take in for your Culture Night 2018.