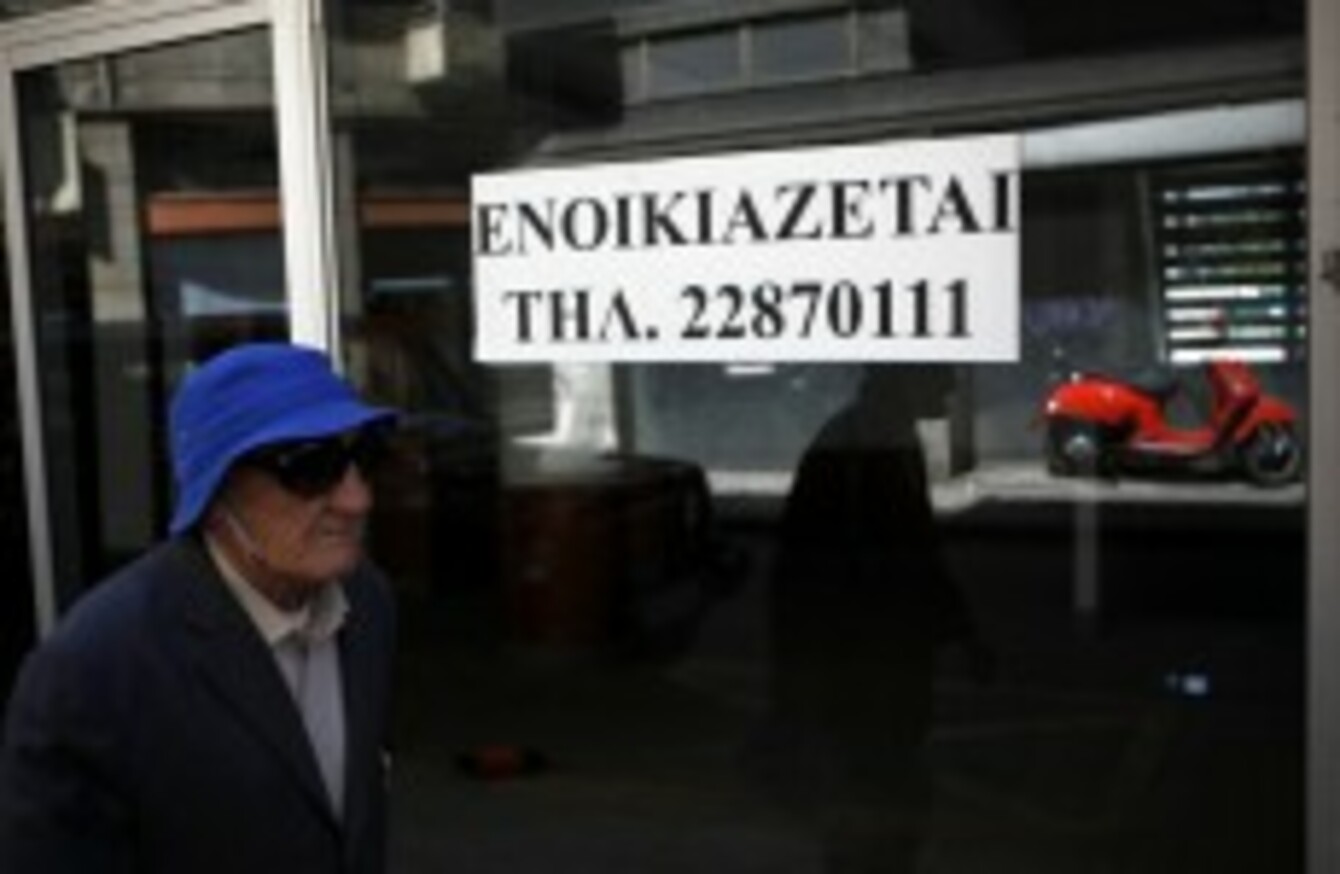 A man passes an empty shop for rent in Nicosia, Cyprus, on Tuesday
Image: AP Photo/Petros Karadjias
A man passes an empty shop for rent in Nicosia, Cyprus, on Tuesday
Image: AP Photo/Petros Karadjias
CYPRUS HAS EASED the unprecedented eurozone capital controls it imposed to prevent a run on its stricken banking sector, ending restrictions on all transactions under €300,000.
But a daily cash withdrawal limit of €300 is to remain in place for at least the next seven days, the finance ministry decreed.
Relaxing the controls had an urgent goal for the government to enable cash-starved businesses to pay staff and suppliers.
The ministry also raised the daily limit on transactions outside of the island not requiring prior approval from €5,000 to €20,000.
Larger transactions that fall "within the normal business activity of the customer" will be permitted on a case-by-case basis with prior submission of the necessary paperwork.
The moves came as Cypriot leaders gathered with their eurozone counterparts in Dublin to finalise the already crippling terms of a bailout that the government needs to prevent it defaulting on its debts within days.
Government spokesman Christos Stylianides acknowledged on Thursday that the cost of the bailout has ballooned to €23 billion, and international creditors expect Cyprus to find the €6 billion shortfall from its own resources.
Even before the funding gap emerged, Cyprus had been forced to wind up failed lender Laiki and impose a massive levy on larger deposits in Bank of Cyprus, the island's largest.
There had been talk that BoC customers with deposits of more than €100,000 could lose up to 60 per cent of those holdings. That figure could now be even higher.
Those in Laiki will have to wait years to see any of their money over €100,000.
The unprecedented eurozone "haircut" on deposits, forced the government to close all the island's banks for nearly two weeks last month and impose draconian controls when they reopened.
With the island already facing years of austerity and a deep recession, the government is expected to resort to a series of emergency measures to make up the bailout shortfall.
It is set to raise €400 million through the sale of gold reserves, €600 million through a corporate tax rise, and further funding from privatisation and a roll-over of debt held by Cypriot investors, including a €2.5 billion loan extended by Russia in 2011.