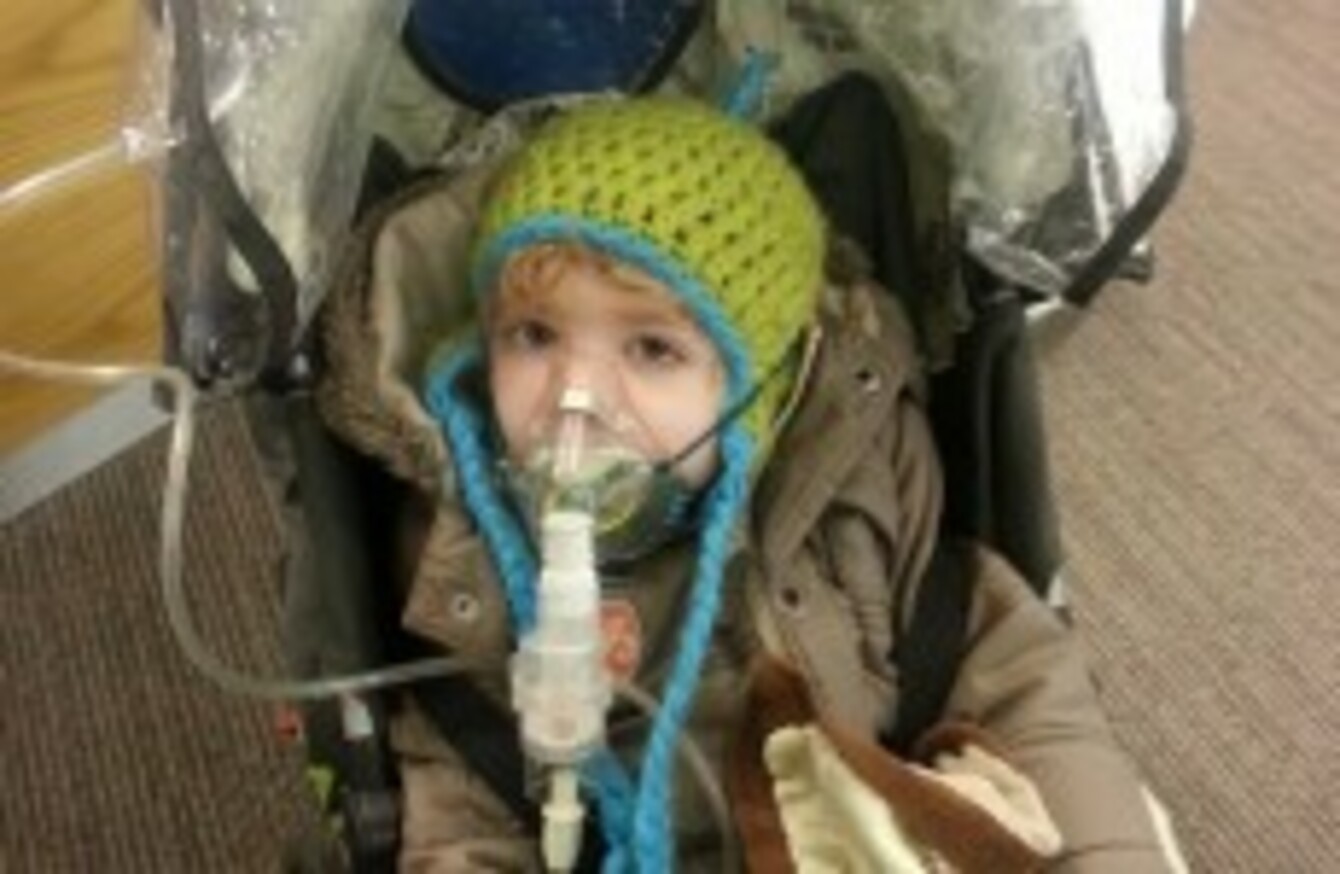 Mason
Image: Family Photo
Mason
Image: Family Photo
PEOPLE WITH CHRONIC illnesses, or those caring for loved ones with rare diseases, are fluent in a different language.
They often sound like they have the vocabulary, medical know-how and pharmaceutical savvy of professionals.
A certain amount of osmosis from constant hospital trips and doctors visits, fueled by an undeniable necessity.
Interviewing two people more familiar with Cystic Fibrosis (CF) than many of us will ever be, they both have to slow down or avoid using shortened medical terms.
Indeed, Claire Whelan, mother of two-year-old Mason who lives with the chronic illness, can list off his morning medication routine like its the Times Two Tables.
Her family – which also features five-year-old daughter Holly and husband Stephen – get up between 6.30am and 7am daily to start Mason's "nebs" (nebulisers or inhaled antibiotics).
The Wexford resident reels off the names of all the meds that her son receives through a feeding tube while he is still on the morning nebulisers.
Before Holly even thinks about school, Mason has his first physio session of the day, which includes bouncing on a gym ball and some work on the trampoline.
"Anything to loosen up the muchus," explains Claire, who is just one of hundreds of mums looking after children with the condition in Ireland.
There is a quick break for Mason while his big sister is brought to school and then he is back to taking an inhaler and more nebs.
By 11am, it's time to get some food in.
Feeding time isn't always simple though as children with CF do not absorb fats. In fact, that is how Mason was diagnosed.
"He was born on 29 November 2011 but within three weeks he had lost weight. When he was born, he weighed 6 pounds and 8 ounces and this fell to 5 pounds and 5 ounces.
One doctor described him as 'wasting'. He wouldn't have been with us too much longer if he wasn't diagnosed quickly.
Mason was the second baby to be born in Tallaght Hospital to be diagnosed through the newborn screening test introduced in July 2011.
"We knew there was something wrong from the very beginning with Mason," added Claire. "There was no CF in our families. I had a few miscarriages prior to both children. In some ways, the diagnosis was a relief".
Mason's life has been a" rollercoaster" since day one, according to Claire. "He choked and stopped breathing at 10 days old. He spent nearly the first six months of his life in hospital and since he has been born has been on antibiotics around 80 per cent of the time, due to infection."
His daily routine now consists of six nebulised antibiotics (three in the morning and three in the evening), medication four times a day – morning, afternoon, evening and midnight- and physiotherapy twice a day. He also has a feeding tube and is due to have another operation for a new feeding tube in the coming weeks.
Despite all this, his mother describes him as "the happiest child you could come across".
He gets tired sometimes but you wouldn't think in a million years he has all this going on. He doesn't let anything phase him.
"When he's not 100 per cent, if he's finding it hard to breathe or is 'crackly', he will get himself up onto the sofa."
Claire has taken a two-year carer's break from work to look after Mason but her husband Stephen takes over some of the duties when he returns from work at Dunnes Stores.
"The doctors show us what to do with the meds but we have to fit it into our routine and make it work for our family. You really don't think twice about it. I get on with things. If he needs to get his meds outside, he will. If he needs to be fed in Tescos, he will."
This picture was taken to show how the family adapts to Mason's needs while still performing every day tasks. The PEG feed is circled in the trolley as the mum-of-two gets the weekly shopping in.
Like Mason, Amy Whelan (no relation) was cared for by her mother meticulously as she grew up with CF.
But now as she meanders her way through college lectures, nights out and career choices, the 20-year-old is learning to take control.
"The past few years have been a bit all over the place. Trying to get on the right medications, figure out what I can handle in college. I'm so used to following orders from doctors. I've realised now that I can do it my way. I want to sort that out – what suits me."
The young Dublin woman is in her second year of an anthropology degree in NUI Maynooth but is currently mulling over the idea of taking some time out as her health has been poor recently.
She explains that she gets anxious about each day when she wakes up, which can be quite usual for those with CF.
When you wake up, you're not sure how you're going to feel so I get up earlier than others to see how I'm doing. The rest of the day is normally a juggle between going to class and seeing how my energy levels are.
"I still don't know what my boundaries are and I push myself too hard sometimes," she explains. "I take less medication than others with the condition and I normally only need IVs when I'm really sick and I can do them from home. I'm lucky that my CF is not typical and I don't suffer with really, really bad lungs."
But that has also led to problems with correction diagnoses and medication.
Her hands and legs can swell and her energy levels often fail. The weather – especially the wet – can impact on her lungs badly.
"Planning is very difficult when you're sick," she adds. "Even when you're doing good. You never know what is going to come at you.
"I'm optimistic but I don't think too far ahead. But I want to go back to college and get a degree. I love college and I've always wanted a degree and a Masters."
Her reality in college has mostly lived up to her hopes.
She says less structure actually helps her as she doesn't have the stress of missing material and having to catch up.
I can get the workload independently and it's not such a big deal if I miss class. That has helped my health a lot.
She acknowledges that it is also a change to be away from her mother, her primary carer.
"She sees me struggle and it's not nice for her. It's a change for me too. She was the one who turned up my IVs when my lungs got worse."
Amy's twin sister died when she was just three months old. She also suffered with Cystic Fibrosis.
"Hers was worse than mine," says Amy. "She had to get an operation when she was just 24 hours old. Mam and dad were going through the shock of that and I was still sick. They couldn't stop and think about it for too long."
One of the most challenging aspects of Amy's college life is explaining her condition countless times to peers, tutors and others.
She says it is exhausting having to explain absences, her cough and her lack of energy.
"I know it makes such a difference that someone knows what it is. Understands that it is a chronic illness."
That is why her decision to get more involved with Cystic Fibrosis Ireland is to focus on raising awareness.
Similarly it is also about passing on information and knowledge for Claire.
"We have the highest incidence per population of CF but it is still largely an unknown. I want to help people learn about it. I want to be available for questions and to help in any way I can.
"Holly, our five-year-old, has taught her class about it and she knows everything. She calls it 65 Roses as she can't say Cystic Fibrosis but we try not to hide anything from her. This is our lives. She gets sad sometimes about it all. But Mason is so good, you tend to forget that this is what it is."
"He gives us the strength to battle through and be happy. Every day is like running a marathon for people with CF so I have do anything that I physically can…if that includes sky-dives, boxing, my own marathons or other fundraising campaigns, I will."
Watch more about Mason's life in this documentary by his aunt, Orlaigh Merrigan.
(YouTube: orlaigh merrigan)
Cystic Fibrosis Ireland has just launched its One in 1000 appeal which has set a target of recruiting 1,000 women to take part in the Flora Women's Mini Marathon on 2 June. Money raised will be used for information, support, grant assistance, research and funding of hospital facilities. More information on their website or by phone on LoCall 1890 311 211.
Cystic Fibrosis is an inherited chronic disease that primarily affects the lungs and digestive system. About 1,200 children and adults are impacted in Ireland.