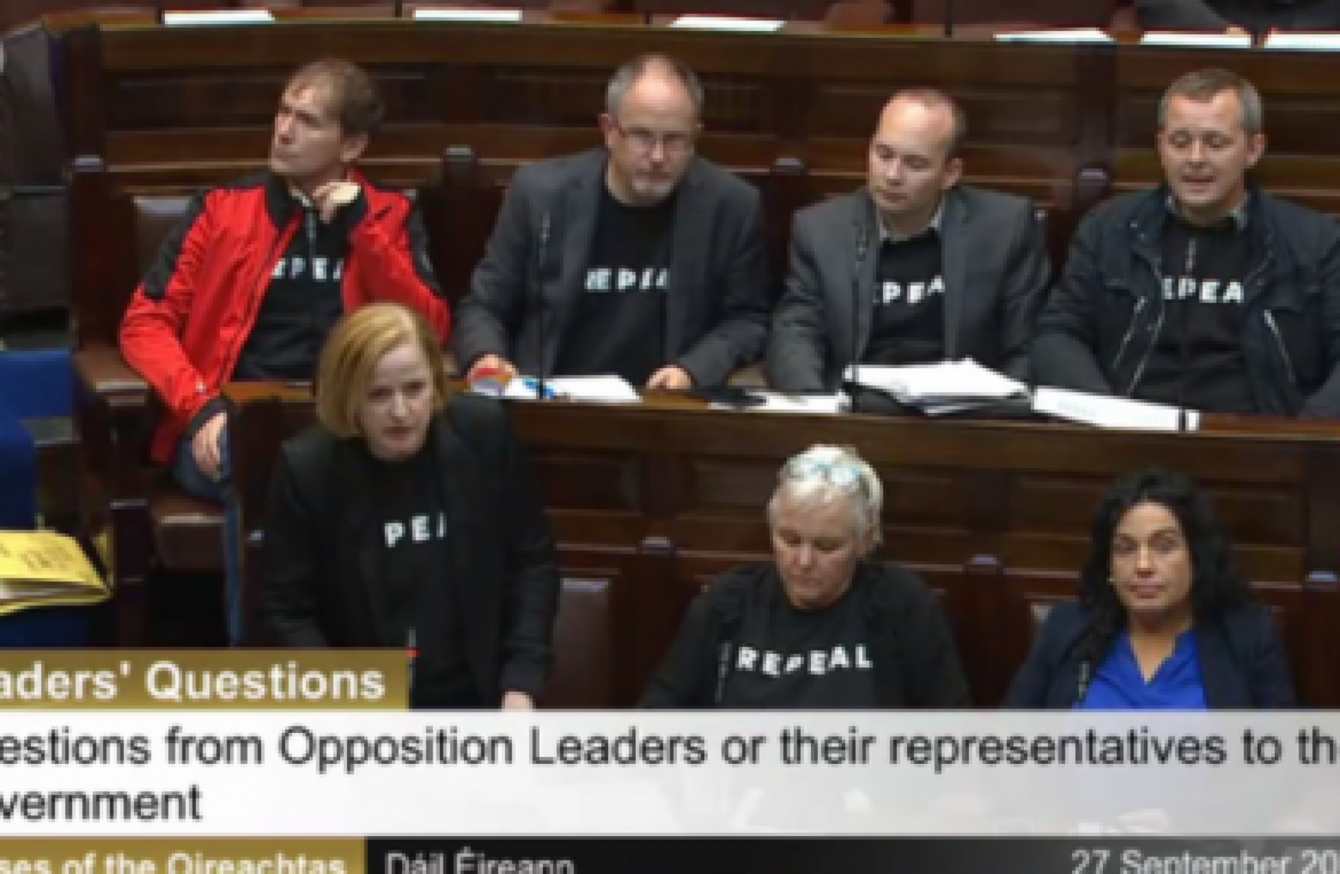 WHAT TDS WEAR in Leinster House should not be adjudicated on by the Dáil, according to AAA-PBP TD Brid Smith.
Smith, who recently wore a Repeal the Eighth jumper in the Dáil, also sits on the Oireachtas committee on procedures and privileges.
It was reported last week that this committee is to consider implementing a dress code for TDs and Senators.
At last week's meeting, an item was on the agenda to deal with a complaint made about the appearance of some Dáil members.
The committee was told by Ceann Comhairle Seán Ó Fearghaíl the attire of parliamentarians was a source of constant complaint from members of the public.
It's been reported that it was agreed at the meeting that library and research staff are to examine other parliaments to assess what dress codes are in place in other countries.
However, it's understood there were objections to this measure and nothing was agreed to take it further.
"What someone likes or chooses to wear is subjective. There are hundreds of parliaments around the world. For example, in Papua New Guinea's parliament, they hardly wear anything," said Smith.
She said to research what other parliamentarians wear around the world would serve no purpose, stating the dress code in some countries would not be the same as in western Europe. "It's ridiculous, it's entirely subjective," she added.
The introduction of a dress code in the Dáil has been proposed a number of times in recent years.
Dáil rules state members should dress "in a manner that reflects the dignity of the House".
The closest a dress code came to being implemented was in 2011 when a proposal was drafted to request TDs and Senators to wear appropriate business attire, but the proposal was rejected.
However, it's understood that just recently some foreign visitors to the Dáil made passing comments about the dress of some TDs, stating they were "surprised" about the attire worn in the chamber.
Last week's committee also discussed the wearing of emblems and party political badges in Leinster House.
On Budget day, Fianna Fáil's Fiona O'Loughlin was asked to remove a badge she was wearing on her lapel.
The badge was to raise awareness that it was International Day of the Girl. She told TheJournal.ie that earlier that day she had been at Plan Ireland's launch event. She was wearing the badge on her jacket to raise awareness, when she was asked to remove it, which she did.
It wasn't until afterwards did O'Loughlin think to raise the matter and wrote a letter of complaint to the Ceann Comhairle.
She was later told by the Ó Fearghaíl that there had been a mistake and it was wrong for her to be asked to take it off.
O'Loughlin said she wore the badge in the Dáil the next day, but said it does raise the issue of consistency.
It's not about being right or wrong, or whether you agree with it or not – it is about consistency of the rules. .
"I do feel people should dress appropriately in the chamber," said O'Loughlin.
"I personally don't feel men should have to wear a tie and jacket but it is important to remember that we are all representatives of our constituents and our country."
O'Loughlin said she is not saying what should be allowed or not allowed be worn – but said she is merely calling for consistency of rules.
"If there are going to be rules, they should be for everybody. If those in the press gallery have to adhere to dress rules, why does that mean the elected representatives shouldn't," she asked.
Louise O'Reilly, who wears her Repeal the Eighth badge in the Dáil every day, said she has never been asked to remove it, though she said she has been told by some that she may be approached to do so.
She said a number of TDs in the Dáil have asked her what the badge represents and she is only too happy to inform them.
The Sinn Féin TD said she believes she hasn't been approached to remove it as people know there would be a "hoo haa" about it if they tried.
She said the debate about a dress code is "ridiculous".
I think that when the day comes that people are more concerned about what politicians are wearing in the Dáil rather than the laws they are implementing then it is a very sad day for Ireland.
She said if the debate opens up and there are restrictions about what can and cannot be worn in the Dáil she questioned where would it end.
The Sinn Féin TD said had someone not raised this issue at the Oireachtas committee on procedures and privileges she did not think the Ceann Comhairle would be overly concerned about it.
O'Reilly said she did not feel it was correct to discipline any of the AAA-PBP members for wearing the Repeal jumpers as she said it was all done very subtly. "They didn't get up and shout and rip off their jackets," she said.
Smith echoed the O'Reilly's opinion that if you begin to discuss logos and emblems, like the Repeal jumper, where does it end.
"Do we discuss the Easter Lily and the pioneer pin?"