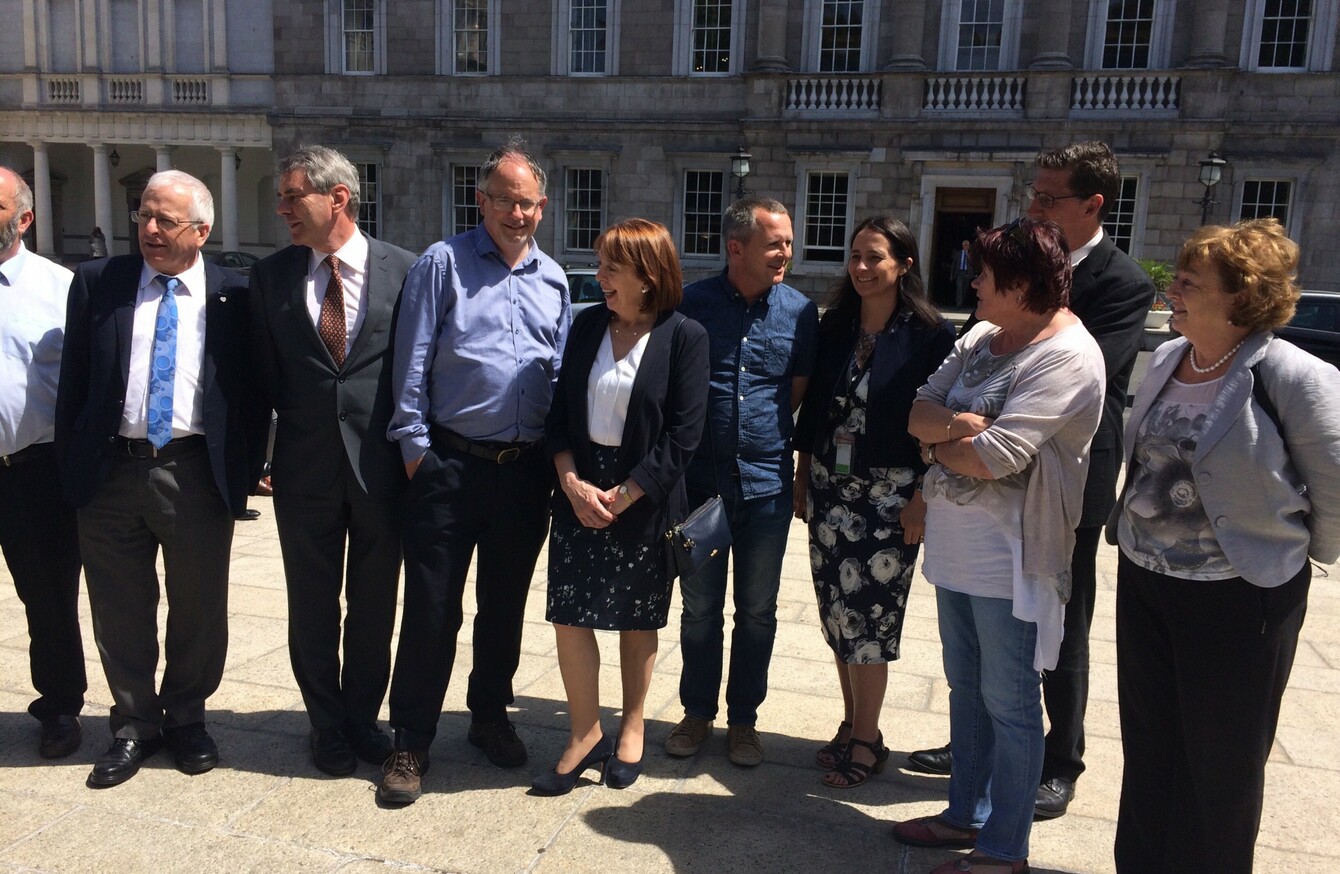 Image: Hayley Halpin
Image: Hayley Halpin
FIANNA FÁIL'S SUGGESTIONS to limit the speaking times of smaller parties in the Dáil is an attempt to "silence radical or alternative voices", People Before Profit TD Richard Boyd Barrett said today.
Under Dáil reforms last year, changes were made so that each political group is entitled to equal speaking time during the first round of any debate.
However, Fianna Fáil leader Micheál Martin wants to pair up with Taoiseach Leo Varadkar to reshuffle Dáil speaking times to reflect the numbers of TDs in a party.
Representatives from the Green Party, the Social Democrats, Solidarity/People Before Profit and the Rural Independents Group came together today to oppose the proposed changes to Dáil speaking times.
Speaking outside Leinster House today, Green Party leader Eamon Ryan TD said: "Fianna Fáil get a huge advantage. They're the first to speak every time. They want more speaking time and less for smaller parties.
"We have already amended the rules to allow for a second round of contributors so that Fianna Fáil and Fine Gael backbenchers can get a chance to come in."
They want to go further now and basically silence us.
Fianna Fáil want to change the system so that smaller parties would only have one or two minutes to make their point, Ryan claims.
"It is not possible to make any sort of meaningful contribution in such a short time and the proposals run counter to what has worked in this house for decades."
Richard Boyd Barrett TD said:
This decision comes directly after the Corbyn result and it is an attempt to silence radical voices or alternative voices in the Dáil.
"What they want to do is reduce down the amount of time the smaller groups get in smaller statements or key debates," he said.
A Fianna Fáil spokesperson told TheJournal.ie: "Fianna Fáil believes that speaking time in the Dáil should have some connection to the popular support enjoyed by each party or grouping in the General Election.
"Many parliaments across Europe use the D'Hondt method which allocates speaking time according to party size.
"Contrary to the accusation that we are trying to silence elected representatives, we believe that all TDs should have an opportunity to contribute to Dáil debates, including TDs who are elected on a party platform."