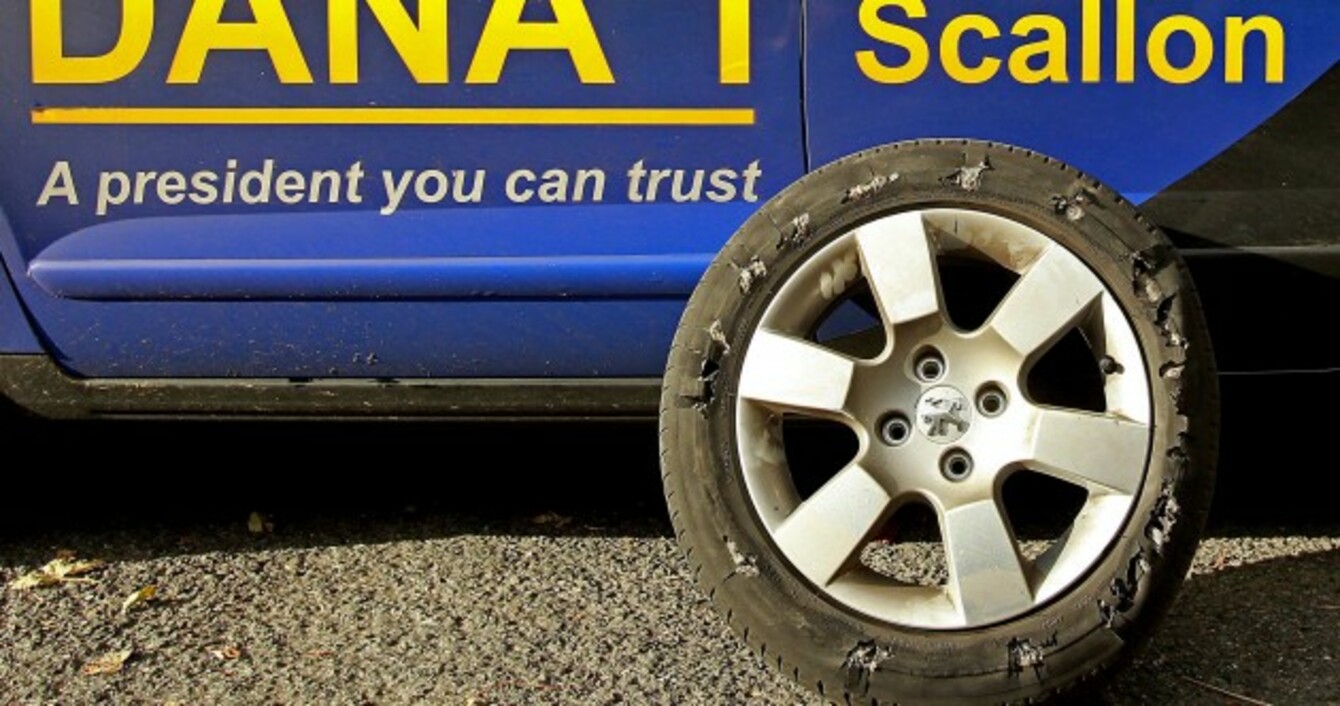 Image: Julien Behal/PA Archive
Image: Julien Behal/PA Archive
DANA ROSEMARY SCALLON cancelled her scheduled campaign appearances today after claiming she was lucky to be alive following a tyre blowout last night.
A tyre on Scallon's car blew out on the M4 near Kilcock last night, while she and her campaign team were travelling back to Dublin after campaign engagements in the north-west.
Scallon was asleep in the back of the car when the tyre burst at around 9pm last night. Her husband Damien was driving at the time.
Photographs showed the tyre appearing to have been punctured several times times, and the Press Association quoted a Garda spokesperson who said alleged criminal damage to the car was being investigated.
A Garda spokesperson declined to comment on any investigations when contacted by TheJournal.ie this afternoon.
The Peugeot car – which was clearly marked with Dana's election insignia – had been parked outside a hotel in Leitrim for some hours before the team had left to return to Dublin.
Dana's big blowout

Dana's big blowout

Dana's big blowout

Dana's big blowout
Neither Mr Scallon nor Dana's brother Gerard, who had driven for the first part of the journey, reported any handling difficulties with the car before the blowout occurred shortly before the M4 toll plaza.
Scallon told PA she always said a prayer before beginning a journey and was thankful to have emerged unscathed after the incident.
"It was very scary to look at," Scallon said. "I think we are all very lucky to be here today."
Scallon told RTÉ that the damaged tyre was examined in Dublin this morning, where she had been told it was possible the tyre may have been deliberately cut.
Her scheduled campaign engagements in Wicklow and Wexford were postponed until tomorrow as a result of the incident.