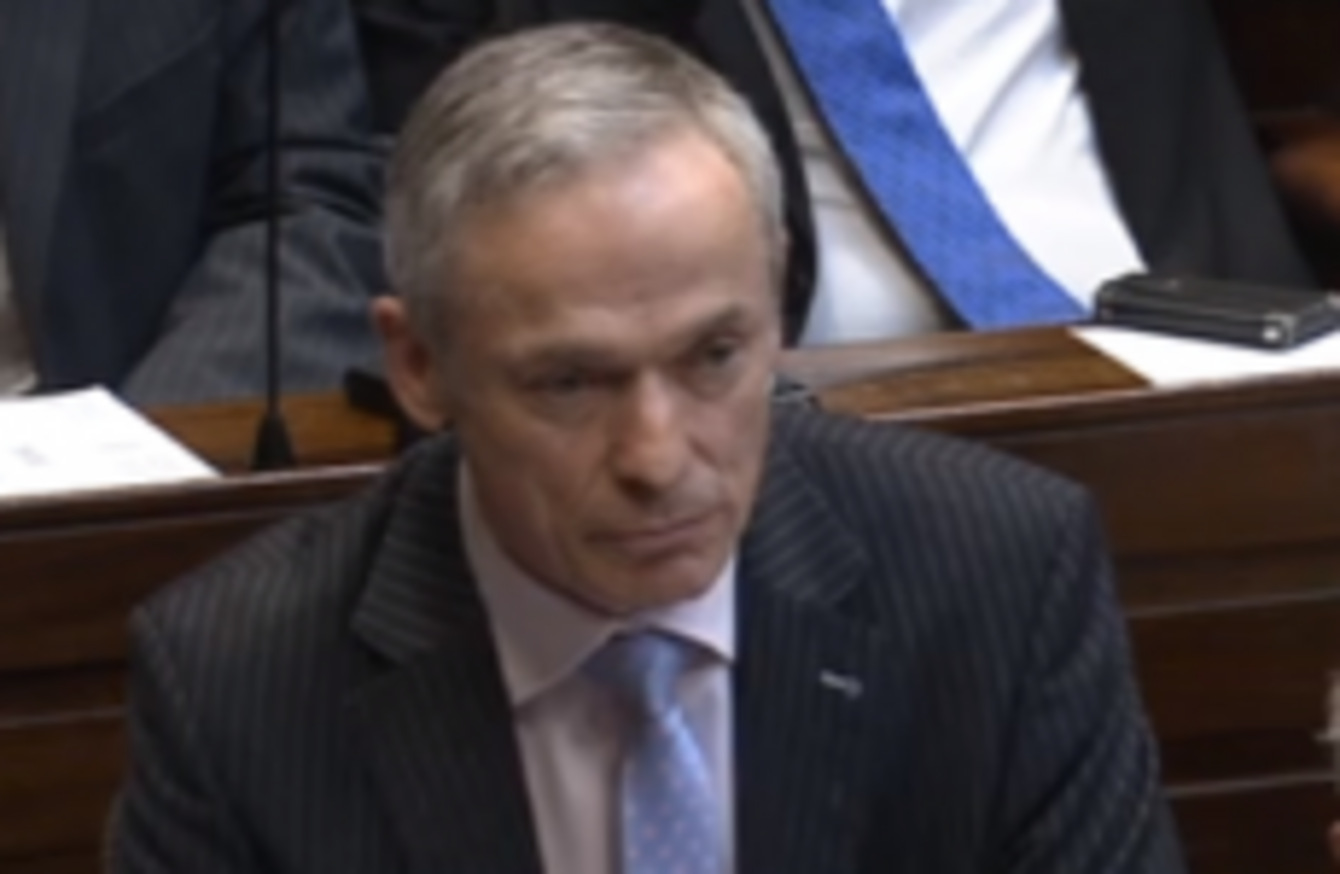 Richard Bruton.
Image: Screengrab/Oireachtas TV
Richard Bruton.
Image: Screengrab/Oireachtas TV
FIANNA FÁIL TD Dara Calleary said Taoiseach Enda Kenny is behaving like "a church mouse" in the aftermath of the publication of the Garda Inspectorate report into penalty points yesterday.
Calleary said that Kenny's "army of spin doctors" portrayed him as "mighty mouse" following Frank Flannery's resignation from Fine Gael and Rehab earlier this week. However, he said that failing to make Justice Minister Alan Shatter apologise to whistleblower Garda Maurice MccCabe in light of the report's vindication of his actions, made him seem "lily-livered" and like "a church mouse".
"Minister Shatter abused the privilege of this House to seek to sully and destroy the reputation of [McCabe]," Calleary said. He added that people "shouldn't be surprised" by Shatter's actions as he "did it before" – alluding to Deputy Mick Wallace.
"Why does [Shatter] not say sorry? Is it not in his dictionary?"
Calleary said the report highlighted "severe sloppiness to say the least" and that it "would not have happened without the persistence of whistleblowers".
The refusal of Minister Shatter to acknowledge their role … is beyond belief.
Jobs Minister Richard Bruton, who was answering Leaders' Questions as the Taoiseach and Tánaiste Eamon Gilmore are in America and France respectively, denied that Shatter had failed to acknowledge the whistleblowers' contribution to the report.
Bruton said Shatter had not failed "in any respect" and that the report was "a consequence of his action". Bruton noted that the report revealed "very severe weaknesses in the process that was there" and said people had to "learn from the shortcomings".
"The government's intention all the time has been to restore confidence [in An Garda Síochána], " he added.
Bruton said the government accepts all 37 recommendations made in the report and that a joint committee would be meeting this afternoon to discuss their implementation. He added that the government was moving to introduce legislation to "ensure better protection" for whistleblowers.
Bruton said that there was "danger in seeking to politicise every objective" and told Calleary "a lot of this was happening on your own watch".
'Biggest problems'
Meanwhile, Independent TD Séamus Healy asked Bruton if the government would bring in legislation that would allow "the writedown of all mortgages to their present value".
Bruton responded: "Very clearly that wouldn't be possible. Someone would have to provide capital to the banks, probably €40 or 50 billion." He added that the taxpayer could not be asked to do this as they have already "put in €64 billion to the banks".
Bruton admitted that tackling mortgage arrears was "one of the biggest challenges we face in getting over the legacy of the banking crisis".
However, he noted that the numbers of people in mortgage difficulty was "beginning to decline", adding that the figure of mortgages in arrears for more than 90 days stood at 79,000 at the end of 2013, down from 81,000 in the third quarter of last year.