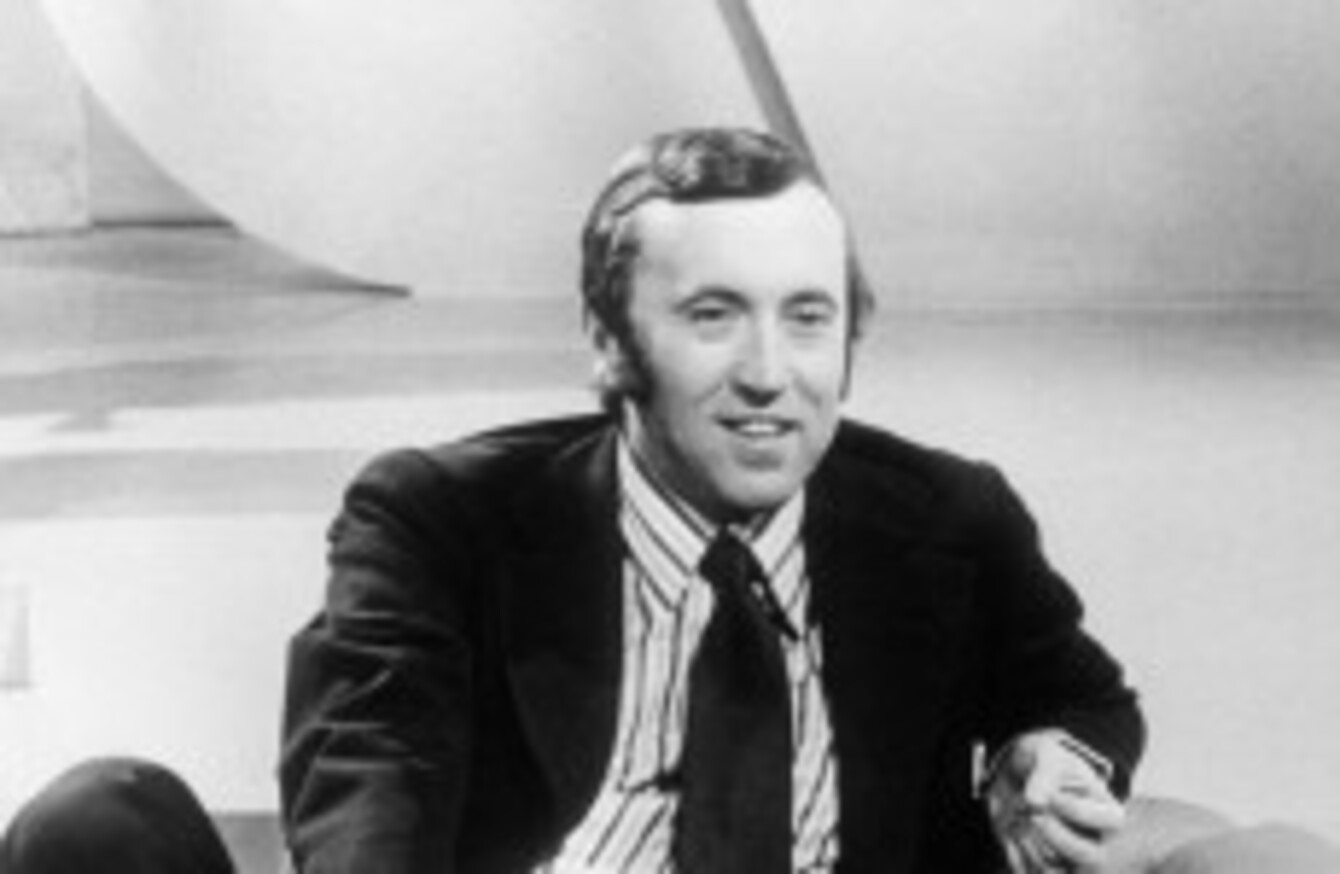 1973 photo of David Frost.
Image: PA/PA Wire/Press Association Images
1973 photo of David Frost.
Image: PA/PA Wire/Press Association Images
SHOWMAN, BROADCASTER, WRITER, comedian, namedropper, friend and fearsome interviewer are just some of the descriptions being thrown down today about the late Sir David Frost.
The British television personality died last night after suffering a suspected heart attack while on board a cruise liner, his family confirmed in a statement this morning.
The broadcaster's interview list from his career, which spanned six decades, is expansive and includes multiple presidents, prime ministers, members of the royal family and show-business celebrities.
Speaking on RTÉ Radio One today, Channel 4′s Jon Snow said he could often be seen as a "soft" interviewer but that he "pulled people in".
"He managed to both draw them into his lion's den and at the same time remain on extremely warm social terms with them. He was friendly with Mrs. Thatcher…he did all sorts of things…I would say, in many ways, he was not the toughest or most ruthless of interviewers but he used to lure people in with a rather soft-looking interview and then suddenly, there would be a sting in the tail. Bang. And the man was on the floor."
He cited the 1977 Frost/Nixon interviews as an example, during which the former US President apologised for the Watergate scandal and admitted that he had "let down the country".

(YouTube: willfungku11)
Snow also described him as television's first great television ringmaster, and a box office showman. He was not politically inclined, he was interested in making great television, added the Channel 4 journalist.
Britain's Prime Minister David Cameron led the tributes earlier today, tweeting: "My heart goes out to David Frost's family. He could be – and certainly was with me – both a friend and a fearsome interviewer."
He later added:
My heart goes out to Carina and the family. Sir David was an extraordinary man – with charm, wit, talent, intelligence and warmth in equal measure. He made a huge impact on television and politics.
The Nixon interviews were among the great broadcast moments – but there were many other brilliant interviews. He could be – and certainly was with me – both a friend and a fearsome interviewer.
On this side of the Irish sea, television legend Gay Byrne told Newstalk that Frost was a "grafter" but also a "ferocious name dropper".
"Which is normally is objectionable but when David Frost ssaid he was talking to Prince Charles last week, he really was," he added.
Yui Mok/WPA-Rota/Press Association Images
Colleague Lloyd Grossman told Sky News that Frost is "irreplaceable".
"He was almost the most variously talented journalist in British broadcasting history. His loss will be immense to all of us. He was also an incredibly generous broadcaster to work with."
Former prime minister Tony Blair "singled out David Frost as one of best interviewers because his sheer niceness could lull you into saying things you didn't intend", according to former communications chief Alastair Campbell.
Blair added:
He had an extraordinary ability to draw out the interviewee, knew exactly where the real story lay and how to get at it, and was also a thoroughly kind and good-natured man. Being interviewed by him was always a pleasure, but also you knew that there would be multiple stories the next day arising from it.
Stefan Rousseau/PA Archive/Press Association Images
Funeral arrangements will be announced by the Frost family "in due course", a spokesperson said today.