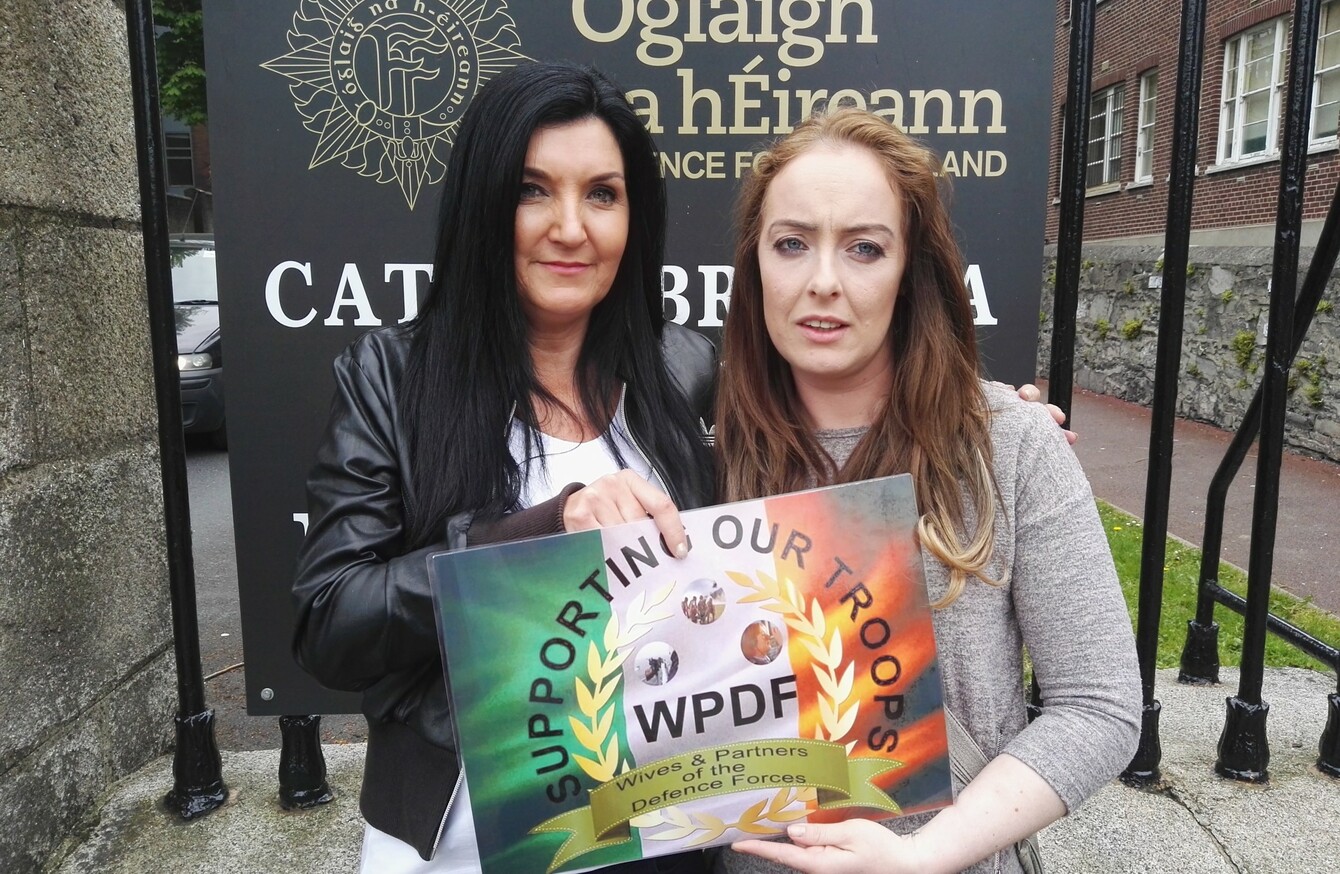 Sharon Dunne and Amy Walsh at Cathal Brugha barracks in Dublin today.
Image: Michelle Hennessy/TheJournal.ie
Sharon Dunne and Amy Walsh at Cathal Brugha barracks in Dublin today.
Image: Michelle Hennessy/TheJournal.ie
MEMBERS OF THE DEFENCE Forces have been forced to go to loan sharks as they struggle to make ends meet on their current wages.
Spouses, partners and other family members today protested outside army barracks all across the country to highlight their financial struggles as a result of recessionary pay cuts. At Cathal Brugha barracks in Rathmines, Dublin, mother-of-three Amy Walsh said her partner and his colleagues do not have a voice and she felt like she had to speak up for them.
"When it happens [a pay cut], we just have to pick up the pieces and keep going. A high percentage are claiming Family Income Supplement and that's helping us to just pay our bills and put food on our tables. There's no holidays, no nights out."
According to Wives and Partners of the Defence Forces (WPDF), 20% of Defence Forces enlisted personnel are in receipt of Family Income Supplement (FIS), which is a weekly payment to people on low wages who have children.
Walsh also said many families are getting into debt just to fund day-to-day living.
Christmas doesn't stop because their wages aren't good enough, Easter doesn't stop because we can't afford it this year. These things have to be done and loan sharks and debt collectors have to become our friends. We need to get by every day and when the big things come, if we can't find money, that's where you have to turn to and then the money has to be paid back.
She said the "stress and strain" of this financial pressure takes its toll on the families and children of Defence Force members.
"This will continue for generations unless it's stopped now and that's why we're here."
'I rely on my family'
Also at the protest was Sharon Dunne whose husband, son and brother are all members of the Defence Forces. "I know how to make a dinner last three days, because I just had to," she told TheJournal.ie
She said she was "sick of giving out and not doing anything about it".
When I saw the women all coming together, I decided to be part of it and stand up for my husband and my son and my brother
"It's a lot of financial strain. You don't get holidays, you don't get days out when the kids are off school. I rely on family members for support, giving the kids pocket money, I rely on my family for a lot of stuff," she said.
Dunne's son is currently in training and she said even though it was his dream growing up to join the army, she tried to dissuade him.
"He left a job working in a shop to join the army. He left better money to go in and his training is much more dangerous and eventually he'll have to do things like armed escorts. He's never going to be able to get a mortgage if the pay doesn't come up. I would worry about him because I know the training is so hard and accidents do happen during their training, they're taking risks."
'I've almost lost my life'
Anthony Moore served in the Irish Defence Forces for 25 years and today he joined families of serving members at the Rathmines barracks. He said a new recruit with one year of service will take home around €350 a week and the public does not realise the danger involved in some of the work they do.
"If you take fishing patrols, your life is in danger from the fishermen because they don't want you taking the illegal nets," he said.
I've almost lost my own life because of a boat hook – a slash hook it's called – deliberately coming down on top of me because we were boarding an illegal trawler. They went out of their way to frighten us or endanger our lives. That's what sailors do every day. They put their lives on the line every day to stop drugs, gun smuggling.
He said he believes the State will soon struggle to maintain the Defence Forces as many members are choosing to leave.
"We're only a priority for the State when the State wants to highlight it themselves worldwide. We are far from a priority when it comes to the welfare of our troops, their wages, their conditions, their health."