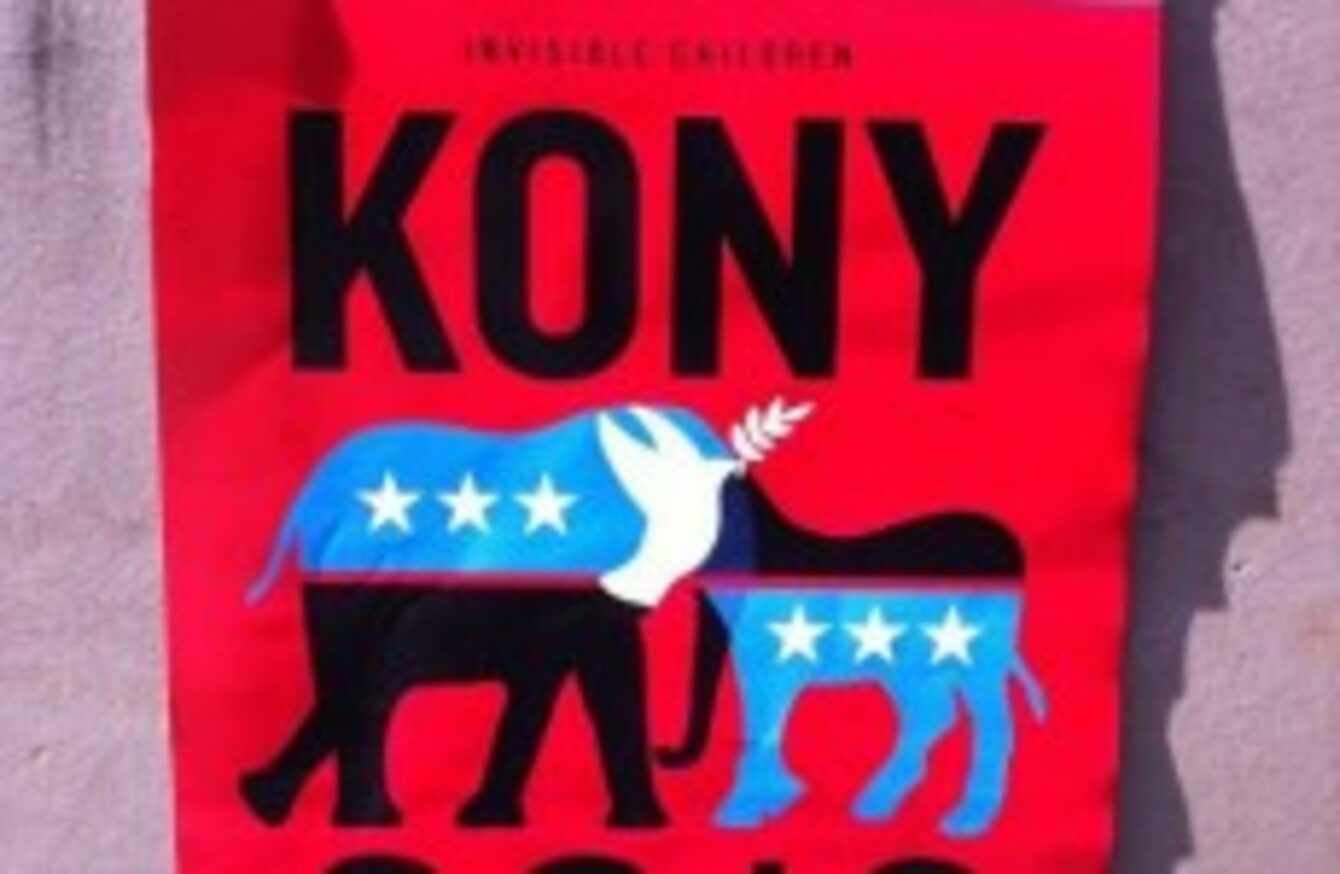 A picture of a Kony 2012 poster on South Great Georges Street in Dublin at the weekend
A picture of a Kony 2012 poster on South Great Georges Street in Dublin at the weekend
Updated 10.50am
THE DEPARTMENT OF Foreign Affairs has said that it received just two emails in relation to the online campaign to have the alleged Ugandan war lord Joseph Kony brought to the International Criminal Court (ICC).
In response to a query from TheJournal.ie a spokesperson said that two emails had come into the office of the Minister of State for Trade and Development Joe Costello.
The campaign came to prominence last month after a viral video, entitled Kony 2012, received tens of millions of hits within hours of going online and briefly became the most viral video in internet history.
In the video the charity, Invisible Children, called for a global 'Cover the Night' campaign where posters would be plastered in "every city, on every block" in countries around the world on 20 April. It also encouraged people to lobby their local politicians to take action.
While it's possible that more correspondence was received, there was no indication of a mass email campaign or letters to the Department of Foreign Affairs, a spokesperson confirmed.
But as the Guardian reported on Saturday, the 'Cover the Night' event failed to take off with low turnouts across north America, Europe, and Australia.
In Ireland, there were a handful of tweets with pictures of posters in Dublin.  In Cork, one tweeter posted: "I went out by myself last night and i was the one who attempted to cover cork in kony posters."
TheJournal.ie reader Lee Daly got in touch to say he spotted some Kony posters in Belfast and graffiti:
Speaking in the Dáil last month, Tánaiste Eamon Gilmore said he was "greatly concerned" that Kony and his collaborators remain "at large" while the EU's foreign affairs chief, Catherine Ashton, has backed the campaign to catch Kony and bring him to the ICC.
The campaign has caused controversy with many questioning the motives of the charity and criticising its selective view of a complicated situation in Uganada and other countries in the region where Kony's Lord's Resistance Army (LRA) have operated for three decades.
Its founder Jason Russell was later hospitalised after he was detained by police who were informed that he was drunk, vandalising cars and masturbating in public in California last month.
In a second video released earlier this month, Invisible Children addressed some of the criticism levelled against it following the initial video, highlighting some of the aid work it undertook in Uganda.