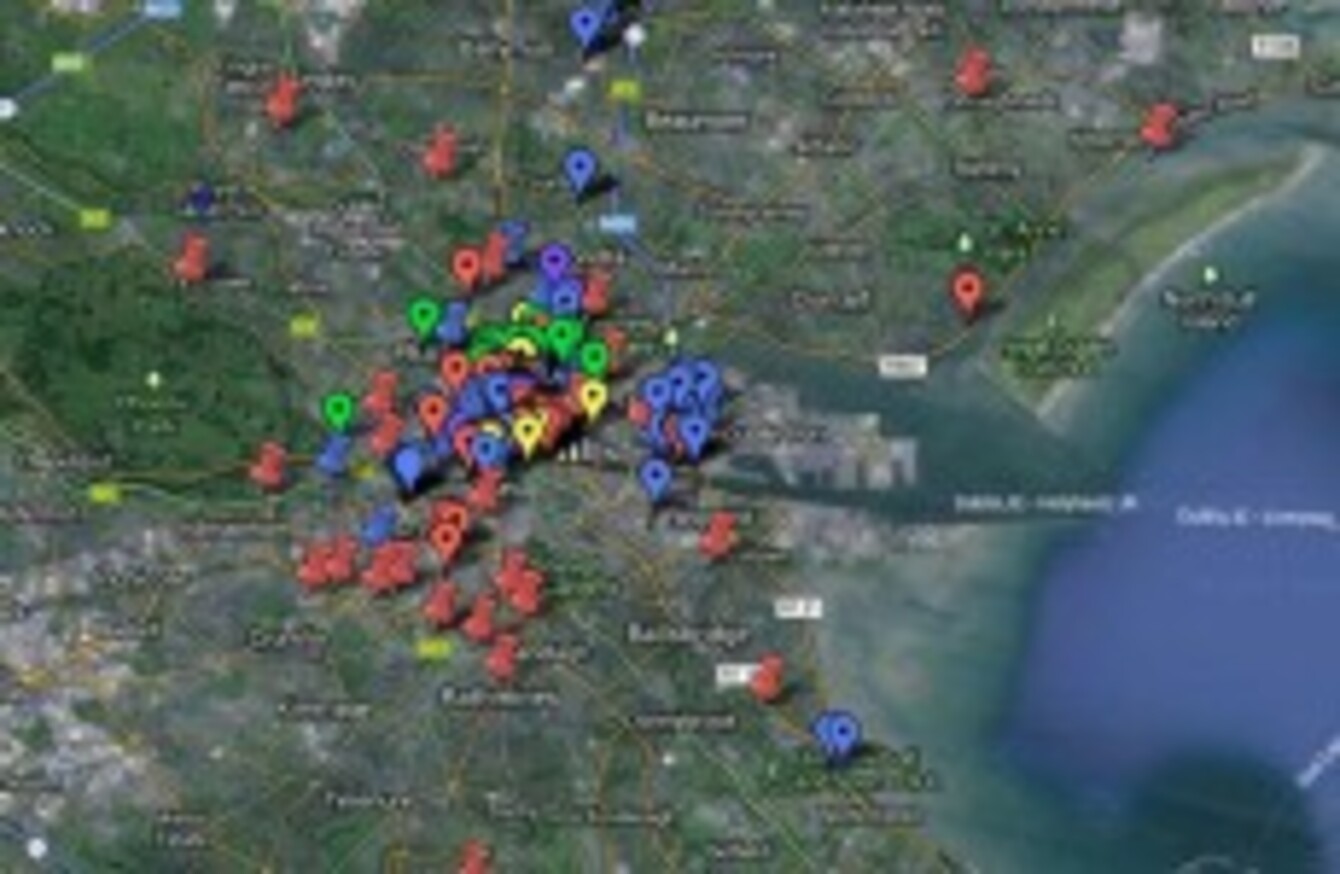 The map of derelict buildings
Image: Google Maps
The map of derelict buildings
Image: Google Maps
Updated 20.19
VACANT AND DERELICT sites in Dublin are being mapped online as part of a project that examines how many such spaces there are in the city, opening a discussion on how they could potentially be used.
The map was started earlier this year by Eoin O'Mahony and Stephen Rigney, and now involves a number of collaborators. O'Mahony told TheJournal.ie:
We are PhD students in Maynooth and had been talking for a long time about mapping this. It got started in late December / early January and the map appeared in January.
"The map began by taking photographs and then geotagging the photographs on Google Plus and then re-placing them on a single Google Map," explained O'Mahony. Rigney did this on his way to work, while O'Mahony placed points on the map for buildings that he knew were derelict from his own journeys.
Guidelines
Opening up the map to others made it less easy to control the placement and definitions of dereliction, said O'Mahony. When inviting collaborators, they set some basic guidelines: that it has to be a building that had boarded up windows, and/or a collapsed roof.
However, the more people collaborated, the more questions emerged about these criteria:
For example, would we map closed retail units? These were spaces in temporary abeyance on a far shorter time scale than many of the original two dozen or so housing units we had mapped originally. What about sites with a closed retail ground floor but an active and lived in second and subsequent floors? What if a site has a planning notice – even if now out of date – attached to it?
"The need to impose some order on the data we had originally collected became greater once we made the map more widely available," said O'Mahony.
They then agreed on these ways of identifying each type of building, based on some online discussion:
Vacant sites – blue flag (31)
Boarded up houses – green flag (22)
Closed commercial – red flag (55)
Closed commercial ground floor – yellow flag (15)
Closed institutional or publicly owned – purple flag (13)
Unclassified – blue pin (50)
DCC derelict properties list – red pin (31)
There are now 12 collaborators who help in adding the derelict buildings to the map. Part of the reason for setting up the map was to draw local politicians' attention to these buildings in the lead-up to the local elections.
They want to examine why there is so much derelict housing, particularly in the inner city, said O'Mahony. "A lot of these buildings have been derelict for 25 years," he pointed out.
They also want the map to show how people use space in Dublin. "The main thing is to think about how these places are thought of as private, opening up the idea of could they be made public and what kind of uses would people put to them," explained O'Mahony.
He said that with the sites, the question is "how do we figure the best use of this space given the best use of this area", adding that very often "we don't connect these issues with local government at all".
"The site is asking people to look at it and see where is derelict in their communities. It's kind of a community resource project in a sense," said O'Mahony.
He added that the council is taking a renewed interest in derelict sites in particular, but is "doing it from a planning perspective rather than people having some measure of control over what is going on", which is also spurring on this work.
The map creators hope that it will help in "getting behind that idea of who is the city for", enabling people to look at how spaces are used in Dublin, and the potential for derelict sites to become useful and positive places.
O'Mahony and Rigney will talk at the Provisional University in Dublin next Thursday about the map.
Eoin can be contacted regarding collaborating with the derelict sites map at eoinomahony@gmail.com.
Originally published 12.00