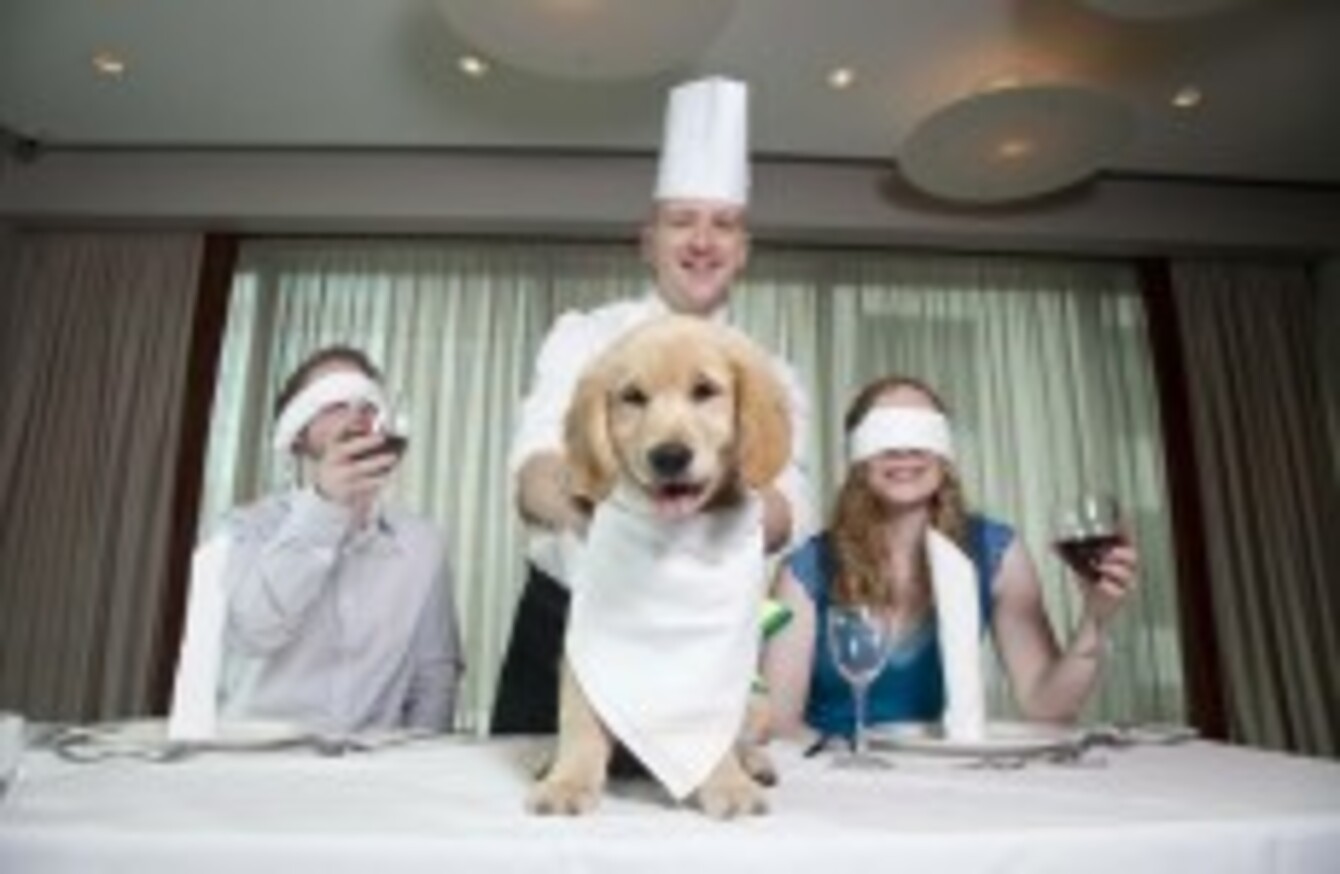 Image: Clare Keogh via Dine in the dark
Image: Clare Keogh via Dine in the dark
HOW WOULD YOU feel about eating your dinner while wearing a blindfold? Dine in the Dark is on on World Sight Day.
The event replicates the stark reality of more than 12,000 people in Ireland who are registered blind.
It's all in aid of Irish Guide Dogs for the Blind and will be on in Dublin, Cork and Limerick.
Donnacha McCarthy will be speaking at the Dublin event. He lost his sight when he was 10 following a battle with leukaemia and says that since being matched with Guide Dog Holly in 2008, his life has been transformed.
She allows me to do what I want with total independence. I can safely say she has been the best aid I've had since losing my sight.
Limerick native Lean Kennedy will share her story at the Limerick Dine in the Dark. Lean has been legally blind since 13 from a rare eye condition known as Cone-Rod Dystrophy. After suffering retinal detachments in college, she found she no longer could get around by herself.
I thought I would never be able to work or have any independence. But with the help of my guide dog Roy, I am working and enjoy a great social life. I'm living life to the full.
Guide Dog owner, Anne Kelliher, will attend the Cork event. Anne has been suffering a gradual loss of vision since the mid-70s and says that since being matched with Guide Dog Rory in 2012, her life has been transformed.
I really depend on him. I've always been very active and Rory has made me so much more confident. I'm studying in college right now and Rory is here with me!
Paula McGovern is the Communications Manager with the charity, she said, "While people see Irish Guide Dogs as a cutesy charity with our beautiful pups and dogs, the reality is that we are working every day to support people who have suffered a severe trauma and have lost their eyesight or were born without vision or with a severe vision impairment.
Dine in the Dark is a fun concept and we encourage people to get involved and sign up themselves, their friends their workplaces. It will be an enjoyable evening but there is a serious underlying awareness message – it replicates the reality of many people across Ireland who are vision impaired.
It will take place in the Gibson hotel, Dublin, the Clarion Hotel, Cork and the Clarion Hotel Limerick at 7pm on Thursday October 9.
It costs €65 per person including a 3 course tasting meal, glass of wine and entertainment. You can book a place at www.guidedogs.ie.