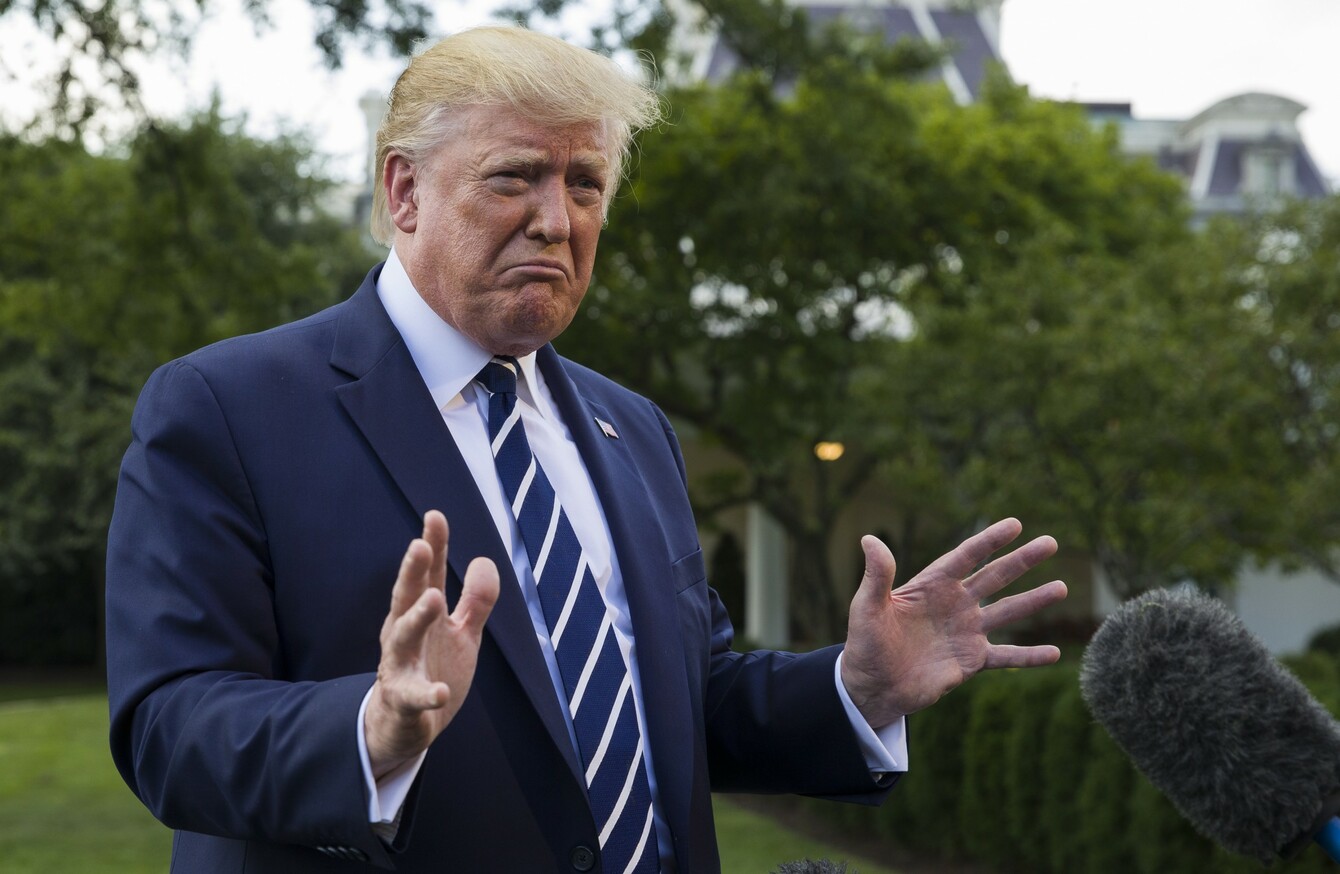 President Donald Trump speaks with reporters on Friday
Image: Alex Brandon/PA Images
President Donald Trump speaks with reporters on Friday
Image: Alex Brandon/PA Images
US PRESIDENT DONALD Trump has demanded that four Democratic congresswomen whom he posted xenophobic tweets about last week should "apologise to America".
The first-term politicians, Alexandria Ocasio-Cortez, Ilhan Omar, Ayanna Pressley, and Rashida Tlaib, have been at the centre of a political controversy in the US after Trump said they should "go back" to their countries of origin last week.
All but one of the four, Omar, were born in the United States, but all have US citizenship and Trump is believed to have taken aim at them because they are of Hispanic, Arab, Somali and African-American descent.
In a rare move, he was rebuked by the Democratic-controlled House of Representatives on Tuesday for "racist comments" against the women, who are known as the "Squad".
But despite that, Trump continued to take aim at the four in another tweet today.
"I don't believe the four congresswomen are capable of loving our country," he said.
"They should apologize [sic] to America (and Israel) for the horrible (hateful) things they have said.
"They are destroying the Democrat Party, but are weak and insecure people who can never destroy our great nation!"
Trump's latest tweets are the latest escalation in a controversy that has created greater divisions across the US political divide.
On Wednesday, chants of "send her back" broke out at a rally held by Trump in Greenville, North Carolina, where he again attacked the women, prompting Omar to describe the president as a "fascist".
To the delight of his thousands of supporters, Trump described Omar and the other Democrats as "left-wing ideologues (who) see our nation as a force of evil".
Trump later said there was "great energy" at the rally but claimed he was not pleased by the taunts, despite television footage showing that he let the chant continue for more than 13 seconds, only resuming speaking as the crowd died down.
Several Democratic presidential hopefuls who plan to run against Trump and a few Republicans have since urged the president to tone down his rhetoric.
"It's vile. It's cowardly. It's xenophobic. It's racist," said California Senator Kamala Harris. 
"These members of Congress – children of immigrants, just like so many of us – are an example of exactly what makes America great," said Joe Biden, the former vice president.
With reporting from - © AFP 2019