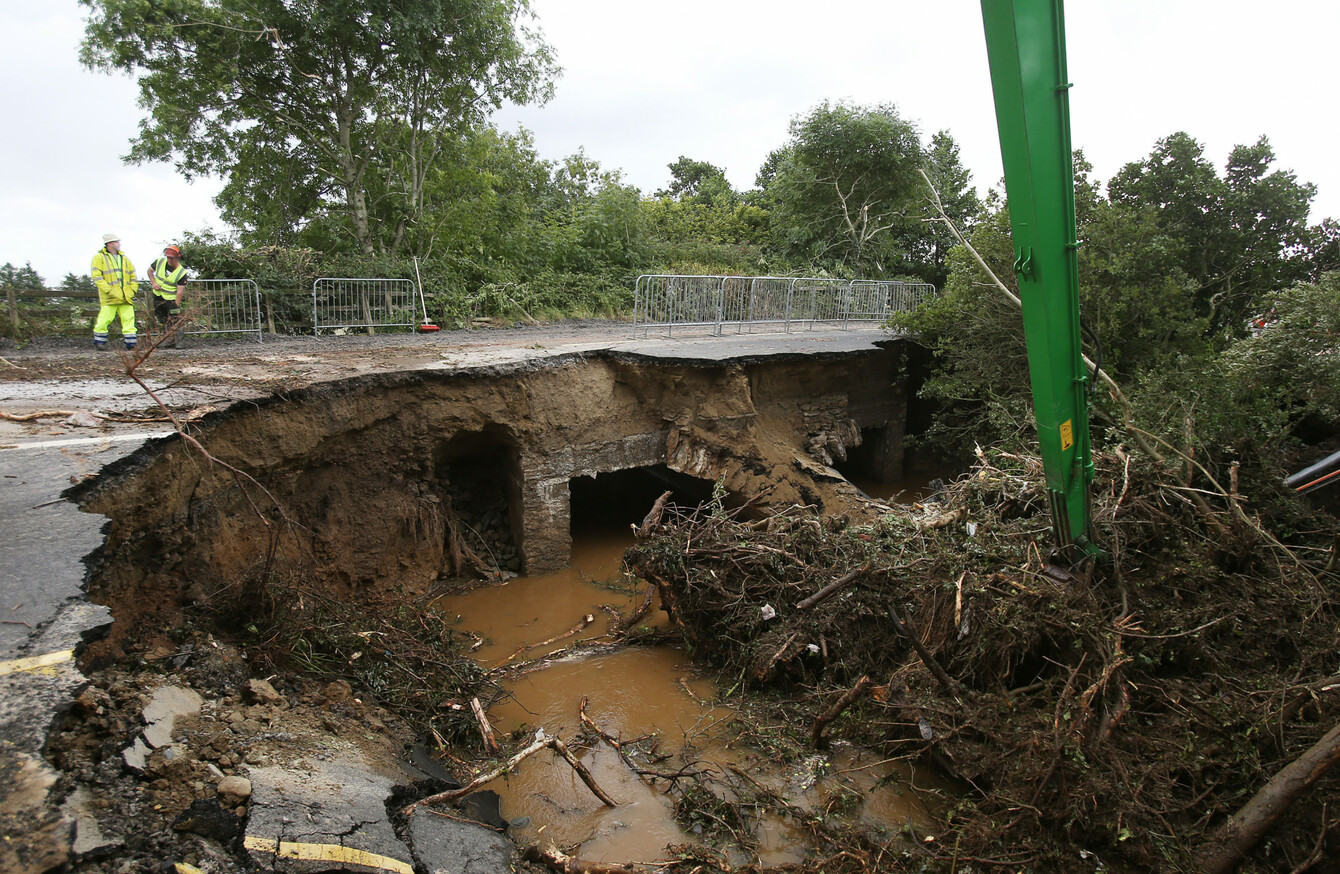 A collapsed road at Quigley's Point in Co Donegal.
Image: PA Wire/PA Images
A collapsed road at Quigley's Point in Co Donegal.
Image: PA Wire/PA Images
FAMILIES, BUSINESSES AND communities are still reeling from last week's devastating floods in Co Donegal.
Donegal County Council has revealed that 47 families have registered as displaced following the floods and some of them "will not be able to return to their homes for some time".
The majority of the people affected live on the Inishowen peninsula.
Twenty-one of the families are in the small village of Burnfoot, 14 are in Buncrana and the remainder in Carndonagh, Clonmany, Malin and Muff.
The council says it is working closely with each of the families.
Longer-term, temporary accommodation is being offered to many of those affected and further accommodation will be made available in the coming weeks.
"The resilience of the community has been outstanding," Councillor Jack Murray, chair of Inishowen Municipal District Council, said.
The devastation that has been experienced by so many families, businesses and individuals has been heart wrenching.
"The strength, kindness and determination of the people of the peninsula and the county has been to the fore over the last number of days and this has been vital in helping all those affected cope with the situation they find themselves in," Murray concluded.
Members of the Defence Forces are still on the ground in many of the areas, helping with the recovery operation.
A survey to assess the impact of the flooding on the 1,500 kilometre road network on Inishowen is 80% complete and extensive damage has been revealed.
The council said: "The damage to the road network has been extensive and to date 300 issues have been identified ranging from extensive structural damage to bridges on strategic regional roads to stretches of rural roads being washed away."
A ballpark cost for the repairs will be available at the end of the week.
Taoiseach Leo Varadkar visited the area in the aftermath of the flooding and said that additional funding will be made available to Donegal County Council to carry out the necessary repairs.
Government chief whip and Donegal TD Joe McHugh today called on insurers to act quickly to enable families and businesses get back on their feet.
"Many of the businesses are on hold as they await visits from insurance assessors and it is vital this takes place as soon as possible," McHugh said.
"Orders are still coming in to the businesses and there is an urgent need to get people back to work."