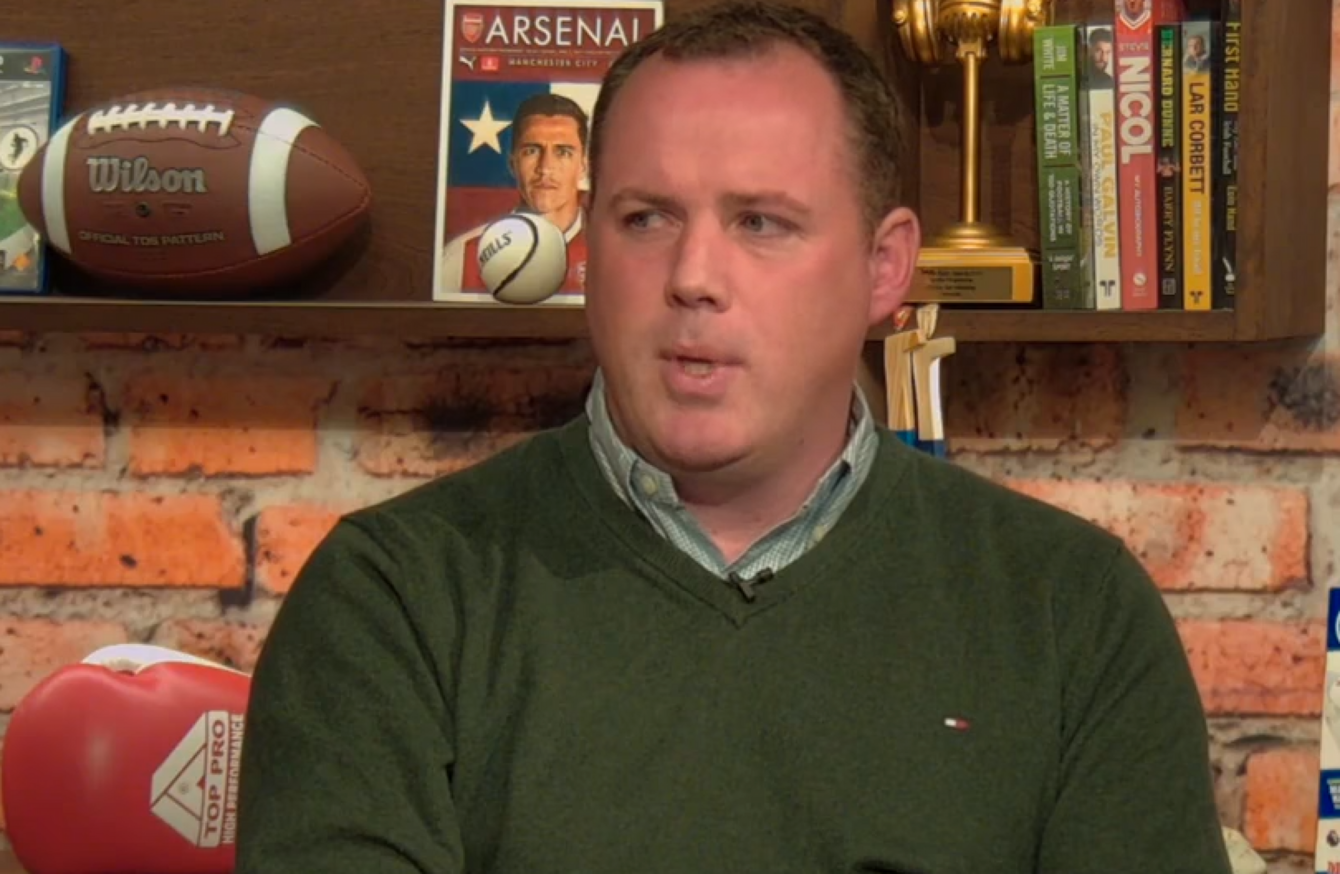 A screengrab of Fergus Connolly's interview with Off The Ball at the start of the year.
A screengrab of Fergus Connolly's interview with Off The Ball at the start of the year.
AN IRISHMAN WHO worked as a performance consultant for Liverpool Football Club, the New York Knicks and Munster Rugby among others has resigned from his high-profile job after crashing his car in an alleged drink driving incident, TheJournal.ie has learned.
Fergus Connolly, who was once branded one of the most sought after men in sports science, was arrested last month in Ann Arbor in Michigan, USA. He had been the performance director for the University of Michigan's football team. As yet, no formal charges have been brought against him.
A spokesperson for the University of Michigan confirmed that Connolly had left his position. He told TheJournal.ie: "Fergus is no longer working with the football programme. He resigned his position." According to a salary disclosure from the university, Connolly was paid $250,000 (€202,000) for his services in 2016.
It has been alleged that Connolly was driving under the influence when he crashed his SUV into oncoming traffic on 5 March. A police report said that Connolly left his vehicle after the crash but was discovered shortly afterwards.
The police report filed by the arresting officer said that Connolly, who is originally from Scotstown in Monaghan, was standing in a snowbank without any shoes on while talking on the phone when officers started talking to him. He had a number of injuries when discovered.
According to the police report, Connolly was violent towards officers when they tried to restrain him – telling one that he'd "put him in a wheelchair" if they did not release him. The report added that Connolly continued to verbally abuse them and told them "do not do this to me" and to "fuck off".
When brought to the police station, Connolly continued to be abusive, according to the police report, fell from the bench he was sitting on and swung at an officer. He was then taken to hospital.
Ann Arbor police are currently awaiting the results of intoxicant tests which will determine the course of their investigation.
Connolly served as a director of performance for the San Francisco 49ers from 2014-2015. Before that he had worked as a performance consultant for Liverpool FC, New York Knicks, Harlequins Rugby, AFL, Munster Rugby and the Jacksonville Jaguars. He also spent three years working as the sports science manager for the Welsh Rugby Union.
TheJournal.ie contacted Connolly's lawyer who said he had no comment to make at this time.