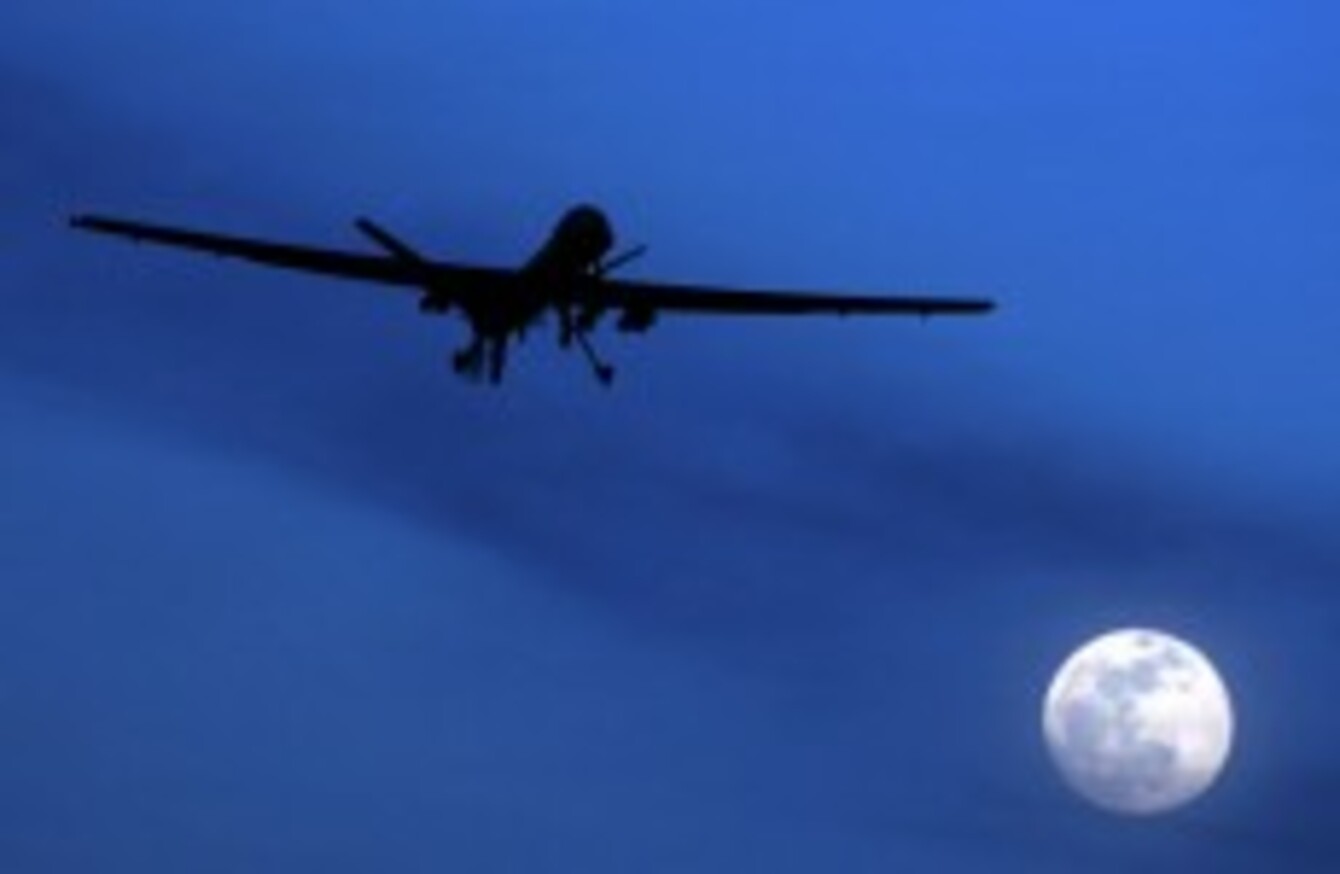 An unmanned US predator drone.
Image: AP Photo/Kirsty Wigglesworth
An unmanned US predator drone.
Image: AP Photo/Kirsty Wigglesworth
THE OBAMA ADMINISTRATION has failed to deliver on a promise to increase transparency around drone strikes according to Amnesty International.
Amnesty says that the US still refuses to divulge even basic factual and legal information about their drone policy and that it is preventing victims of unlawful strikes from receiving any justice or compensation.
Amnesty International says that as far as it is aware, no US official has ever been held to account for unlawful killings by drones in Pakistan.
Their criticism comes as Amnesty published a detailed report of drone strikes in Pakistan which it says outlines significant evidence that many of the attacks could constitute war crimes.
The report compiles evidence on all 45 known drone strikes that took place in North Waziristan on the border with Afghanistan in northwestern Pakistan between January 2012 and August 2013.
This area has seen more strikes than any other part of the country including an attack in 2006 that killed at least 82 people, many of them children.
"The evidence is absolutely incontrovertible," according to Colm O'Gorman of Amnesty International Ireland. "The United States has carried out a number of unlawful killings in Pakistan using drones and some of these attacks could constitute war crimes."
Amnesty says that under the Obama administration there has been a marked shift in the US policy on drones which changed from specific targeted strikes to a more general policy. The report says:
During the Bush Administration, the USA indicated that it generally targeted only specific, known individuals on a "kill list". Under the Obama Administration, there has been an increased use of "signature strikes" – attacks in which the victim's identity is unknown but their behavior appears suspicious to US security authorities undertaking surveillance of the Tribal Areas.
(Pakistani protesters burn a representation of a U.S. flag to condemn a drone attack in the Pakistani tribal area of Waziristan. Pic: AP Photo/M. Abbass)
The report claims that local men and women have little control over the presence of groups like the Taliban and al-Qaeda in their villages and districts. It details attacks into the Waziristan areas which killed among others a 68-year-old woman picking vegetables and a group of 18 labourers who were killed when sitting down to dinner in the evening.
"We cannot find any justification for these killings, " says O'Gorman. "There are genuine threats to the USA and its allies in the region. Drone strikes may be lawful in some circumstances. "But it is hard to believe that a group of labourers, or an elderly woman surrounded by her grandchildren, were endangering anyone at all, let alone posing an imminent threat to the United States."
Amnesty International also documented cases of so-called "rescuer attacks" in which those who ran to the aid of the victims of a drone strike were themselves targeted.
In May of this year, US President Barack Obama delivered a major foreign policy address in which he vowed to curtail US drone strikes and close Guantanamo Bay during his second term. Evidence from the The Long War Journal suggests that airstrikes in Pakistan have decreased in 2013 but Amnesty says that the US has done nothing to increase openness about its targeting policies.
Amnesty is calling on the US Congress to fully investigate the unlawful killings carried out through the drone programme and to disclose evidence of human rights violations.