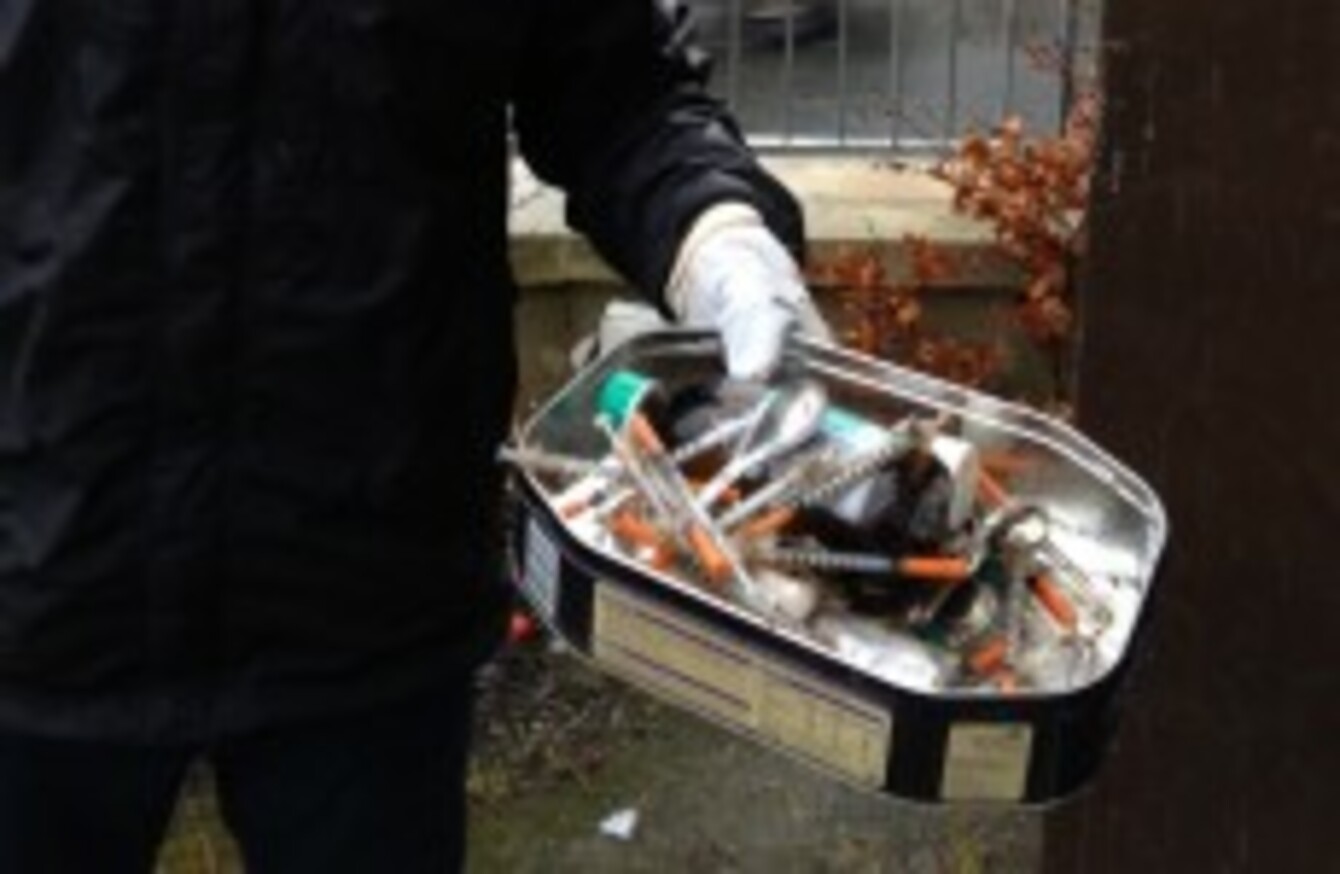 Wicklow County Councillor John Brady with syringes he found in a boarded up council house.
Image: John Brady
Wicklow County Councillor John Brady with syringes he found in a boarded up council house.
Image: John Brady
A COUNCILLOR IN Bray says boarded up council houses in the area are becoming magnets for antisocial behaviour and dumping grounds for syringes and other drug paraphernalia.
Sinn Féin Councillor John Brady found a large volume of used syringes and other drug related items at a property that has been boarded up by the council for over 4 months.
Syringes
"I had been contacted by a number of very concerned locals in relation to a large stash of used syringes and other drug paraphernalia in the back garden of a council property that has been boarded up by the council now for over four months," he said.
"This is totally unacceptable on a number of fronts, firstly that the house is being used as a drug den and that these syringes are being discarded in a highly built up residential area where large numbers of children are playing," said Brady.
"Unfortunately this is not an isolated incident, but the scale of it exceeds previous syringe finds. Myself and a local resident immediately cleaned up the syringes using specialist equipment. The material was put in a sealed container and handed into Bray Garda station for disposal. In total over 30 syringes were discovered along with other drug materials," he said.
At risk
Following Brady's discovery of the syringes, Christine Flood, Bray Town Council clerk said while Councillor Brady's actions in collecting up used syringes was "well intentioned… he put himself and the member of the public assisting him, in danger of a needle stick injury".
She appealed to those who use syringes to dispose of them in a responsible manner, stating that "users will be aware of the specialist facilities in Bray for the disposal of these items" adding that Bray Town Council have personnel who have had training and specialist equipment dealing with such situations.
She said if a member of the public sees such drug paraphernalia in a public place they should report it to the council.
Speaking to TheJournal.ie, Brady said it is a relatively new house where the drugs were found and someone should be living in it. He said that he did not want to "shine a bad light on the town" adding that incidents like this with boarded up houses are an issue for towns and cities up and down the country.
Brady added that it is "scandalous" that when council houses are handed back they are left lying vacant for months when he said there is a housing crisis going on.
Boarded up
"There is too much red tape. Part of the delay is from the Department of the Environment. When a house becomes vacant it comes back into the council's possession. However, often times work has to be carried out on the house to bring a house up to modern housing and energy standards, and to do this, an application has to be made to the department. Houses can remain boarded up for up to 18 months while the application assesses whether work needs to be carried out," said Brady.
Bray Town Council responded, stating that there are currently six boarded up houses in the town which are in "varying stages of the allocation process". The council said in a statement that the council are working on a further 11 houses. This figure includes 8 houses in the Oldcourt Estate which are being upgraded as part of the Bray Town Council Energy Efficiency works.
The council added:
The housing stock in Bray is in excess of 1,200 houses. The number of boarded up houses represents a tiny fraction of that number. We generally re-let vacant houses in a matter of weeks.

Sometimes a housing applicant might turn down an offer of a particular house, this means that we have to go through the allocation process a second or third time.

In some cases where refurbishment works are required, we have to go through a procurement process and seek the approval of the Department of the Environment, Community and Local Government, this can take months depending on the nature of the works.
The Department of the Environment said that It is up to each local authority to manage its own housing stock.
"When a local authority dwelling becomes vacant the Council will secure the dwelling by boarding it up to protect it from anti-social behaviour. It is up to the local authority concerned to bring that house back up to living standard – if needs be," said the department.
They added that if there is a case that there are a lot of units outside of the councils budget they may approach the department for additional funding.
They pointed out there is an additional fund of €15 million being put towards improving boarded up housing stock and long-term vacant units.