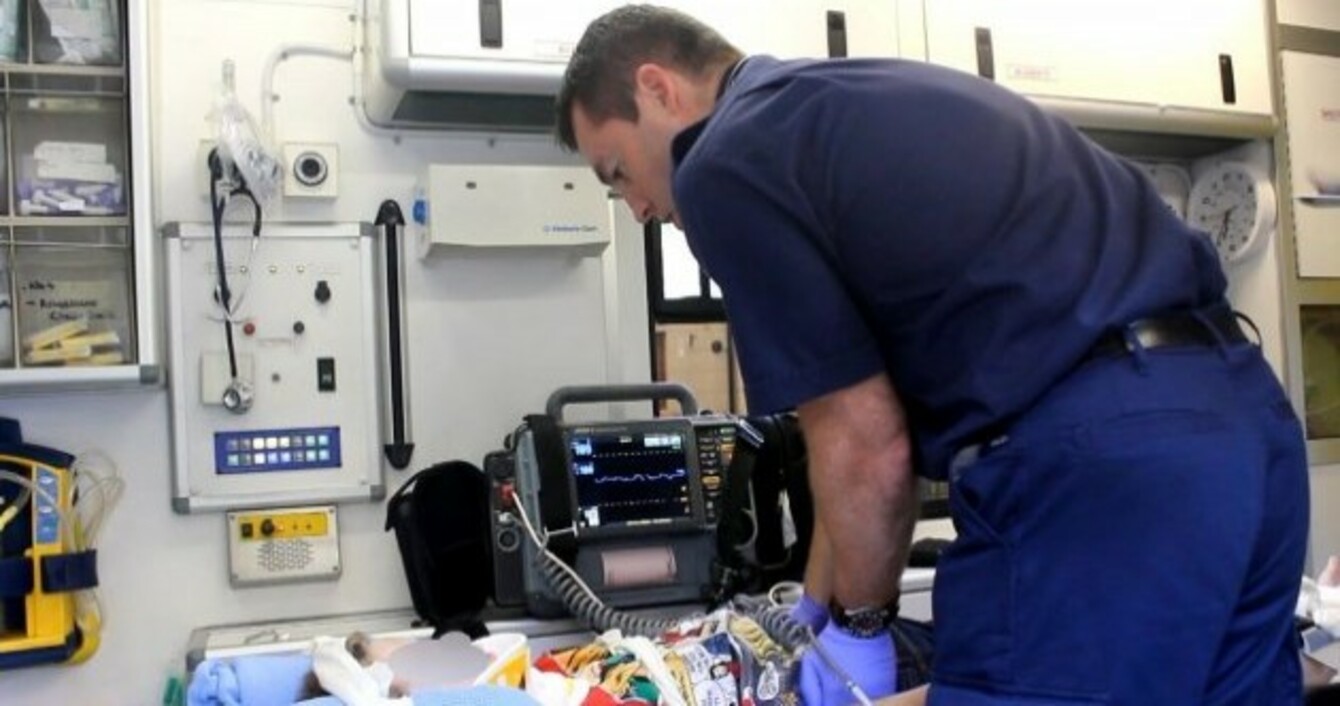 Image: © TheJournal.ie
Image: © TheJournal.ie
FOR THE MEN and women of the Dublin Fire Brigade, a Saturday ambulance shift can mean hours of back-to-back callouts at incidents ranging from a person who's had too much to drink, to a serious collision or cardiac arrest.
The shift starts at 6pm, ending at 10am the next morning and for one night only TheJournal.ie got in on the action, following the fire service paramedics from the station in Dolphin's Barn, Dublin.
By 7.30pm, the crew on ambulance D24 – Darren O'Connor and Derek Clare – have already been to two incidents and are only back at the station fifteen minutes before being called to the scene of a collision in the city centre.
The injured man had serious lacerations on his face and had broken two of his teeth. Paramedics said the severity of his injuries could have been reduced had he been wearing a helmet while cycling.
In incidents like this, the use of a neck brace and spinal board is paramount. Even though the patient was standing and walking around, there was still the possibility of a spinal injury.
The job of the paramedics in this case is to protect his spine and completely immobilise him until he can be assessed further at the hospital.
11-year-old boy with possible spinal injuries
As soon as the two paramedics have cleaned up at the hospital and alerted the control room that they are available, they are sent to a housing estate where a young boy has fallen off a high wall onto a railings. One of the fire trucks from Dolphins Barn has been sent on ahead to stabilise him.

Dealing with children can be challenging as paramedics said they can 'compensate' – maintaining stable blood pressure and vital signs – and then rapidly deteriorate, so they have to be monitored constantly.
It's also important to reassure them more, come down the the child's level and keep their parents by their side as much as possible to reduce their anxiety.
In the instance of a fall from such a height, the likelihood of a spinal injury it high so again paramedics took precautions to protect the boy's spine before transporting him to Crumlin Hospital.
Once they have handed over the patient at the hospital, they alert the control room and wait for the next case, knowing that a busy night awaits them.
- All images and video © TheJournal.ie with thanks to Penny-Merelle Gray.
Keep an eye out for the second part of our  ambulance series tomorrow as we follow the crew's shift all through the night and into the early hours in a busy city centre. Hint – it involves a lot of alcohol.