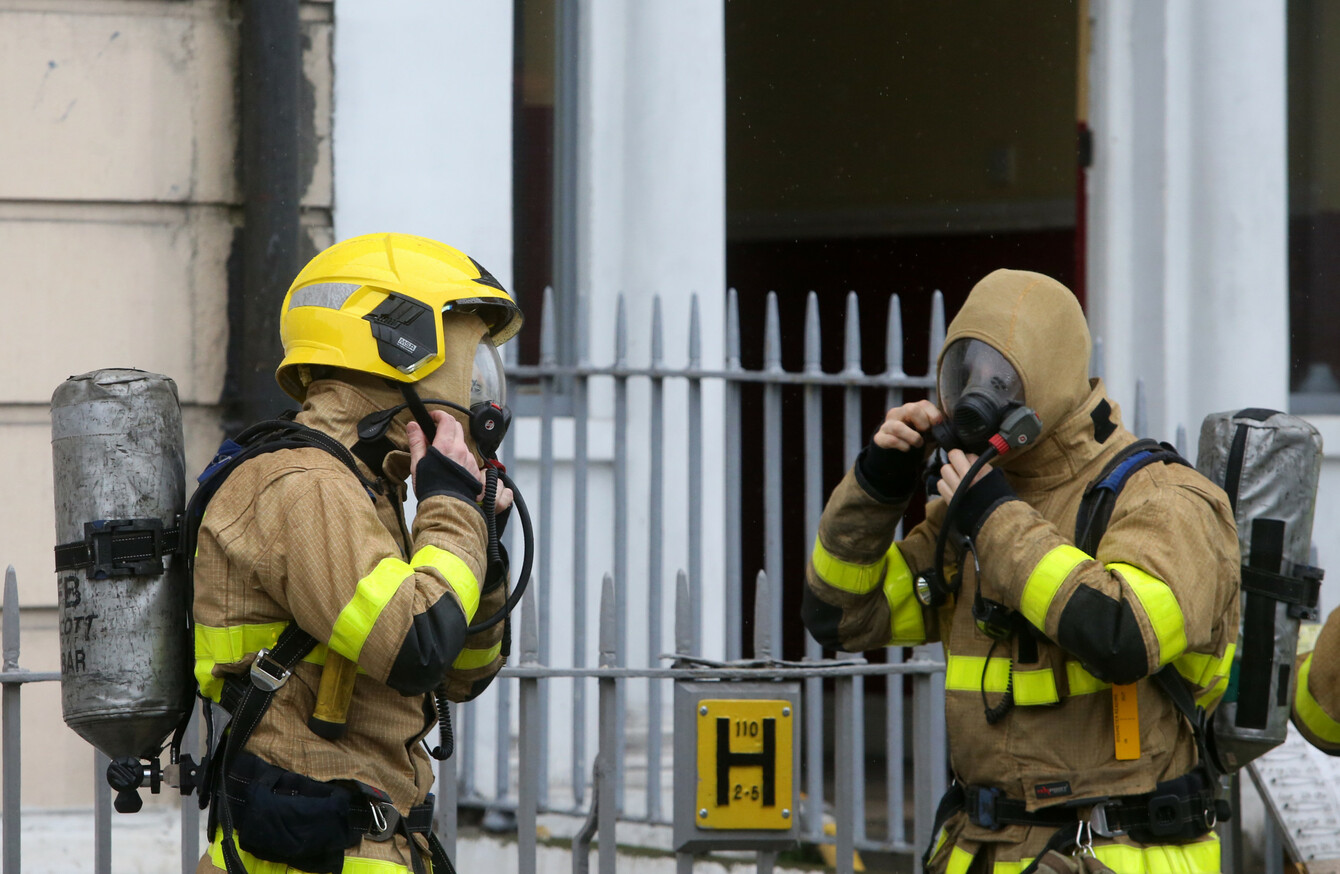 Image: Sam Boal
Image: Sam Boal
DUBLIN FIRE BRIGADE has said it is rolling out upgraded breathing apparatus sets for its firefighters this year.
The fire service's breathing equipment has been the subject of controversy over the years with a number of reports of the sets failing while in use, leaving firefighters without air while they are working to put out a fire.
In 2014, the representative group Irish Fire and Emergency Services Association (Ifesa) launched legal action against Dublin City Council seeking to have the breathing apparatus sets removed from use pending a an investigation. This case is still before the courts.
Now the fire brigade has said upgraded sets are currently being rolled out. A spokesperson told TheJournal.ie that sets are being upgraded as part of "ongoing enhancements to breathing apparatus equipment" and has been introduced to coincide with the scheduled refresher programme.
The upgraded equipment was supplied to Dublin Fire Brigade in November 2017 and the service said it came at no additional cost.
Changes include the introduction of a new back-plate - essentially the skeleton of the set which holds the cylinder and other parts in place and straps onto the firefighter.
The upgrade also involves the reconfiguration of what is called the 'rescue second man unit'. This is a valve that allows a firefighter to connect a second mask to their air supply in the event a colleague's own equipment fails.
A source said the sets have undergone a number of upgrades or part-replacements in the just over five years they have been in service. The tender for the equipment in 2011 required a set with a lifetime of up to 15 years, with the provision of replacement parts fo the duration.
"There have been all these little tweaks to it over the years, replacing brackets and straps and things like that. There was an issue with air quality and they said that was addressed but, as far as the confidence firefighters have in the set, it would still be questioned," they said.
"We're getting three days of training for this which is a lot, considering that when they were first introduced we didn't get training in them. But it's good now that they're doing the three days."
Dublin Fire Brigade said the sets will be introduced to all stations on a phased basis to coincide with the refresher  training programme which has recently started.