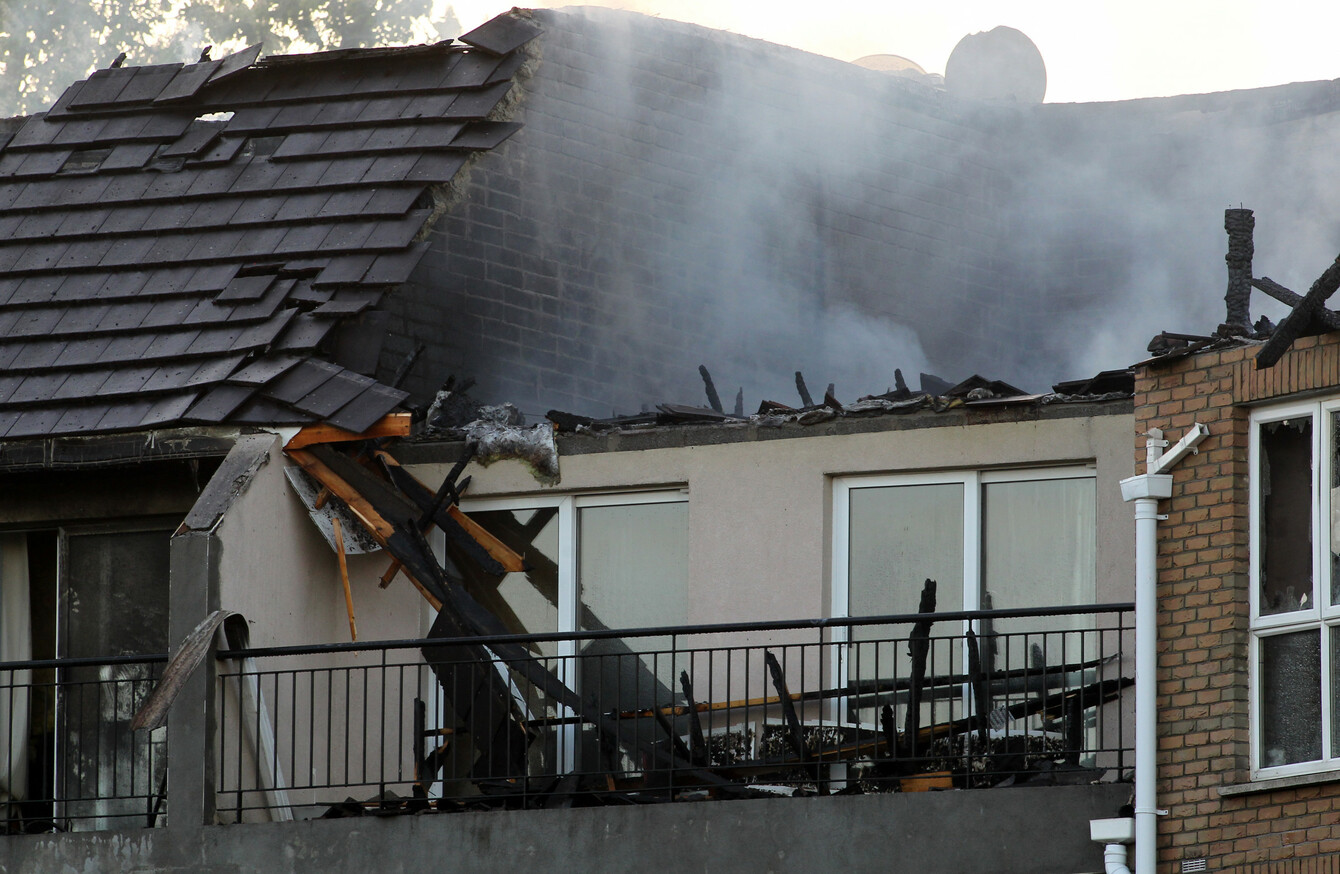 A fire at a block of apartments on Snugborough Road earlier this year.
Image: Sam Boal/Rollingnews.ie
A fire at a block of apartments on Snugborough Road earlier this year.
Image: Sam Boal/Rollingnews.ie
DUBLIN FIREFIGHTERS ARE worried about a lack of long ladders for high-rise buildings and have revealed that only one may be available on some days in the capital.
Dublin Fire Brigade said during the week that Halloween night was one of their busiest days in years.
Despite this, Siptu workers at the emergency service have said that only two appliances that had mounted ladders that can go five storeys high were available on Halloween.
Siptu's DFB spokesperson Shane McGill explains that there are two types of aerial ladder used by DFB. One is a turntable ladder that can extend to 100 feet high and another is a platform ladder, similar to a Cherry Picker.
The minimum agreed number of high ladders that should be available is three in total but Siptu says this has been reduced to one because of a lack of training and an issue with one of the ladders.
"This situation will continue until a suitable replacement aerial appliance is found or repairs can be carried out on a currently inoperable one. However, no timeframe has been presented," McGill says.
The platform ladder is on a truck based at DFB's fire station in Dún Laoghaire and was bought from the UK but Siptu argues that it is not up to standard.
It is 18 years old and McGill says it is not large enough to carry a crew to a fire:
There's not enough room to put a crew on it. So they have to put a car chasing it, it's called the chase car, it's a bit like the Flintstones. It's a whole situation. If that car was involved in an accident or got delayed in traffic then the ladder arrives with no crew. So it's a joke at the moment.
Aerial appliances are almost always sent to building fires in Dublin city and are also likely to go to residential fires in apartments, hospitals or prisons.
In some instances they may not be initially sent to an incident but may then be requested to attend later.
Siptu points out that, in the wake of the Grenfell Tower tragedy in London fire services are dramatically increasing their preparedness for high-rise fires. London has a far higher number and proportion of high-rise buildings, but McGill says it pays to be prepared.
"There are over 700 high-rise buildings that have been identified in Dublin as possibly requiring an aerial appliance if an incident takes place."
The Dublin vision plan now is suggesting we put high-rise along the Luas track where we don't normally have them and based on that we believe proper investment needs to take place to get more ladders in.
TheJournal.ie requested a response from Dublin Fire Brigade on Siptu's concerns.