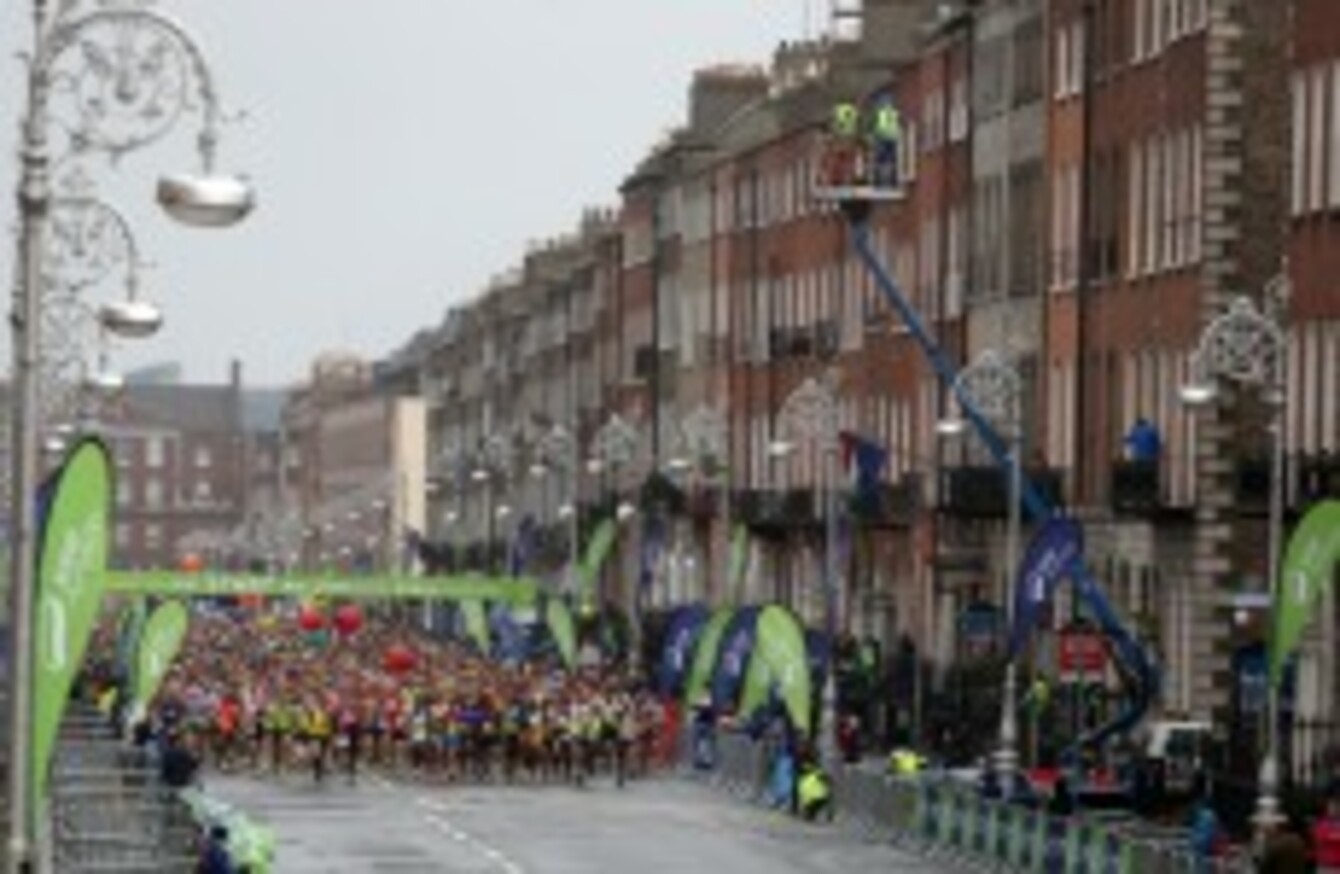 Dublin marathon runners
Image: Rollingnews.ie
Dublin marathon runners
Image: Rollingnews.ie
A RUNNER IN Monday's Dublin marathon has been hailed a hero after stopping to save the life of a woman who collapsed during the race.
Ken Maleady was taking part in the race when he happened upon a woman who had collapsed while taking part in the 42km (26.2 miles) event.
Speaking on RTE Radio 1′s Ray D'Arcy Show, he said he started the race in good spirits.
After a distance he came across Alan Byrne, an old school friend of his whose wife was also taking part in the annual run.
"I was running about 12 or 13 miles into the run when I met this woman's husband, I used to go to school with him years ago," he said.
"I got to about 15 or 16 miles when I found the man's wife and I was talking to her for a while but eventually I drifted ahead."
Moments later he noticed that the woman had taken ill at the side of the track.
"I saw this girl on the ground I didn't know who she was and I saw a few people around her.
"I ran by and something told me to look back.
"It was the girl I had been running with and it was obvious that she wasn't breathing and her heart wasn't beating so I started doing mouth to mouth resuscitation.
"After about two or three minutes her heart started beating again but she wasn't breathing so I continued with the rescue breaths."
Ken, who works as an emergency consultant nurse at Dublin's James Connolly Hospital, waited with the woman before she was taken to hospital.
Despite his brave efforts Ken remains modest and even managed to go on and finish the marathon himself.
"You're quite isolated at the side of the road but once you get into a hospital you have the emergency equipment and the expertise so that is what we did.
We got her into the ambulance, they headed off and I went off and finished my marathon.
The woman, named as Sandra Byrne is currently receiving treatment at the intensive care unit at Dublin's St Vincent's Hospital and is expected to return home soon.
Her husband Alan said:
"She's sitting up and she is talking . She is a bit disorientated and all she is concerned about is how she got on in the marathon.
"What were the chances in a crowd of 15,000 people that he would be there."