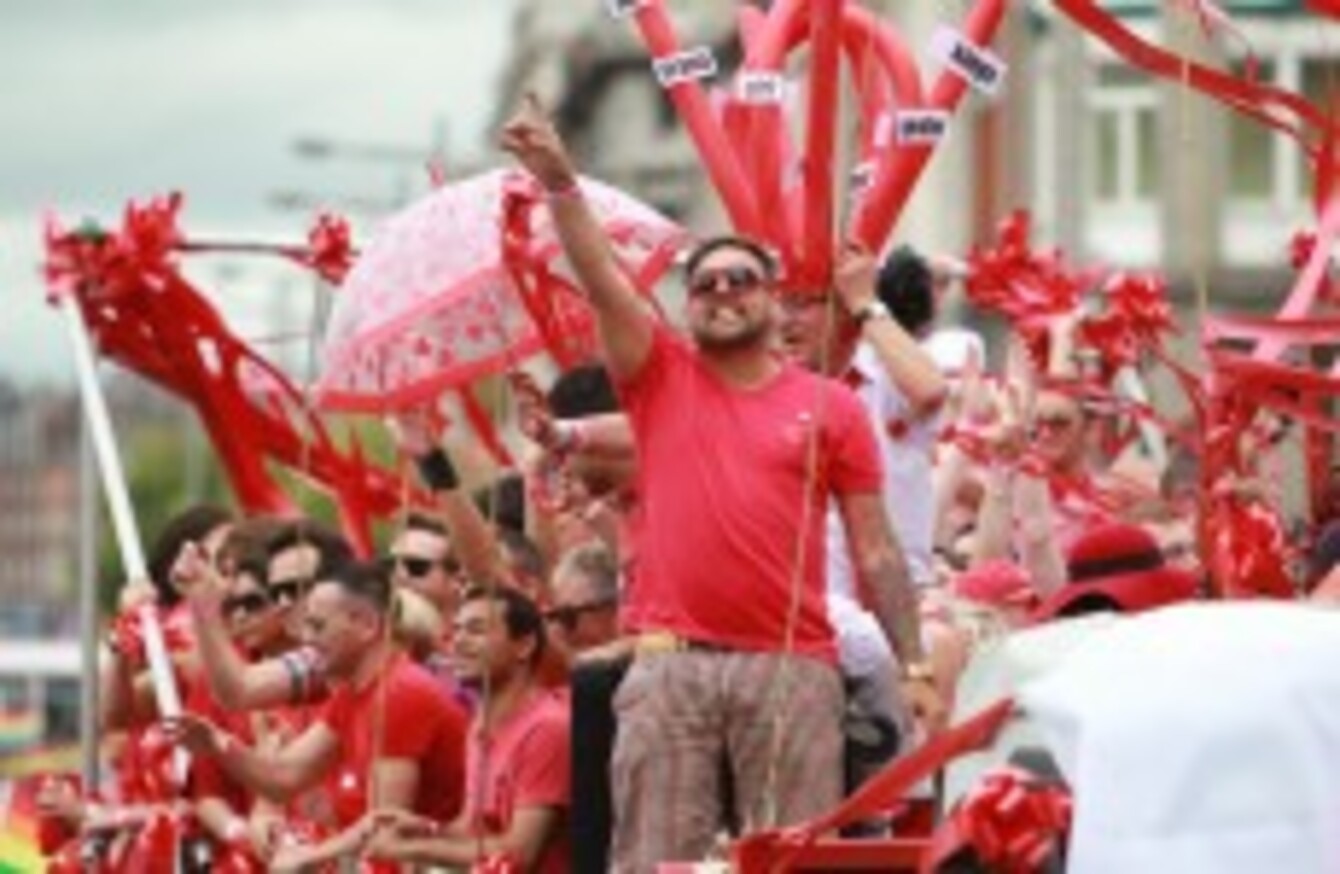 Participants in last year's parade
Image: Photocall Ireland
Participants in last year's parade
Image: Photocall Ireland
TODAY SEES THE culmination of the Dublin Lesbian Gay Bisexual Transgender Queer festival with a parade through the city centre and a party in Merrion Square this afternoon.
The event has grown from a one day celebration in 1983 to a ten day festival this year. The first event was held in Fairview in March 1983 in protest at the levels of violence against gay men and women in Ireland.
The march was in reaction to the controversial Flynn judgement,  which handed suspended sentences to members of a gang found guilty of the manslaughter of Declan Flynn, a 31-year-old gay man, in 1982.
The first parade was then held in June of that year, organised by the National Lesbian and Gay Federation. It followed a route from St. Stephen's Green to the GPO.
The theme of this year's parade is 'Show Your True Colours' and it will assemble at the Garden of Remembrance at 12pm at will embark on its route.
From there it will head down O'Connell Street towards College Green, into Nassau Street, Kildare Street and will finish up at Baggot Street before heading to Merrion Square Park for a family picnic.
Gardaí are warning motorists to expect traffic disruption and road closures.
Last year's march attracted 26,000 particpants and organisers are expecting an even large attendance this year.
The party in Merrion Square kicks off at 3pm with music from Brian Kennedy and Leanne Harte, while representatives from LGBTQ Pride, Marriage Equality, TENI LGNTNoise and BeLong To youth services, as well as Grand Marshall Panti Bliss will be speaking.
This is the first year that the official party will be held in Merrion Square, following licensing issues in the past. Particpants are reminded that alcohol will not be permitted into the park in order to ensure a family-friendly space. There will be a designated over-18s area with refreshments on site.
If you're heading to the parade, send your pictures to us and we'll publish them in our gallery later today. Tweet them to @thejournal_ie or email them to tips@thejournal.ie. You can also send us your photos directly from our apps by clicking on the camera icon on the top left of the screen.