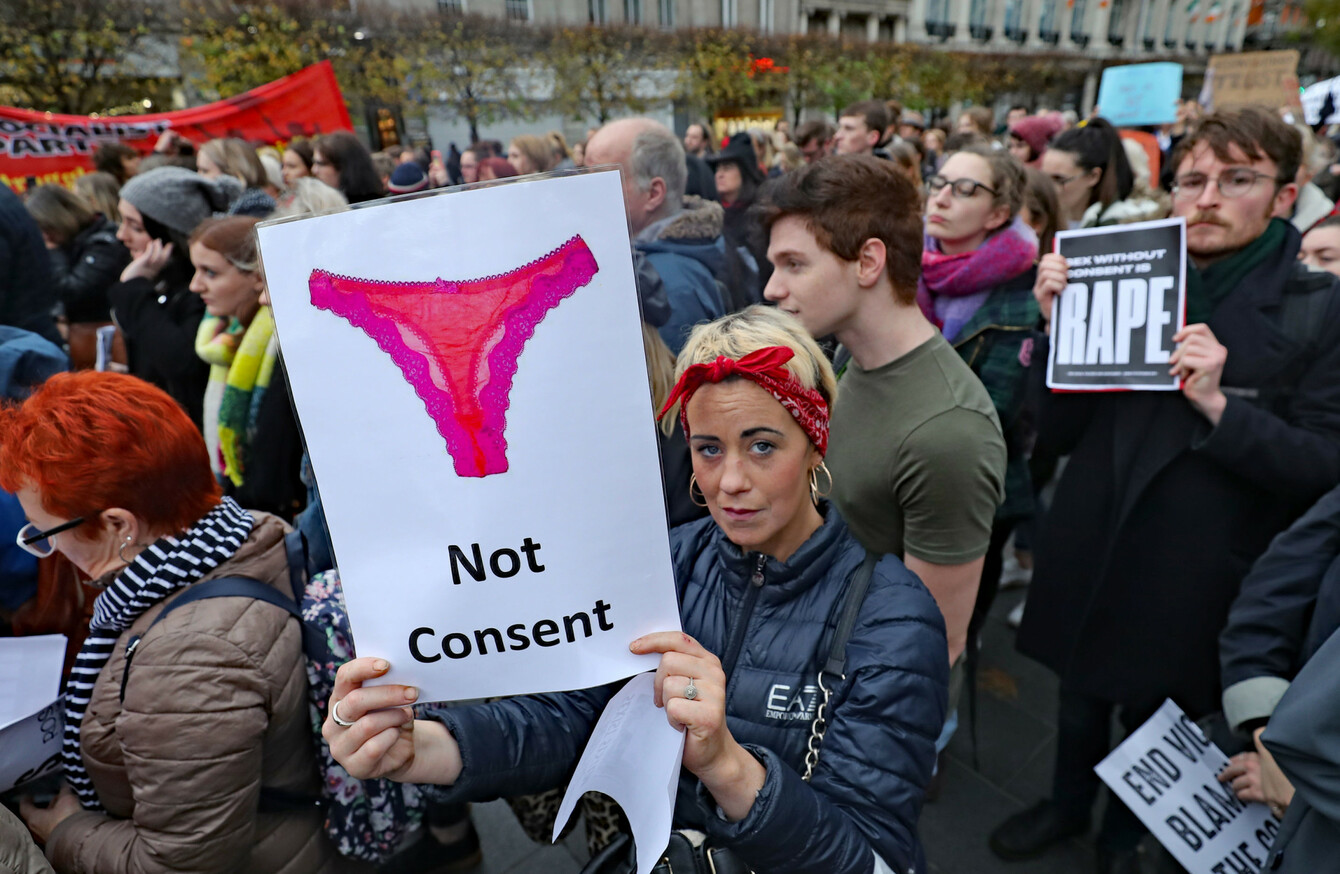 A protest on O'Connell Street earlier this month supporting victims of sexual violence
Image: Niall Carson/PA Images
A protest on O'Connell Street earlier this month supporting victims of sexual violence
Image: Niall Carson/PA Images
DUBLIN'S RAPE CRISIS Centre had almost 13,000 contacts to its national 24-hour helpline last year, and provided therapy for 550 face-to-face clients.
The 12,855 contacts to its helpline was increase of 500 from the previous year, according to its annual report which is set to be published today by Garda Commissioner Drew Harris.
Staff at the centre accompanied 251 people to examinations at the sexual assault treatment unit at the Rotunda in Dublin, and also provided support on 53 days to victims who were making a criminal complaint either at a garda station or in court.
Centre CEO Noeline Blackwell complimented the work being done by gardaí who are fully trained in the investigation of sexual offences, but highlighted the continued lack of specialist units or investigators to deal with "these sensitive investigations".
When poorly handled, it can lead to victims withdrawing from the criminal justice system and being re-victimised by the experience, Blackwell said.
"When you combine this with the systemic difficulties of our court system in such trials, it is little wonder that there is such a high rate of drop-out between reporting and trial and even a very low rate of reporting," she said.
A dedicated staff member at the centre was hired this year to focus on developing accompaniment and support justice services.
The issue of how sexual assault and rape cases are handled in the courts came to prominence this year, following the Ulster rugby trial and the recent case highlighted by Ruth Coppinger.
The topic had been discussed in after a defence barrister in a rape trial asked a jury in Cork to take into account that the 17-year-old complainant was wearing a lace thong on the night in question.
The barrister's comments sparked outrage and led to protests, which made international headlines, as well as Solidarity–People Before Profit TD Ruth Coppinger holding up a thong in the Dáil during Leaders Questions.
Source: TheJournal.ie/YouTube
Coppinger said it was time for "rape myths" to be dispelled, adding that a person's choice in clothing does not equate to consent. She called for more training among the legal profession in this regard.
A review of the handling of sexual assault cases in Northern Ireland, published last week, suggested juries could be provided with information to help guard against stereotyping. 
Retired judge John Gillen said there should be measures to combat rape myths and stereotypes involving the way a complainant dressed, the fact that they had drunk alcohol or taken drugs, or the fact that they did not scream or fight.
"Frustratingly, many people, men and women, still harbour unspoken views about appropriate behaviour for individuals according to their gender," Gillen stated in his review. 
Dublin Rape Crisis Centre head of clinical services Angela McCarthy said they continue to see an increase in the number of callers and clients who have experienced rape and sexual assault.
The centre delivered 3,883 appointments in 2017, mostly in Dublin city centre but also in Coolock, Dóchas Centre in Mountjoy and in Tallaght.
McCarthy said: "Nearly 48% of Helpline contacts related to adult rape, compared to 41% of 2016 contacts. Of new clients seen in 2017, 49% had experienced recent rape or sexual assault."
With reporting from Órla Ryan, Michelle Hennessy