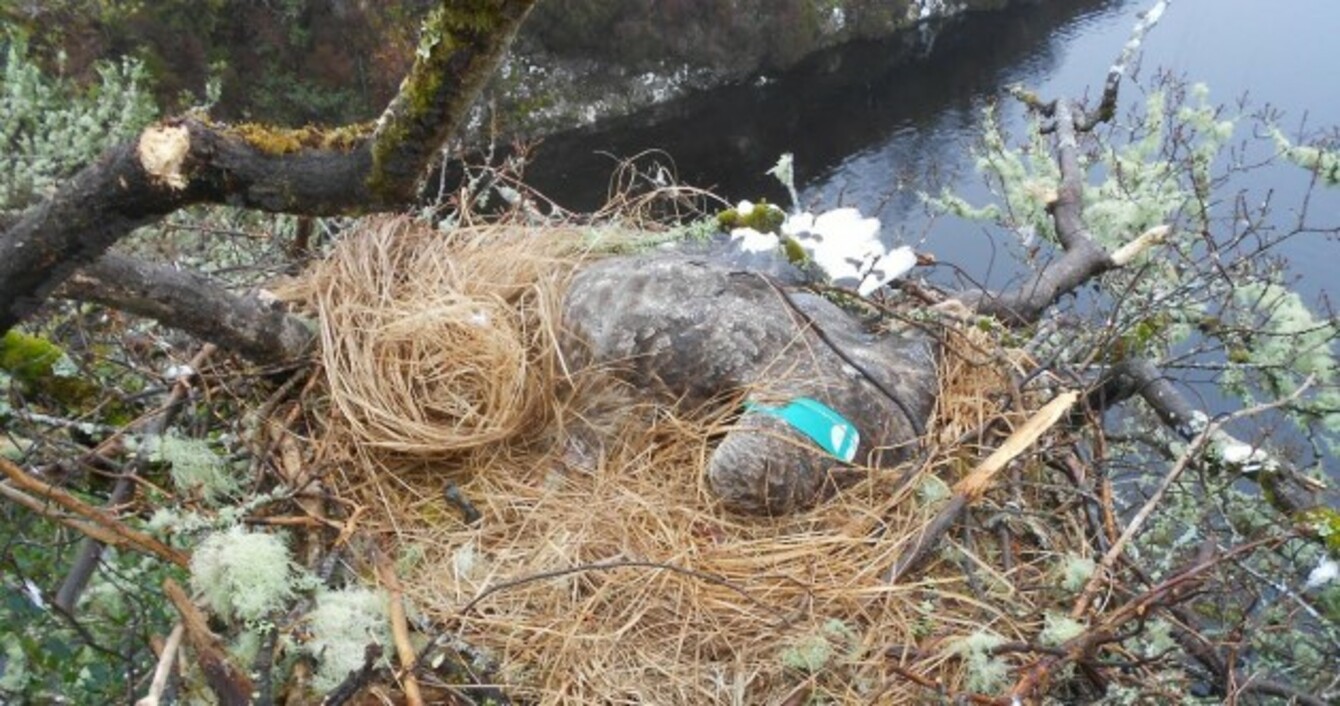 A WHITE-TAILED Eagle has been found dead in Connemara.
The six-year-old female was discovered lifeless in the nest on 1st April, it's been revealed this afternoon.
Post-mortem tests revealed the bird had been poisoned.
The eagle was released into Killarney National Park in 2009 as part of a reintroduction programme for the species, managed by the Golden Eagle Trust in partnership with the National Parks & Wildlife Service.
The female eagle then settled in the Roundstone area of Connemara in 2012, where she paired up with a male.
In 2014 the pair laid eggs at a nest in a remote site, but the eggs failed to hatch chicks successfully. They were on the point of nesting again this year at the same site when the tragedy struck.
The post-mortem found the female was developing two eggs – so she was within a few days of laying.
"This is a very disheartening incident as the killing of this breeding female has effectively put an end to any breeding attempt of this incredible species in West Galway for at least another five years," NPWS Conservation ranger Dermot Breen said in a statement.
"To see the female lying dead on her nest was a very sad and sickening sight – especially with the knowledge that she would have been due to lay two eggs.
"Historically up to 14 pairs were known to have bred in the Connemara region up 1838. Connemara lost its White-tailed Eagles shortly after this with the introduction of poison.
"It's deeply frustrating to see history repeating itself. I've encountered no negative feedback from any local farmers with regard to the presence of the eagles over the last three years.
Many landowners would ask how the eagles were doing and would tell me if they had been lucky enough to see them in the locality.
Breen said the loss of the bird would also have an impact on tourism.
It's the 13th confirmed poisoning of a White-tailed Eagle in Ireland since the reintroduction project began in 2007.
Arts and Heritage Minister Heather Humphreys described it as "a very serious incident" and said it was  particularly disappointing, considering the bird was due to lay eggs.
"It is believed that the poison is generally intended to kill foxes or crows, but is leading to the poisoning of these rare birds.
"Poisoning remains the greatest threat to the re-introduction of White-tailed Eagles here and I would remind the public that the use of poison to kill animals such as foxes or crows has been banned since 2010."