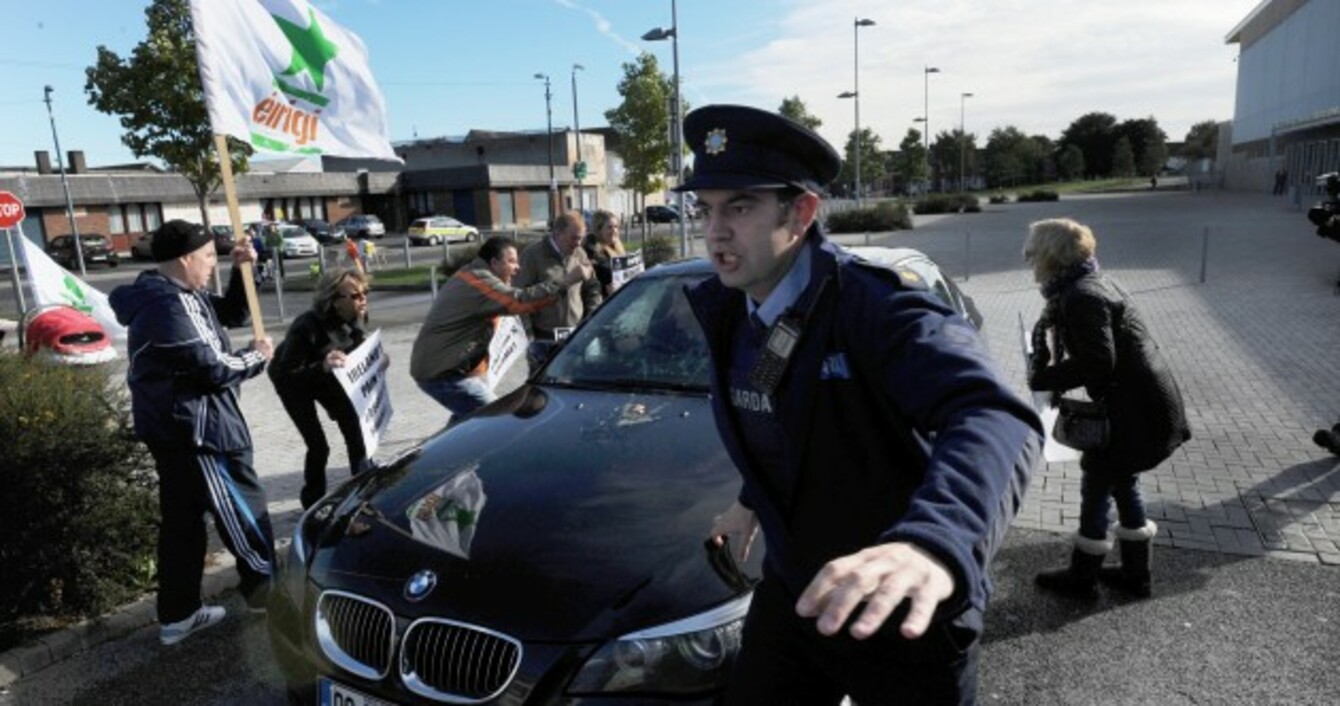 Image: Sasko Lazarov/Photocall Ireland
Image: Sasko Lazarov/Photocall Ireland
A CAR CARRYING Tánaiste Eamon Gilmore was egged and forced to turn back from an event during a protest in Dublin this morning.
Minister for Children Frances Fitzgerald was also in the car which was travelling to the launch of Unicef Ireland's campaign for the children's rights referendum.
The incident happened outside The Base youth club on Blackditch Road in Ballyfermot.
Members of Éirigí held the protest outside the event calling on the government not to cut child benefit. Éirígi councillor Louise Minihan said that protesters wanted to get the message across to the Ministers that they were not welcome.
"We organised the protest as part of our Hands Off Our Children's Allowance campaign but other people were there too who wanted to give Eamon Gilmore a piece of their mind," Minihan told TheJournal.ie.
"One person works in home care and has had her hours cut, other people have had cuts in their wages while others are struggling to pay their mortgages", she said.
"When the car pulled in a few eggs were thrown, there were some slogan chanted, so they left".
The Ministers were forced to turn away from the event and did not attend the launch of the Unicef campaign.
A 28-year-old man was arrested at the scene and is scheduled to appear in court this afternoon charged in relation to the incident.
Minihan said that the protest had been intended to show the Ministers how cuts were affecting people.
"These people don't seem to live in the real world," she said. "They make these cuts and they've no idea of the heartache they cause for people who are struggling. Put simply, they can't go ahead with these cuts when people can't afford to put food on the table and then expect to be welcomed".
(Warning: video contains strong language)

(Video: justinjustinjusti/YouTube)
Labour TD Michael Conaghan who was at the launch said that the event still went ahead without the Ministers.
"The people who tried to disrupt today's event do not represent Ballyfermot," said the Dublin South Central TD. "Their thuggish actions should be roundly condemned".
Louise Minihan spent seven days in Mountjoy jail earlier this year for refusing to pay a €1,500 court fine after she threw red paint over then-Minister for Health Mary Harney.
(All images: Sasko Lazarov/Photocall Ireland)