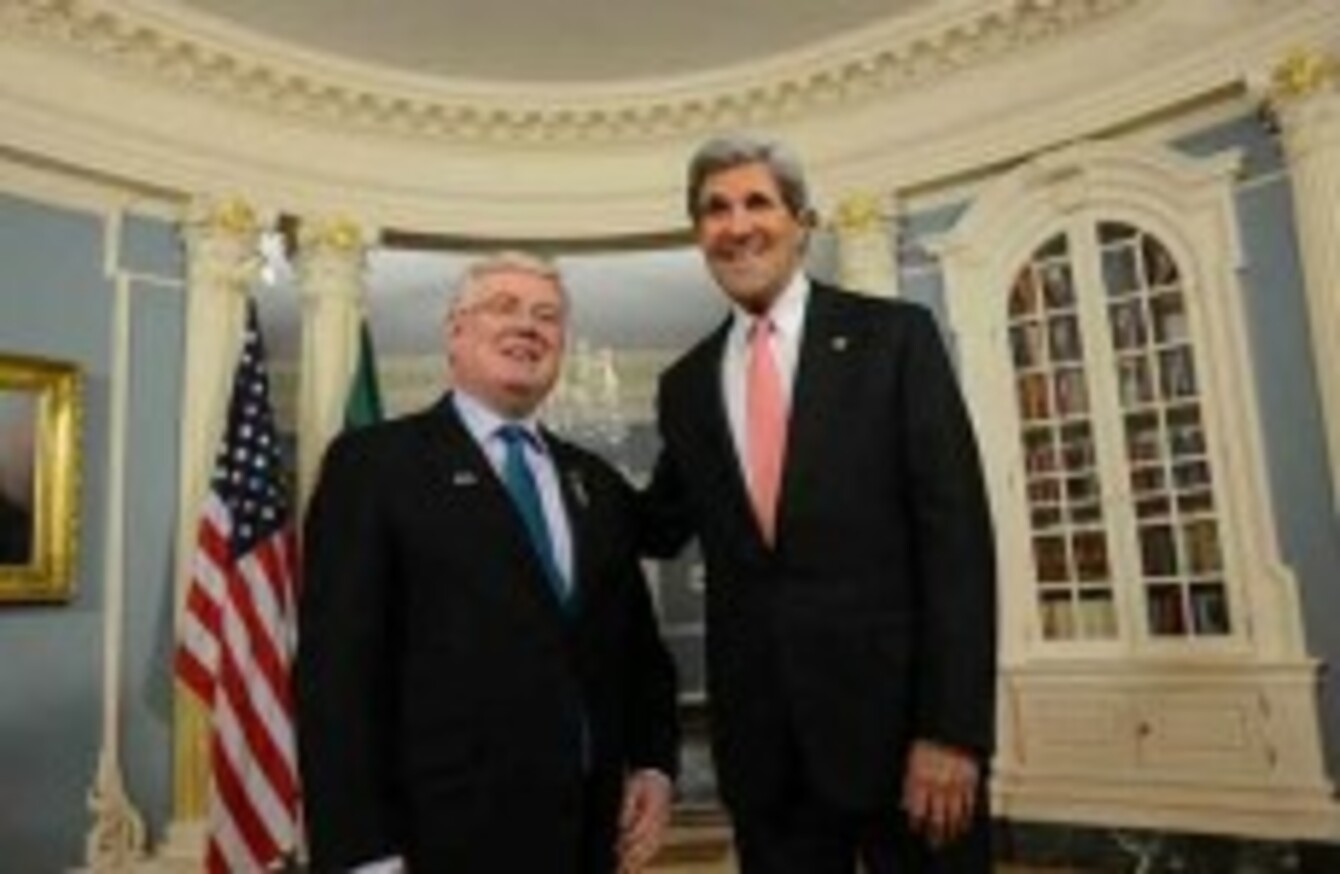 Eamon Gilmore with US Secretary of State John Kerry earlier this year.
Image: Photocall Ireland
Eamon Gilmore with US Secretary of State John Kerry earlier this year.
Image: Photocall Ireland
TÁNAISTE EAMON GILMORE has joined the increasing condemnation of Syria over the alleged use of illegal chemical weapons against civilians – but said any international response should be political, rather than a military invasion.
In his strongest statement yet, the Minister for Foreign Affairs described the deliberate use of the weapons as "a very serious war crime" and called on the UN Security Council to decide on how the international community should react.
He repeated  his call for the Council – whose 15 members are meeting on Syria today – to refer the issue to the International Criminal Court in order to investigate possible crimes against humanity.
"Only a political solution can bring peace to Syria," he said.
His comments are in direct contrast to that of other leaders in recent days, as the possibility of military intervention has become more likely: the UK has today put forward a draft resolution to the five permanent members of the Security Council explicitly calling for military action in Syria.
"The horrific consequences of the illegal use of these armaments against a civilian population are appalling and an affront to the values of the United Nations," said Gilmore. "The use of these weapons has rightly been outlawed for almost a century. The deliberate use of chemical weapons against a civilian population is a very serious war crime".
The Labour leader said that the UN team of experts who are investigating whether the alleged attack took place should be free to carry out their inspection; earlier in the week, members of the team were shot at by a sniper.
"Ireland and the wider international community await the report of the inspection team as a matter of urgency," he said.
There are growing international concerns that the attacks were probably carried out by the Syrian Government. The evidence the inspectors find on the ground may also be critical in clarifying who was responsible.
The UN Security Council is the appropriate forum for determining the response of the international community.