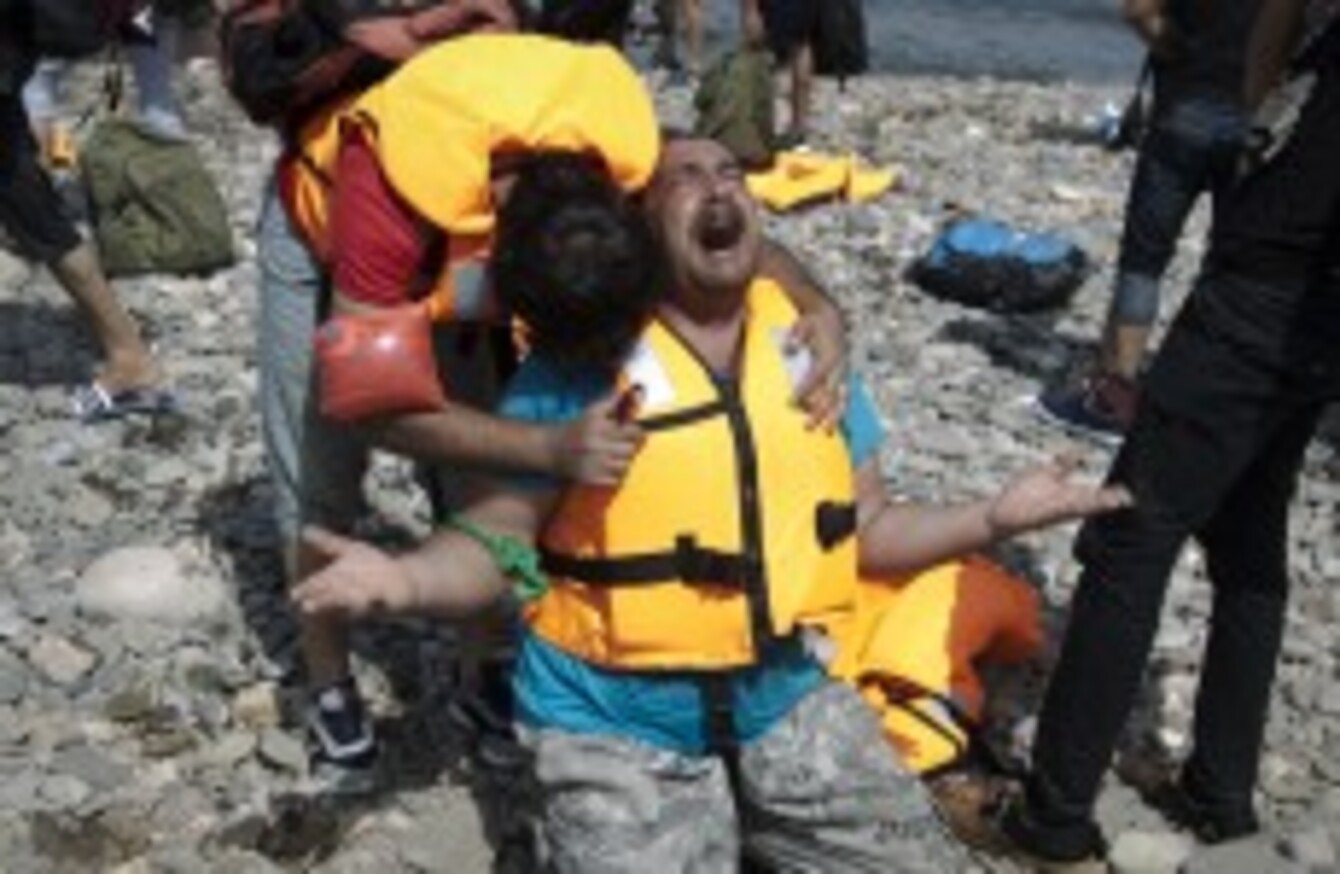 Image: Associated Press
Image: Associated Press
Updated 4.55pm 
THE OFFICIAL PLANS for how Europe is to deal with the refugee and migrant crisis were unveiled this morning with Ireland's response likely to be finalised tomorrow.
European Commission president Jean Claude Juncker outlined the current situation in his State of the Union address to MEPs earlier.
"Italy, Greece and Hungary cannot be left to deal with the migrant crisis alone", he told the European Parliament in a speech which can be read here.
He said that pushing back boats, setting fire to refugee camps or turning a blind eye to the helpless is "not Europe". Instead, he said that "Europe" is the reaction of people who have welcomed refugees with open arms and that there is no belief or religion when it comes to dealing with refugees.
Juncker's comments came as ministers in Dublin prepare for a special cabinet meeting on the issue tomorrow morning at 7am.
While a broad discussion was held at their weekly meeting today, ministers are expected to focus on the detail during tomorrow's talks.
This will include exactly how many refugees Ireland will take in with it expected this will number around 1,800 in the initial phase.
Justice Minister Frances Fitzgerald is due to bring a memo to cabinet which will outline financial support, expected coordination with NGOs, and details on how refugees will arrived, be processed, and accommodated.
A special scheme that will fast track the assessment of those refugees fleeing conflict areas like Syria is expected to be set up. 
European response 
Earlier, in a "letter of intent" to the President of the European Parliament, Martin Schultz, and Prime Minister of Luxembourg, Xavier Bettel, Juncker said that the European Union "is at a defining moment".
The letter outlines a movement towards a new policy on migration, saying there will be:
A swift, determined and comprehensive response to the refugee crisis, including adoption of proposals on an emergency relocation mechanism, on safe third countries of origin and on a permanent relocation scheme.
There will also be renewed efforts towards better management of the external borders of Europe, and steps towards the creation of European coastguard and border guard systems.
The Common European Asylum System will be strengthened, while the existing Dublin system will be evaluated, and the European asylum support office will be strengthened.
Juncker promised the delivery of safe legal avenues for those in need of protection, and a proposal for a permanent scheme for resettlement, together with enhanced protection schemes in the proximity of the EU.
There will be a renewed approach to manage legal migration, including the revision of the Blue Card directive.
In his SOTU address, Juncker said that a "comprehensive European agenda" on migration is needed. He said that emergency mechanism to relocate the people seeking protection from Italy and Greece has been proposed.
A second emergency mechanism to relocate a further 120,00 people from Italy, Greece and Turkey was also proposed.
"We are talking about 160,000 Europeans [who will] have to be taken in charge and [Europe] will have to take [them] in their arms," he said. "I really hope this time everyone will be on board."
Nearly 500,000 people have made their way to Europe since the beginning of this year.
The plans come after weeks of heightened interest over the crisis, which has seen people flee to Europe to escape war and poverty.
"A lasting solution will only come if we address the root causes, the reasons why we are facing this refugee crisis," Juncker told the European Parliament today.
Action
"Now is not a time to take fright, it is a time for conservative action," said Juncker today.
"As long as there is war in Syria and terror in Libya, the refugee crisis will not go away," said Juncker, calling on people to "imagine for a second, if it were you".
There is no price you would not pay, there is no wall you would not climb, no sea you would not go to sail, no border you would not cross if it is a war of barbarism and so-called Islamic State that you are fleeing.
He said we "have to accept" people fleeing the Islamic State on European terrotity.
#Open journalism No news is bad news Support The Journal

Your contributions will help us continue to deliver the stories that are important to you

Support us now
"It is high time to act" on the refugee crisis, because there is no alternative. Juncker said there has been "too much finger-pointing" among members states in recent weeks.
Later, he added that Europe "cannot host all the misery of the world, but let us be honest and put things into perspective".
He told those assembled that "it is a matter of humanity and human dignity", and for Europe it is a matter for "historical fairness".
He also commented on how emigration has affected the world, saying:
"The number of O'Neills and Murphys living in the US exceeds by far those living in Ireland."
He added:
We Europeans should know and should never forget why giving refuge and the fundamental right to asylum is so important.
Amnesty
Meanwhile, Amnesty International criticised European leaders' response to the crisis, describing it as "incoherent and lacking in leadership, ambition and compassion".
It launched its Agenda for Europe this morning, which sets out "urgently needed changes" in Europe's approach to the crisis.
"The level of suffering facing refugees fleeing violence and human rights violations has reached a level unseen in Europe since the Second World War," said Colm O'Gorman.
The response to the refugee crisis in Europe has been piecemeal and incoherent at a time when the need for clear-sighted leadership and radical reform of Europe's collapsing asylum system has never been greater.
Amnesty is calling for a European-wide strategic approach "to ensure an increase in safe and legal routes for refugees fleeing persecution and conflict".
The organisation called on European leaders to:
Significantly increase support for frontline EU member states so that they can provide humane reception conditions and speed up the processing of asylum applications.
Ensure access to EU territory for refugees arriving at external land borders.
Relieve the immediate pressure on external border countries through an emergency relocation scheme. 
Revise EU legislation which limits the freedom of movement of successful asylum seekers within the EU.
Frontline member states must end push-backs and stop human rights violations, including ill-treatment and excessive or unnecessary use of force.
- additional reporting from Hugh O'Connell