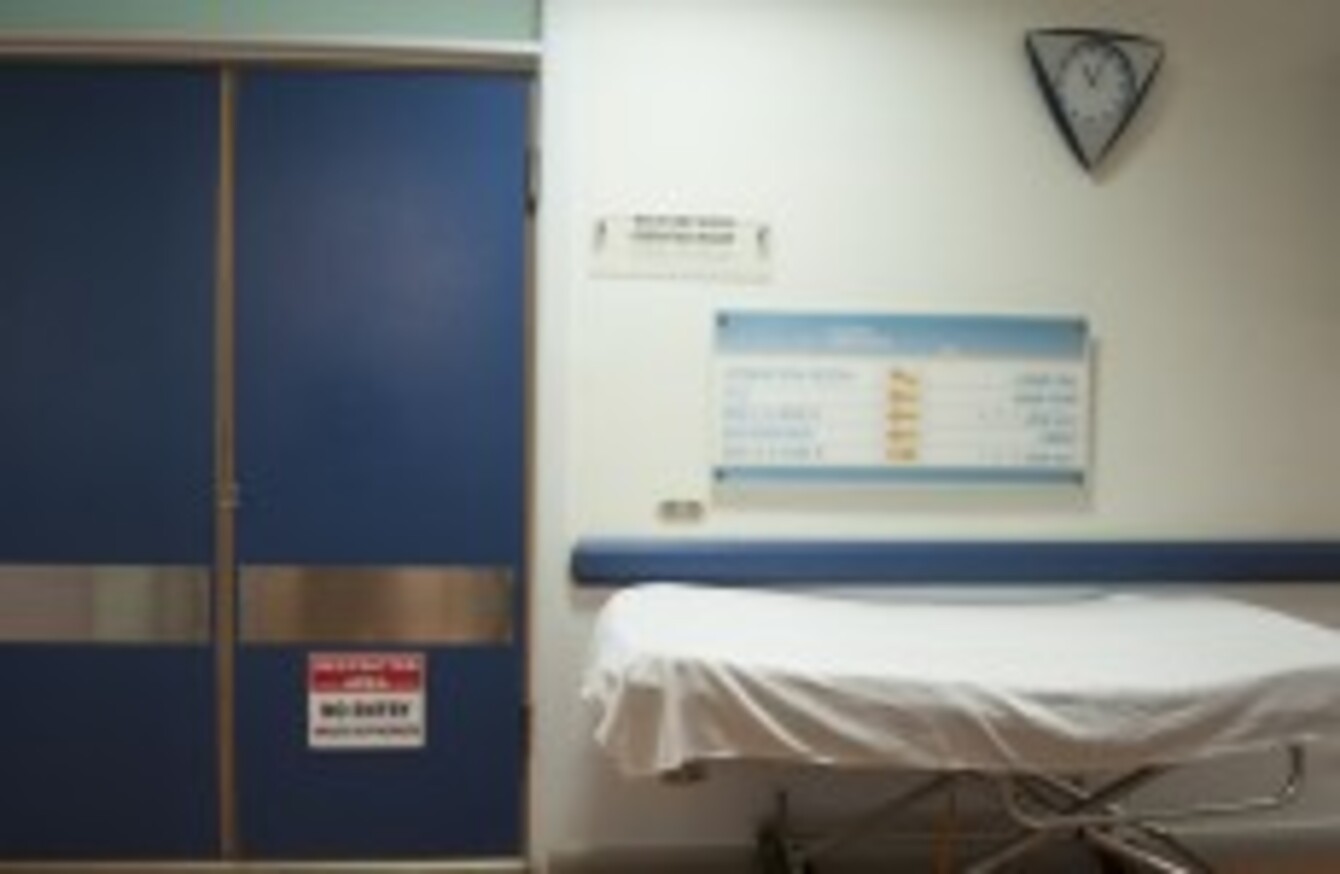 Updated: 17.37
THERE ARE 563 patients waiting for admission to Emergency Departments in hospitals around the country – a record high.
The Irish Nurses and Midwives Organisation (INMO) has called on the Department of Health and the HSE to plan recruitment drives for nurses in the UK and Australia to help combat the problem.
As of this morning, there were 50 patients on trolleys in Our Lady of Lourdes Hospital Drogheda, 41 in St Vincent's University Hospital, 39 in St Luke's Hospital in Kilkenny and 34 in Mayo General Hospital.
A full breakdown of the number of people on trolleys in Emergency Departments is available here.
The HSE has apologised to families for "any distress caused by the delays experienced in EDs". The body has encouraged patients to "contact their GPs in the first instance where they can be directed appropriately to services such as rapid access clinics, day hospital services for older people and acute medical assessment units, as appropriate".
In a statement released this evening, the HSE noted:
The pressure on Emergency Departments seen in recent weeks is likely to continue in the weeks ahead as the seasonal surge in demand continues. The numbers of patients on trolleys is higher than the same time last year, and it is for this reason that Minister Varadkar recently convened and attended the Emergency Taskforce.
"This Taskforce brings together representatives from unions (including the INMO and IMO), clinicians and HSE representatives, in order to develop practical responses to the increasing challenges facing our publicly-funded hospitals."
The HSE said a number of plans were in place to deal with overcrowding such as opening additional overflow areas, curtailing non-emergency surgery, providing additional diagnostics and strengthening discharge planning. €25 million has been provided for delayed discharge patients in 2015.
The INMO has made a number suggestions to tackle the problem, including:
The cancellation of all planned elective (routine) admissions to acute hospitals, for a minimum of two weeks.
The immediate opening of additional acute continuing-care beds; 
The allocation of additional resources to community services to increase the number of home care packages/community nurses allowing patients be maintained in their own home.
The INMO said its members in Drogheda, Beaumont, Naas, Mullingar, Galway and the Mid-West (Limerick) Hospital Group have, or will, commence balloting for industrial action, due to chronic overcrowding.
'Truly shocking'
The group's General Secretary Liam Doran said today's figures are "truly shocking and cannot be ignored by health service management, Department of Health and the whole of Government".
Emergency department overcrowding was declared a national emergency when we had just under 500 people on trolleys in 2006. We now have 563 patients on trolleys, in the first working week of the New Year, with the situation worsening on a daily basis. This is a national emergency. This is a health service crisis which must be addressed.
"Radical action is now required which must not be limited by resources as we must end this misery for vulnerable sick patients," Doran stated.
He added that unless immediate action is taken, there could be over 600 patients waiting on trolleys by next week.
INMO said patient care is being compromised in the following ways:
Palliative care patients being left on trolleys for over four days;
Elderly, frail patients, with chest and other conditions, being left on trolleys with no dignity or privacy; 
Despite excessive workloads, and overcrowding, hospital management were unable to find additional nursing staff resulting in dangerously high workloads upon nursing staff.
Originally published: 13.18