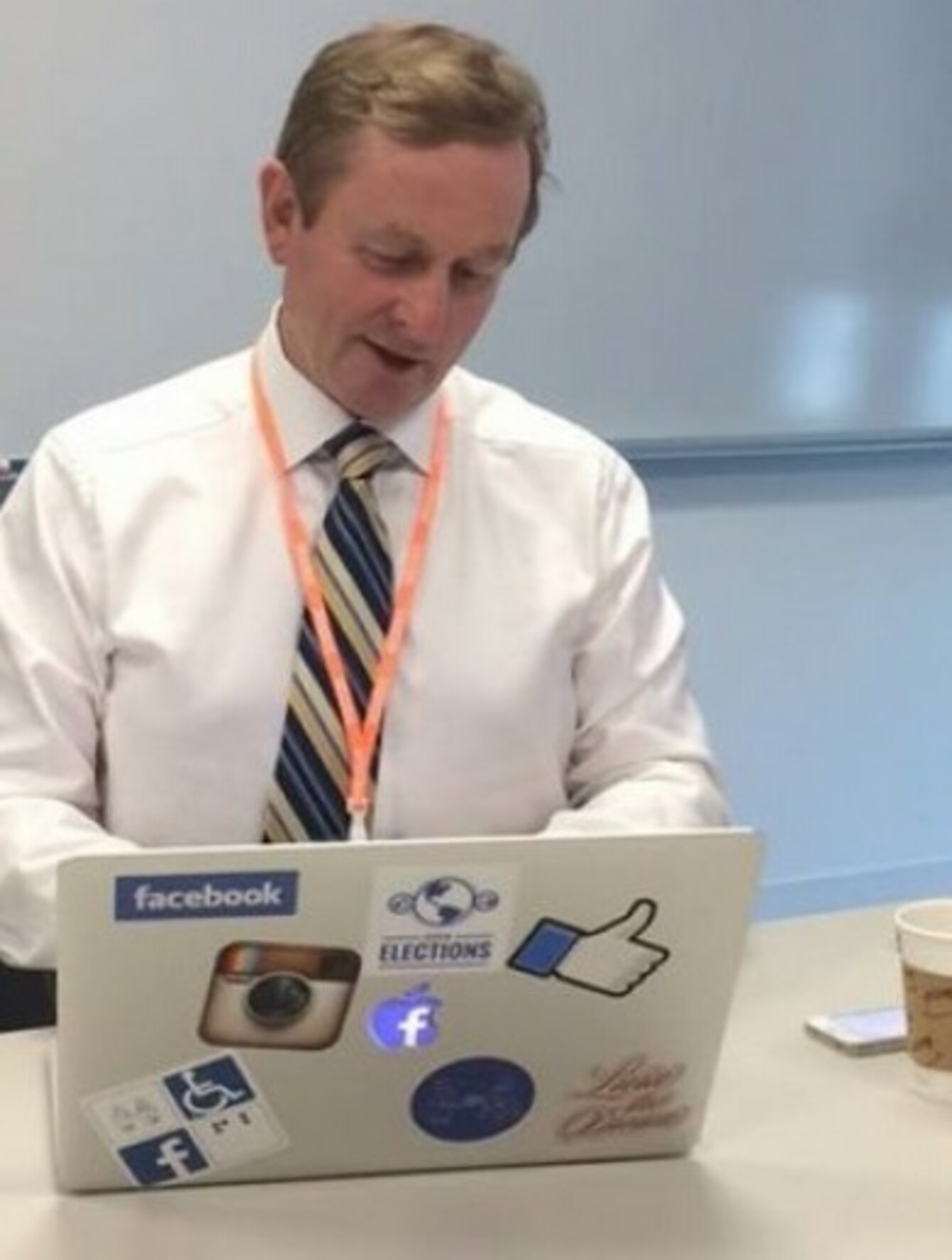 TAOISEACH ENDA KENNY is in San Francisco at the moment and last night, while taking a trip to Facebook HQ, he took part in an online Q&A session, answering your questions.
Your Questions
He was asked all sort of questions from the lack of funding in the South East to whether Facebook in Dublin is to increase its workforce to whether he will be back for the game on Sunday.
Here's Enda on…
The possibility of adding a subject in the education system to meet the increase in use of computer science. 
Interesting question which has been the subject of discussion here in California. Your are aware of the changes in our curriculum for more students to take computer science and programming including project mathematics – a different concept of understanding numbers. You will also appreciate the Codo Dojo movement which demonstrates to children and young people the writing of computer code. IT companies have some interest in this and it will pay dividends in the time ahead.
The possibility of Facebook increasing its workforce in Dublin.
Facebook are moving to new HQ 120,000 sq ft in the next few weeks. This will increase capacity for a truly global company and is a sign of their longterm commitment to Ireland and we wish them well.
What are the Government planning to do about the lack of outside investment in the South East region?
Government want to expand business opportunities to all regions in the country to that end government decided to provide opportunities to create a technology university in the south east where very strict conditions apply. The IDA carry out frequent visits to the south east region and have recently changed the assistance levels for grant aid to be at higher levels for areas outside main cities. In addition further progress and infrastructure, road, water, communications are all being progressed. Presently over 1,000 jobs are being created – we want to see this apply in the south east as any where else.
Whether it was a good idea to put Trade into the Department of Foreign Affairs.
We wanted to deal with this in a new way. Government had inherited a catastrophic situation. We were blocked out of international markets – we had lost both credibility and trust. We did not have the resources of other countries and so trade policy became and integral part of the Foreign Affairs department working through our consular offices and diplomatic services. Tanaiste Gilmore led this charge. Our reputation has been restored. Foreign direct investment continues to be very strong and IDA continue to deal with multiple queries from around the world. Ireland is fast becoming a global hub for innovation, research and excellence.
What's the update with the IDA park in Castlebar?
Yes the IDA will shortly carry out a feasibility study with a view to a provision to an advance building – similar to those being provided in Waterford and Letterkenny. IDA meeting with Mayo County Manager on Friday next week.
Kenny was also asked if he would make it back from the US to attend Sunday's game.
Mayo play Roscommon on Sunday at Hyde Park on Sunday – we are hoping for a big win – pressure rising in America. Unfortunately I won't be there due to returning from the States but I do hope for good news when I arrive.
Some questions that got no replies were what Enda's thoughts were on cannabis legislation, to the situation with job losses in Waterford to whether we can dig for gold in Mayo?
There were also some questions posted to the original thread that went unanswered, such as:
How has austerity affected
Are you bringing more Job bridge jobs to Ireland?
How do you feel about claiming both a teacher and a TD's pension while diluting the pensions of public sector workers?
He finished of the evening by apologising that he couldn't deal with all the questions "due to time pressures" but thanked everyone for contributing.
Before he headed off, the Taoiseach showed his creative side, by signing the Facebook blackboard in three different colours – green, white and orange.