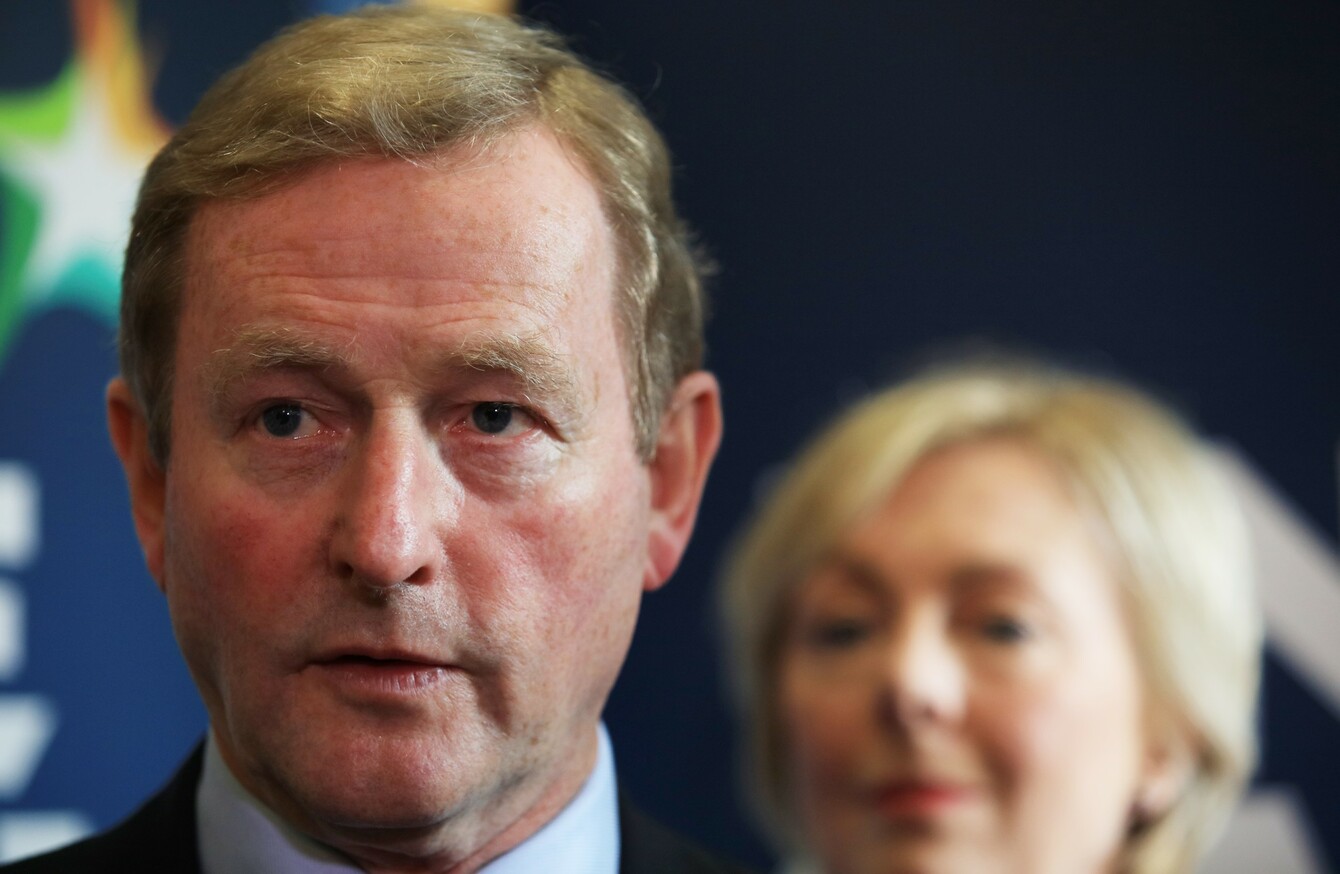 Enda Kenny at the Fine Gael think-in with the party's chief whip Regina Doherty.
Image: Eamonn Farrell/RollingNews.ie
Enda Kenny at the Fine Gael think-in with the party's chief whip Regina Doherty.
Image: Eamonn Farrell/RollingNews.ie
Updated at 3.20pm
ENDA KENNY HAS criticised Fianna Fáil's latest comments on water charges.
The charges are currently suspended as an expert commission set up to determine the future of water charges begins its work.
In its submission to the commission, Fianna Fáil said it wants the charges to be abolished and the provision of water to be funded by general taxation.
Party leader Micheál Martin has denied this is a u-turn. The introduction of water charges was part of the bailout deal Brian Cowen's government signed with the Troika in 2010.
Speaking to Morning Ireland, Kenny said: "Fianna Fáil have returned to irresponsible public activity in the water area … I'm not sure what Fianna Fáil are at here."
The Taoiseach said he believes "very strongly" the country needs one body overseeing water infrastructure, stating Irish Water has "made huge improvements" to the quality of water of many areas.
Kenny said the conservation of water is essential and he thinks it's right people pay a "fair and affordable" contribution for an important resource that is scarce.
Speaking at Fine Gael's think-in in Kildare, Housing Minister Simon Coveney told reporters: "You wouldn't expect Fianna Fáil to be proposing a new form of water charges in a submission to the expert commission.
They've outlined a political position in my view, but they've also made it clear through their leader that they will consider, seriously, the outcome of the expert commission. Let's not forget quite a number of the members of the commission are people who were recommended by Fianna Fáil.
"Nobody will be bound by [the recommendations], but I would hope that a party as big as Fianna Fáil will be responsible in terms of how they respond to an expert commission they have been involved in setting up and I think they will be, by the way."
Most parties in the Dáil now favour the abolition of the charges.
Right2Water
Right2Water, a group campaigning for the charges to be scrapped, said Fianna Fáil's statement was the "first shot in protracted election campaign".
The organisation has sent its own submission to the commission, alongside various political parties.
Right2Water coordinator Brendan Ogle said: "As the Government looks increasingly shaky, the decision by a resurgent Fianna Fail to call for charges to be abolished and our water services funded by general taxation in their submission to the expert commission is clearly the first shot in what is likely to be a protracted election campaign.
Fianna Fail has belatedly recognised the popular demand for abolition and now it is time for all other parties in Dáil Éireann to follow suit.
The group said it expects tens of thousands of people to attend an anti-water charges protest in Dublin on Saturday.
Joan Collins, an Independents4Change TD, is to move a bill calling for a referendum to prevent any future privatisation of water services when the Dáil reconvenes later this month.
Collins said her bill has the support of her Independents4Change colleagues, Sinn Féin, the Anti-Austerity Alliance/People Before Profit and "all 39 TDs who stood in the general elections on the Right2Change policy programme".
"This bill will pass if it is supported by Fianna Fáil who fought the election on an anti-water charges claim. We will now see how serious their claim was. Will they support the bill or will they hide behind the fig leaf of the commission on water charges?," Collins asked today.
The bill will most likely be debated in late October.
Project Eagle
During the interview earlier today, the Taoiseach didn't rule out an inquiry into Project Eagle, the sale of Nama's Northern Ireland portfolio.
Kenny said he hasn't yet seen a report into Project Eagle compiled by the Comptroller and Auditor General, due to be published this week, but Finance Minister Michael Noonan has briefed him on it.
Yesterday, Noonan said there's nothing in the report that "suggests there's anything illegal, anything improper, or any irregularities in the way that Nama behaved".
A recent report in the Irish Times suggested hundreds of millions of euros were lost due to shortcomings in the transaction.
Last week, BBC Spotlight aired a recording of former Nama adviser Frank Cushnahan accepting a £40,000 (about €47,250) cash payment from a Nama borrower in 2012.
Opposition TDs have called for a public inquiry.
"I would like to meet the leaders of the opposition and discuss this, as I said in the Dáil," Kenny noted, adding: "We need to proceed carefully here."
Kenny noted there are two criminal investigations ongoing, stating: "I have to be very careful that I don't cross any lines here."
Representatives from Nama are due to come before the Public Accounts Committee (PAC) on 22 September. Kenny said PAC should be given the opportunity to examine the report "before people jump to a point when you commit very serious amounts of taxpayers' money" to an inquiry.
An inquiry in the Republic would not be able to compel witnesses from Northern Ireland to attend.
John Halligan
Junior minister John Halligan has been making headlines in recent days over his unhappiness that University Hospital Waterford (UHW) will not receive a second catheterisation lab, which specialises in examining the heart.
In an interview with the Sunday Independent, the Independent Alliance member said: "I will bring all hell down on top of them if they don't deliver this."
"What they should do now, if they believe I am destabilising the Government, is put me out. F*** 'em. Put me out. I don't care. If that's what they want to do, put me out. But I know what I am doing is right and honourable."
When asked about this, Kenny said: "No I haven't spoken to John in the last few days, but I have read his words … I will speak to him."
Echoing comments he made yesterday, Kenny said Halligan should focus on the work he needs to do as Minister of State for Skills and Training.
Kenny said he has confidence in Halligan, but added: "I want to see him do his work."
Think-in
Kenny was speaking from his party's think-in in Kildare.
When asked if this would be his last such event as leader of Fine Gael, Kenny said: "Certainly not."
Refusing to be drawn on a potential leadership heave, Kenny said: "My position is very clear, I am not walking away from the mandate that I have been given."
He said, like on any team, there will be disagreements, ending the interview with a clear message to his colleagues: "Get on with the job, ladies and gentlemen."