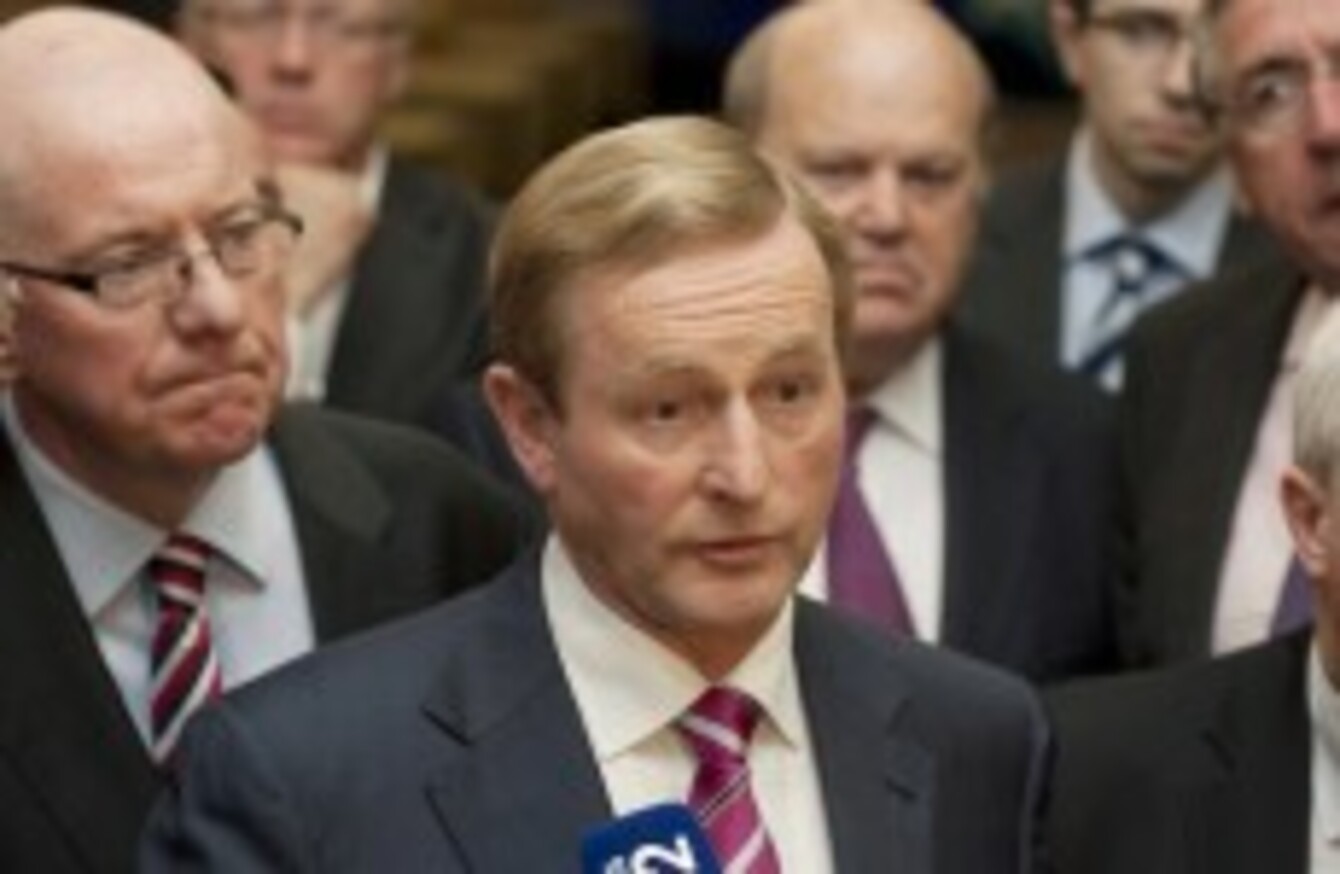 Enda Kenny at the Fine Gael think-in in Knockranny House Hotel in Westport last night
Image: Eamonn Farrell/Photocall Ireland
Enda Kenny at the Fine Gael think-in in Knockranny House Hotel in Westport last night
Image: Eamonn Farrell/Photocall Ireland
TAOISEACH ENDA KENNY has said that the Croke Park Agreement has delivered "substantially" but that it "has got to do more".
In an interview this morning the Fine Gael leader also refused to rule out the possibility that there would be a cabinet reshuffle in the near future.
Enda Kenny said that the social partnership agreement, which was worked out by the previous government, was "not my deal" but said he believed it had delivered a lot.
He told RTE Radio One's Morning Ireland:
The Croke Park deal to date has delivered substantially in terms of cooperation, in terms of lack of industrial unrest, reduction of public servant numbers, and pay, and so on. But it has got to do more.

And in order for Croke Park to deliver, I want to see it implemented in full. And that means that we accelerate the pace of implementation.
He reiterated that the Croke Park Agreement would be honoured in full.
The Taoiseach also refused to rule out a possible reshuffle of the front bench in the near future.
"That's a matter for consideration by the Taoiseach in due course," he said.
He had joked yesterday as parliamentarians went to climb Croagh Patrick that any Cabinet member who took longer than one hour and three quarters to climb the mountain would face losing their role in a reshuffle.
He also refused to discuss coalition tensions with the Labour party or the government's u-turn on cuts to the health service by Minister James Reilly, saying he would not discuss the performance of an individual minister.
Criticism
His comments have been criticised by Fianna Fáil leader Micheál Martin who said that the Taoiseach was misleading people in a bid to score political points.
Martin challenged the Taoiseach to explain his comments that Ireland's corporation tax policy was unclear and under threat when the coalition government came into office.
"In his interview, while struggling to think of examples of what his Government has achieved, he claimed that before he became Taoiseach there was uncertainty and confusion in the international investment community about Ireland's corporation tax," Martin said.
"For the Taoiseach to completely ignore the facts and make a false claim that there was any question mark over the country's position before Feburary 2011, raises yet more questions".
He added:
Absolute certainty in relation to the country's corporation tax policy has been a rock solid cornerstone of Ireland's industrial development strategy for the last two decades. For the vast bulk of that time, it also enjoyed rock solid support from all the main political parties in the country. It is unfortunate that the Taoiseach would choose to put that to one side this morning in an effort to score a political point.