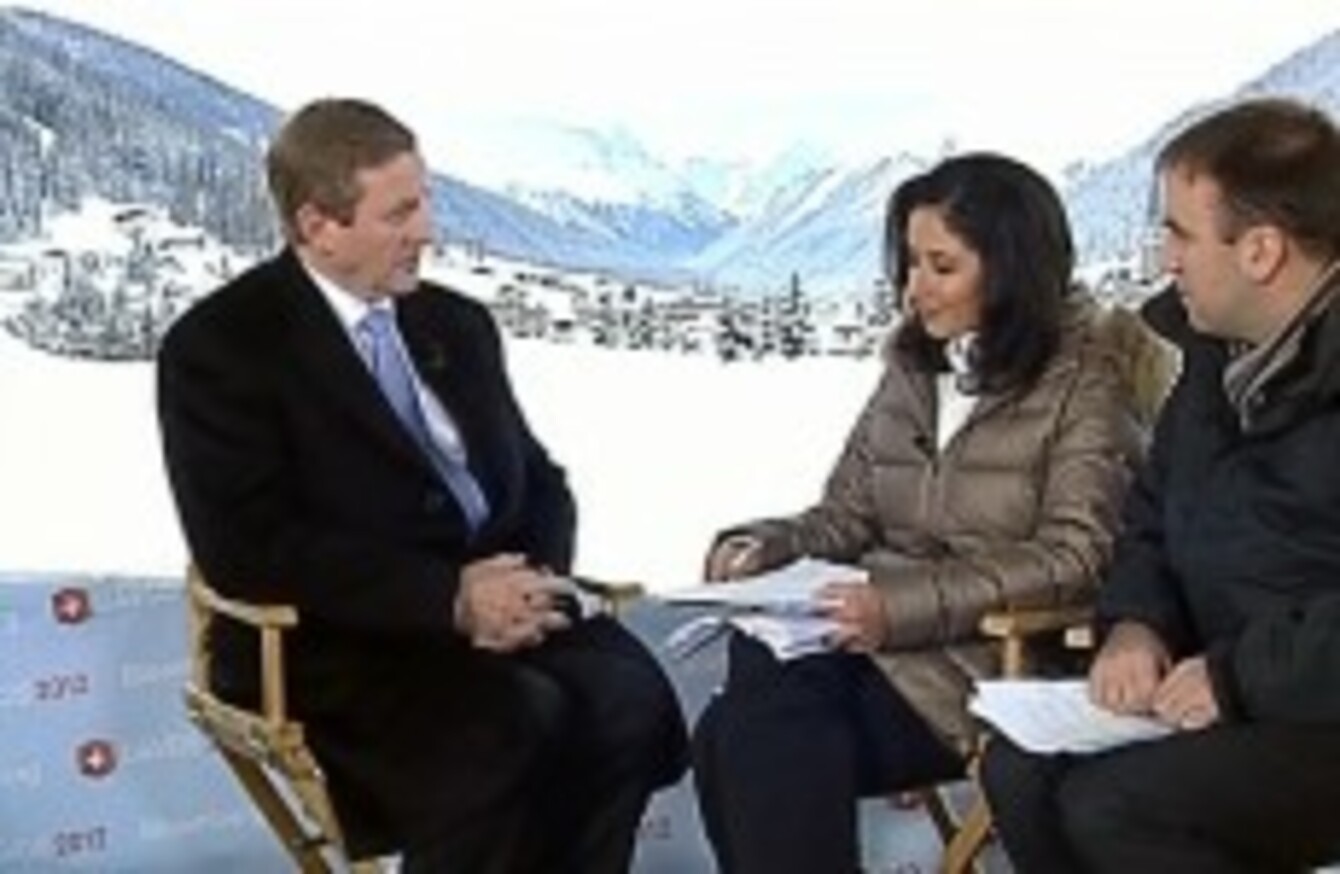 Image: Bloomberg TV
Image: Bloomberg TV
THE TAOISEACH HAS reiterated his wish to make Ireland the best small country in the world in which to do business by 2016.
In a televised interview from the World Economic Forum in Davos, Kenny was eager to emit a sense of confidence and practicality as he told reporters that Ireland has "no intention of having a second bailout".
"[We are] a small, open economy making our way through very choppy waters that are challenging…but with increasing signs of confidence," he said.
Speaking to Bloomberg TV, Kenny said that in their pragmatism, Irish people are very understanding about what needs to be done to get the economy back on track.
Commenting on yesterday's €3.53 billion debt swap, the Fine Gael leader said it was an indication of increasing confidence although conceded there is still "a long way to go".
Yesterday's swap is a sign of confidence but I recognise the size of the challenge and how far we have to go."
He made it clear, however, that Ireland will not be making a full return to the markets until at least 2013.
There will only be "tentative dips" back into the bond market, similar to what the NTMA did "successfully" yesterday.
Central to Europe
Kenny told the Bloomberg reporters that Ireland wants to be the first country to come out of a bailout programme to prove that the decisions taken by Europe "actually work".
Asked about a potential referendum on a new EU treaty, Kenny again refused to be drawn on the issue until the text is agreed by the European heads of Government.
He said once that is complete next week, he will seek the advice of the Attorney General.
Despite not wanting to speculate on any advice that may be given, Kenny added that the people of Ireland are well versed in European issues and related referendums.
"Irish people understand implicitly that we are central to the EU process," he said. "We are supporters of the euro, the eurozone and the European Union".
Bailout programmes
Kenny also said that any failure to deal with the current eurozone debt crisis is the greatest threat to Ireland's recovery and ability to emerge from the rescue programme.
He said that political trust, clarity and decisiveness were need to rectify the economic problems of the area. He also added that other countries need to adhere to the conditions set out for them.
Kenny also revealed that the Troika is working on a paper that could be helpful to Ireland as it outlines the positives of giving bailed out countries – especially those who had to borrow very excessively before the facilities of the EFSF and the ESM came into being - greater flexibility.
Watch more from the interview here.