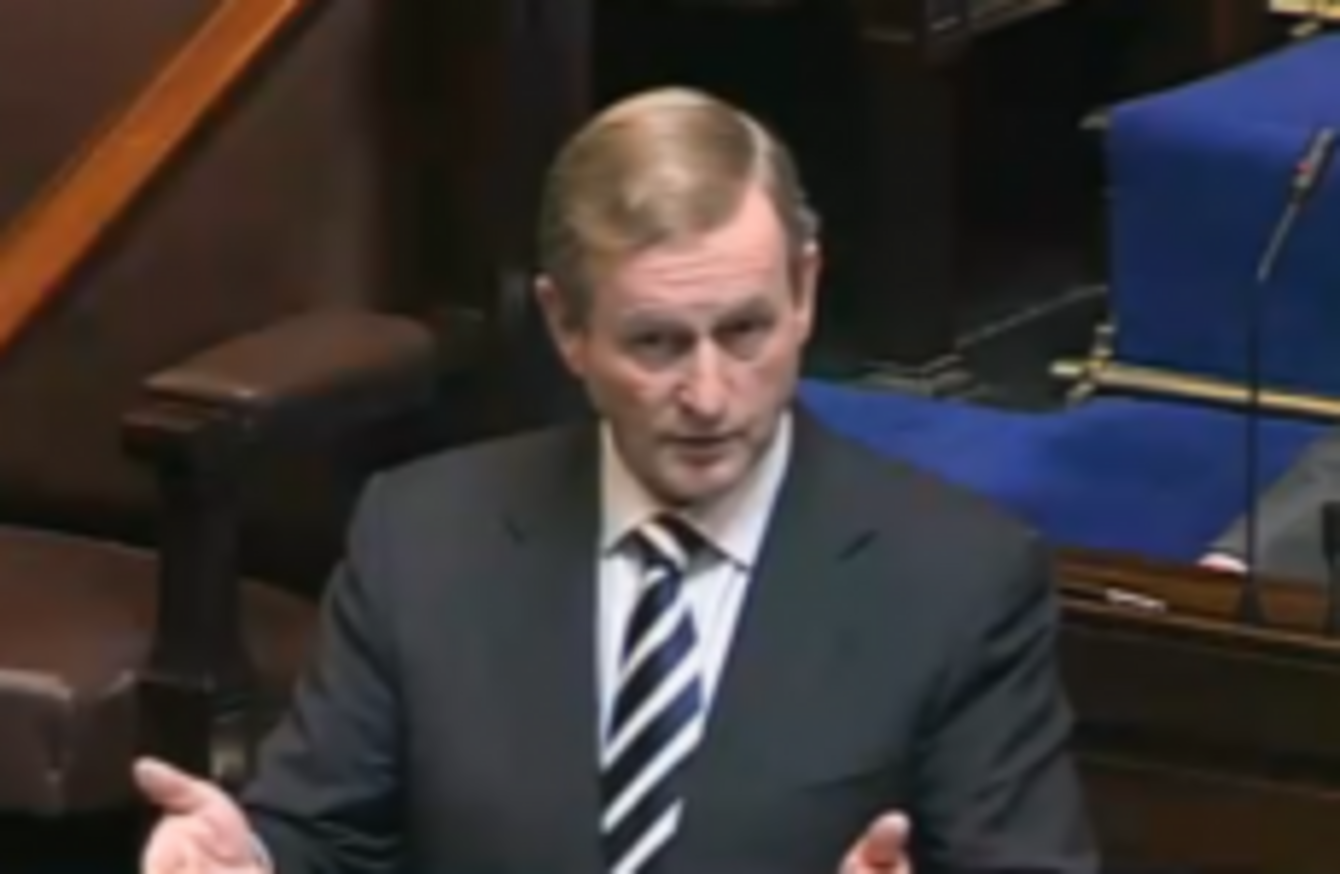 TAOISEACH ENDA KENNY has defended the government's progress in cutting spending under the Croke Park agreement, after yesterday's review of public allowances resulted in just one of over 1,000 allowances being scrapped.
Speaking in the Dáil this morning, Kenny said the review of allowances – which make up about €1.4 billion in annual government spending – was just one part of the government's plans to cut down on spending under the terms of the public sector pay deal.
Kenny said he had written to every government minister asking them to estimate "the maximum that can be squeezed" from the deal, and yesterday's report – which had planned to cut €75 million in spending, but will achieve less than five per cent of this – was merely one step of the government's plans.
Fianna Fáil's Micheál Martin said the response was "fairly pathetic" and accused the government of sitting on its hands by not seeking to implement the cuts to allowances more promptly.
The Taoiseach, in reply, said the government remained committed to implementing the Croke Park deal in full.
'Appropriate' for councils to ensure Household Charge payment
Later, in conversation with Sinn Féin president Gerry Adams, Kenny said it was "entirely appropriate" for county councils to use whatever means they had available to identify households which had not yet paid the €100 household charge.
The comments came after Adams queried the legality of county councils who were withholding the payment of college grants until proof of payment of the charge had been supplied.
Kenny said the Local Government Act 1983 allowed councils to set a household's obligations against any funds that were due to them, but admitted councils were not entitled to withhold the payments altogether.
They are not entitled, in law, to reduce or withhold a portion of the third-level grant – but as a matter of course they are entitled to have as much information as possible about the numbers who have paid [the Household Charge].
Adams said the proposals hinted that other homes could lose their access to payments like fuel allowances if they could not afford to pay the €100 charge.
Thomas Pringle, representing the technical group, attacked the Taoiseach's support for health minister James Reilly in the midst of cuts to the health sector which took a particular effect on isolated rural communities.
"See you on Sunday," Kenny quipped – referring to Sunday's All-Ireland football final between Mayo and Donegal – before criticising Pringle for his own failure to pay the household charge.
Our coverage of the Public Sector Allowances: