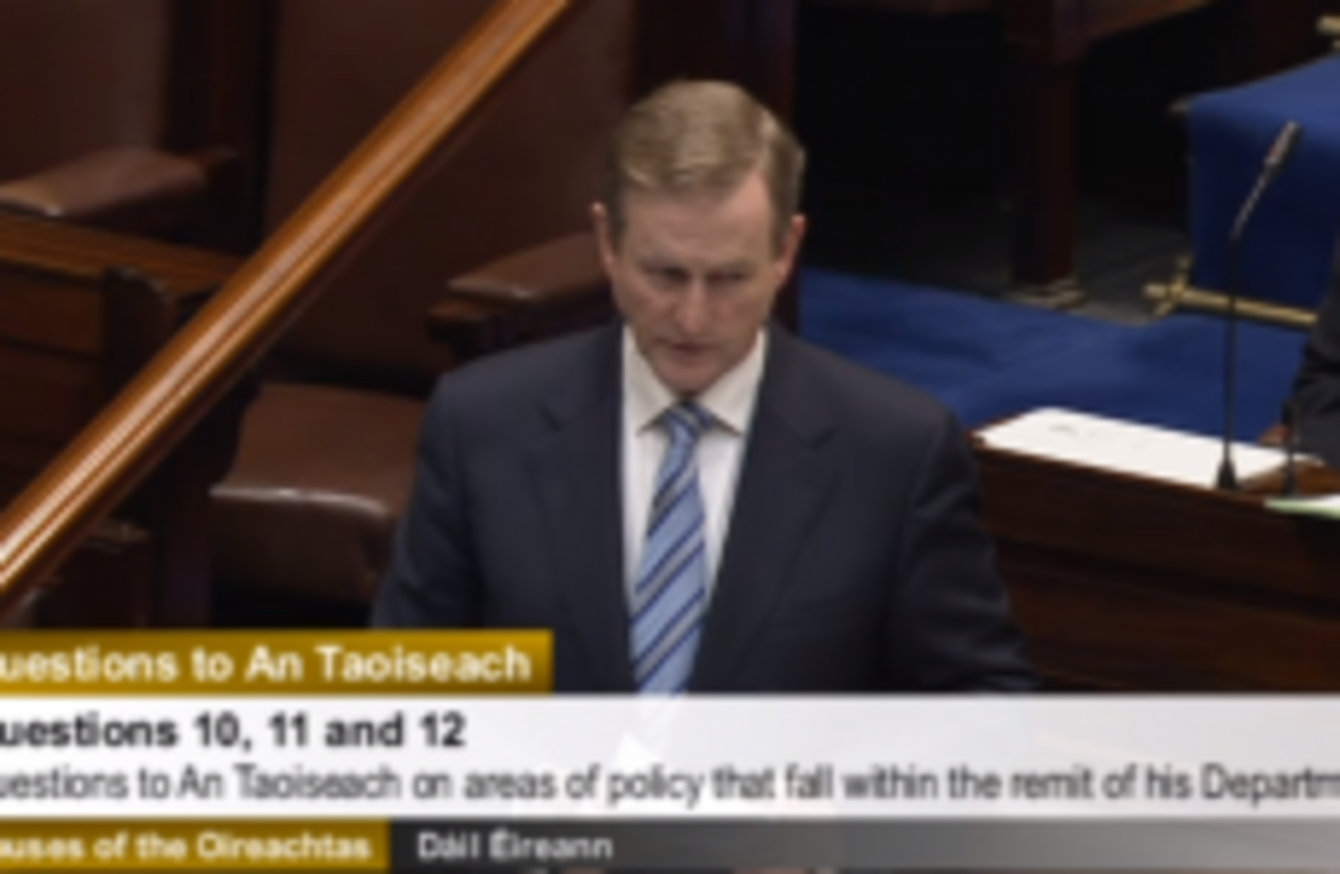 Enda Kenny speaking in the Dáil this afternoon
Image: Screengrab via Oireachtas TV
Enda Kenny speaking in the Dáil this afternoon
Image: Screengrab via Oireachtas TV
TAOISEACH ENDA KENNY has defended his decision to attend the St Patrick's Day parade in New York next month, telling the Dáil that the event is about "our Irishness and not about our sexuality".
Answering questions in the Dáil this afternoon, Kenny was criticised by the Socialist Party TD Joe Higgins who pointed out that Social Protection Minister Joan Burton has indicated she will boycott the New York parade because of its prohibition on pro-gay rights slogans.
Higgins asked if Kenny would "go along with the homophobic, disgraceful approach by some of these conservative Irish-American institutions" and also described the United States as "the biggest imperial power on earth" during his contribution.
He asked Kenny: "What is it about United States presidents that so mesmerises politicians in Ireland?"
Kenny said it is not a case of being "mesmerised", but engaging with people who have or who hold high office "and who are interested in engaging with our country".
The Taoiseach said that he hopes to travel to America and added: "The St Patrick's Day parade is a parade about our Irishness and not about sexuality and I would be happy to participate in it."
He later said that the organisers set down regulations for the way the parade is conducted .
But he faced criticism from the People Before Profit TD Richard Boyd-Barrett (above) who asked if the Taoiseach would wear a rainbow badge in solidarity with the LGBT community.
Kenny responded: "I understand that about 500,000 people participate in the St Patrick's Day parade in New York.
"I don't know how many of those are gay and lesbian people and that is a matter for themselves. I don't express anything about their sexuality."
As Boyd-Barrett pointed out that "about ten per cent" of participants would be gay and lesbian, Kenny added: "I will be certainly very happy to wear the symbol of Irishness on St Patrick's Day in New York.
"That is called the shamrock. As I said the parade is about our Irishness and not about our sexuality".